Scott Walker Audio—Solos Audio—SonicCraft—Magico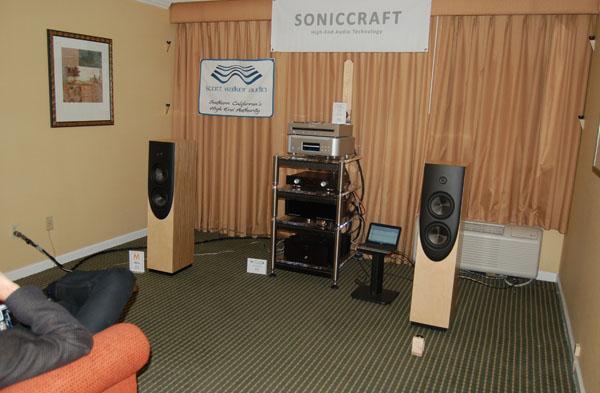 Yorba Linda, CA-based retailer Scott Walker Audio was responsible for "audio equipment, room set-up & tuning." Solos Audio is the sole distributor for SonicCraft solid-state amplifiers.
The setup: Magico V2 loudspeakers ($19,500/pair), SonicCraft Signature stereo amplifier ($3450), which puts out 25Wpc in pure class-A, SonicCraft Opus preamplifier ($3450), Esoteric K-03 CD/SACD player ($13,000), Esoteric G-03X Master Clock ($5000), Synergistic Research cables and power cords, and the Synergistic Acoustic ART Room Treatment System ($3150).
I noted "rock-solid" imaging and a crazy level of micro-detail. "If Dianna Krall had even the merest hint of a cold, you'd know it," read my notes.