Sasha Matson's Final Day in Denver
In scouting the lay of the land for the last day of RMAF, my fellow expedition members told me I must hear the demo Nordost was presenting. Late on Sunday afternoon I finally caught up with the Nordost team in the Humboldt Peak room at the Denver Marriott. As at the Munich Show last May, Nordost chose RMAF to showcase their new Supreme Reference Range Odin 2 cabling.
Nordost really had their act together, offering a very interesting and convincing A/B demo in their room, and then referring listeners to their downstairs booth where irresistible show pricing was offered on the spot. Heck—this is one practical reason to make it to RMAF and other high-end audio events! Odin, the God, is a Nordic heavy-hitter. An appropriate moniker for a line of cabling that is designed to lay down the law. This was Nordost's showroom, so this time I have detailed system pricing to lay on you; I should note that this was stated as "Demo System Price List", so perhaps retail will vary? Starting with Odin 2 tonearm cable ($11,999/1.25m), on to the Odin 2 analog interconnects ($22,499/1m pair), as well as Odin 2 digital interconnects ($10,999/1.25m pair), Odin 2 power cords ($16,999/1.25m), and Odin 2 speaker cables ($29,999/1m pair).
A very fine system had been assembled to showcase the Odin 2 cables. I listened to both analog and digital sources. The electronics were from the Jeff Rowland Design Group, their Aeris DAC ($9800), Corus preamplifier ($14,900), and Model 925 mono amplifiers ($58,000/pair). Analog playback was via a VPI Avenger turntable fitted with two identical VPI 10" 3D tonearms ($14,000 complete-demo pricing). The system was topped off with a sharp-looking pair of M-Coat–finished Magico S5 floorstanding loudspeakers ($32,500/pair).
Michael Taylor of Nordost laid on a very effective demo for me. The VPI Avenger turntable had been set up with two identical tonearms, and cartridges. I was told, in plain English on the record, that the only difference during playback would be the tonearm cabling itself. One arm was installed with VPI's current default tonearm cabling, and the other arm installed with the new Nordost Odin 2. I heard the LP cut of Donald Fagen's "Morph the Cat" both ways, first with the VPI cabling, and then with Odin 2.
For those of you who know this track, like a lot of Don Fagen's work it features what he calls "a junkie groove." Huge funky bass lines punctuated by syncopated chords from Don's Rhodes piano and vocals, and female background vocals falling in part way into the tune. (I love this stuff!) Listening to the Nordost Odin 2 tonearm cable, I heard a lot more definite texture and defined pitch attack from the bass, the snare drum was more poppin', Don's Rhodes had more texture and bite, and Don's vocal moved more to the front and had more breath to them. (And when I say "to the front," I don't mean that in a negative way, but rather as more clearly intelligible, and thus delivering more of the groove as well as more of the energetic rhythm.) When the background gals fell in, they were also a lot more present and in-the-room. A very convincing A/B demo. I was told that VPI will offer the Nordost Odin 2 cabling going forward as an option. There was also a power cable A/B swap demo that Michael Taylor began, but I had run out of time, and so will reserve comment on that aspect. Mortals beware, Odin has spoken!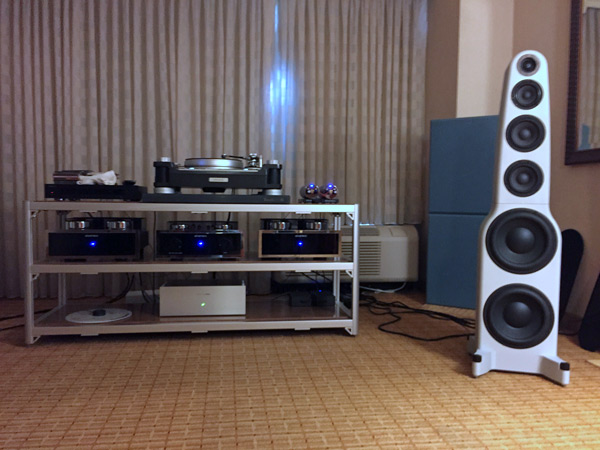 Another fine trio were sharing space and making music in Room 1007; Audio Machina Inc., Graham Engineering Inc., and Einstein Audio. This was an A-List party all the way. Designer Bob Graham was there in person to share with me his most highly regarded Graham Phantom Elite tonearm ($12,000). This gorgeous bit of tonearm engineering was fitted with a cartridge designed by Einstein Audio and manufactured by Ortofon, The Pickup ($9000), and also from Einstein, The Turntable's Choice Phono Preamplifier Balanced ($10,000 approx.).
Bob Graham cracked himself up, trying to explain to me what he had just said, as he outlined the names in the Einstein Audio lineup. It was like the "who's on first" routine. Einstein Audio, out of Germany also had running their preamplifier, just called the Einstein The Pre Amp ($30,000 aprox), and the Einstein The Power Amp (price missing in action). This power amp is a hybrid design, with tubes on the input stage and a solid-state output, putting out 90Wpc. Graham Engineering is also the U.S. distributor for the state of the art TechDAS Air Force Two turntable ($52,000), so that was indeed what his own Graham tonearm was mounted onto. If you have read any recent coverage about turntable design, as Gandalf likes to say, "you know of what I speak."
Also present in the room was Designer Dr. Karl Schuemann of Audio Machina, exhibiting his Maestro GSE floorstanding loudspeakers ($80,000/pair). This latter is an imposing 4-way sealed-box, with a visual almost tactile presence created, in part, by cabinets that are composed entirely of solid aluminum! The published frequency response is 15Hz–30kHz. I did not have the pleasure here of being able to listen for long, but I sure heard loud and clear off LP, the famous Reiner Scheherazade. Pow! That great huge descending unison was conveyed in all its power. Gorgeous massed strings. Percussion alternately glistening and exploding. Fantasy Island time, audio-wise!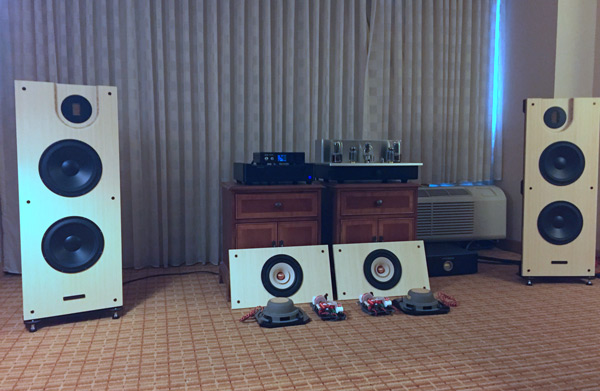 Tubes and DIY gear were foremost in the room featuring Canadian retailer and distributor Grant Fidelity, along with Pure Audio Project, Mundorf EB GmbH, and Psvane Audio. Disclaimer, if necessary: I have ordered Chinese-produced Psvane tubes before from Grant Fidelity, who distributes them in Canada and the US, and they are first-rate.
Also featured was the Grant Fidelity Yulong DA8 DAC (price not given), running direct into a Wyred 4 Sound ST Mk.II stereo amplifier. This is available in two versions, the ST-500 ($1499), which puts out 250Wpc into 8 ohms, and the ST-1000 ($1999), which generates 460Wpc into 8 ohms.
For those of you who are somewhat handy—this rules me out—I was assured that the Trio 10 Mundorf AMT floorstanding loudspeakers ($4000–$5000/pair depending on options), which are delivered as a "disassembled finished product", are do-able. When you get it together, you will end up with a handsome 2½-way design that features a open-baffle, dipole approach, with a tweeter made by AMT. I was shown how some of the assembly would be done, and the various elements did look well-prepped and well-crafted. I heard digital playback of Dave Brubeck doing "Kathy's Waltz" from the great Time Out album. The sound was open—due in part due to the nature of the open-baffle designs?—wide and swingin'. A fine set of musical hardware options.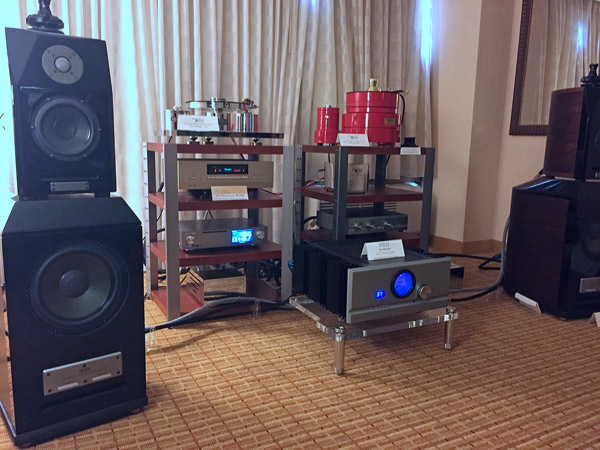 Fred Kat of Katli Audio Company was waiting for me in Room 1021. Katli Audio is based in Chino Hills, CA., and they are the US distributors for Usher Audio. Fred assembled a high-quality rig, which also featured gear from Pass Labs and Triangle ART. Two gorgeous turntables from Triangle ART were up and running, their Concerto and Signature models (Prices missing in action). Amplification was the Pass Laboratories INT-250 Integrated amplifier ($12,000), and loudspeakers were a two-cabinet setup with the Usher Mini-X Diamond Monitor on top ($3200/pair), and the Usher X-Tower on the bottom ($12,950 as a system). Cabling info not given.
I heard LP playback from the new reissue of Dream With Dean that I encountered in more than one room at RMAF, and also the good old "William Tell Overture" from the LP reissue of Round-Up, with Erik Kunzel and the Cincinnati Pops. The latter sounded particularly fine through this system, as I trotted off into the sunset. Giddyup!
Apples and Oranges. Sometime you feel like a nut, sometimes you don't, Horses for courses. Whatever analogy you might pick, when I walked into the Riva Audio room I was offered another way to skin a cat. (Or, as the New Yorker likes to put it: "Block that Metaphor.") One laptop, and one little Kleenex-sized box on a table, filling the room with music. Done.
The Riva Turbo X ($349) is a small, one-unit, portable Bluetooth sound-maker, described to me as a "premium high-performance mobile speaker." "Mobile", that's the word I was searching for. The Turbo X includes 3.5mm inputs, 3 powered drive-units with 4 ports, and an internal battery pack that has a playtime of 26 hours when run at 75dB spl. The controls are on top, and the Riva Turbo X is claimed to play at up to 90dB with no compression. If you put it into "Turbo Mode" this protects the bass with some compression, and then the little monster is said to play at up to 100dB. There is also a button that puts the Turbo X into "surround mode." It creates a 3-channel signal from stereo input. How you can be surrounded by music coming out of one little box was a mystery to me, but it sure sounded that way in the room.
Sunday was the third and final day of this year's Rocky Mountain Audio Fest. For this expedition the three loyal Stereophile scouts— Herb Reichert, Jason Victor Serinus, and myself—met at the end of each day to target and check coverage for the following day. Our very determined trek route varied depending on how well we had done on the previous days hike. As I told a number of people in the rooms, a primary goal was to visit everybody and everything. I haven't done the math yet to know if we achieved this elusive feat, but we sure as heck tried!
Given this challenge, it is not realistic to think that rooms can be visited more than once, to check initial impressions and info, and to see if adjustments have been made. However, there are exceptions to every rule. If a particular exhibitor is forthright enough to admit there might have been some sort of issue when one of us visited their room initially, then we would try and follow-up if possible.
And thus it was with Room 2030, a powerhouse co-hosted by the trio of VTL, Wilson Audio, and dCS. Jason Serinus was the lucky explorer to be assigned this room on the first day of RMAF. I refer you to Jason's detailed report from that first day, for complete system information and pricing. Luke Manley of VTL grabbed me in a corridor and invited me to listen to their room on the final day of the show if I had time. When Luke offered to open the candy store a little early to accommodate me, I accepted. So I was a fresh set of ears.
The Wilson Sabrinas were set up on the short side of a fairly large rectangular room, with the typically low ceilings that seem to characterize modern hotels, speakers spaced fairly widely. I was sitting not too close, but in the center middle of the seats as placed by the team. I was treated to a mini-concert, with playback from both the digital and analog gear. From LP I heard the Heifetz Sibelius Violin Concerto, which I had heard in another room just the day before. Wow! Sparkling, open sound. Then from a CD, Ibert's Escales, performed by the US Air Force Band. The Bomb! Then back to LP for a more recent recording by Anne Sophie Mutter wailing on the Waxman/Bizet showpiece Carmen Fantasie. I was immediately struck by the physicality of the bouncing solo violin passages, which literally conveyed a lexicon of bowing techniques. This was not a shy recording either; some might even describe it as a bit forward and strident. (I later heard this same recording on a different system and yup—I had the same reaction.) But that's what fine audio does, it gives you the truth!
Wilson's Peter McGrath is a distinguished recording engineer, and he shared with me brief excerpts from several of his own recordings. First, a Bach choral work, (can't read my scribbled note on the catalog number), in 24/88.2k resolution via the dCS Rossini. A live recording, laying out a huge deep church acoustic with lovely rich burnished sonority, group and solo vocal passages, and an appropriate Baroque drum. Next, a Schubert "Impromptu" performed by a fantastic young pianist, Ben Grosvenor, on a fine Hamburg Steinway. The recording captured, and the system reproduced, that special rolling velvet element of a special piano. Then it was back to LP for a very revealing contrast, Beethoven's Piano Concerto 1, with Michelangeli the pianist. This was a very different piano sound altogether, recorded in a very different hall acoustic. Those kind of subtle as well as obvious differences are revealed by a system that is capable of realistic music re-creation. This system did that, with command and aplomb. Definitely a high point for me, in terms of listening, at RMAF 2015. Thanks to Bea Lam, Martin Reynolds, Luke Manley, and Peter McGrath for spending extra time with me!
Addendum from Jason Victor Serinus
On the last day of the show, I was able to re-evaluate the sound of the dCS Rossini system. This time, digital playback sounded very different, and far better, than at Friday's 10am press conference. With Peter McGrath serving as DJ, we first heard the "William Tell" parody movement from the CD layer of Gergiev's SACD of Shostakovich Symphony No. 15.
This was a fine choice indeed, because Shostakovich's symphonies, when as well recorded at this was, are an ideal test of system performance. When they are not expressing suffering or defiance, the symphonies are oft acerbic and devastatingly ironic; Shostakovich's music, certainly post Lady Macbeth fallout, is definitely not sugar-coated. As such, its impact is blunted by colored electronics that sweeten up the mix. Nor does it benefit from gear that homogenizes sound, or that shortchanges the impact of blaring horns and pounding percussion.
No worries whatsoever with this system. As someone who frequently attends live performance—I now write about and review classical music for the Seattle Times as well as a host of other publications—I can attest that the system's sonorities were virtually perfect. Colors were vivid, and timbres fleshed out beautifully. The impact of the Sabrina's low bass was also startling for a loudspeaker of its size. Best not to begin to count the number of systems I heard at RMAF that were unable to fully delineate colors and timbres in such a convincing and compelling manner, let alone deliver the goods cleanly on the low end.
Snap was also exceptional. Not a single component in this system tried to play nice by softening the sharpness of piccolos intentionally sounding the alarm. Nor was there any congestion when every instrument in the orchestra went at it full tilt.
True, the speakers were so far apart that the space between them was not always fully fleshed out. When I asked McGrath why he had placed them where he had, he explained that moving them any closer together would have excited a nasty room node and played havoc with the bass. His compromise position allowed them to maintain control throughout the range.
He also explained that one reason that the not very tall Sabrinas' image seemed so low was because the chairs we sat on during the demo were significantly higher than the couches people sink into at home. Be that as it may, when Peter played his own 24/88.2k recording of chorus, soloists, and orchestra performing Bach, the imaging was quite convincing, and the sense of music resounding in space thrilling.
Bottom line: A system that initially disappointed, due mainly to poor choice of material, vindicated itself as one of the finer sounding systems I encountered at this year's RMAF.