Sasha Matson's Day 3
Sunday morning may be a time of rest for some people, but not at THE Show Newport 2015. I felt a bit like an earnest medic making my room rounds: "Morning, I'm Doctor Matson. And how is our stereo feeling today?" My first patient was doing just fine, and ready to be discharged. PBN Audio, out of San Diego, led by designer/owner Peter Bichel Noerbaek (above).
PBN is a one-stop shop pretty much—speakers, amps, turntables. Peter introduced me to a couple of his amps, the EB-SA1 Amplifier ($30,000/pair as monoblocks, or $15,000 for a stereo version), and also on-hand was the Erno Borbely Super Amp (price not available). This solid-state design puts out a room-smacking 450W into 8 ohms. It employs 75 ohm video cables to connect the amp to the preamp, in this case a PBN Olympia Lxi ($22,000). This can drive a video-level, 75 ohm load, runs balanced, and has the output stage mounted onto heatsinks.
PBN has an extensive range of speakers; what I heard was the PBN Montana Liberty model—a hefty 3-way design ($15,000/pair). Peter Noerbaek began life with his speaker designs, and moved on to creating hardware that he feels can support them properly. For his turntable designs, Noerbaek utilizes refurbished direct-drive motors, built into handsome and solid-wood plinths. Price range on these starts at approximately $5000 and heads north from there. I heard, and was mightily impressed by, the GrooveMaster Vintage Direct DP2 ($22,500, including a Graham 844 tonearm and a Lyra Atlas cartridge). Simply killer! On hand also was a phono stage, the PBN Olympia PX-I ($22,000). Put it all together, and play a Doug McLeod off LP, and you're there—great drive and slam, rich, super-rich vocals. Sounding great!
Fittingly, I walked into the rooms shared by Audio Skies and GamuT way up on the 14th floor of the Hotel Irvine. Bill Richardson, of LA-based retailer Audio Distinction (above right), introduced me to some outstanding gear. This was not a one-designer approach, but a very well assembled system utilizing pieces from three brands that really caught my ears and eyes. At the top of the stream, for LP from Pear Audio Blue, was their Kid Thomas turntable ($9995 with tonearm and power supply). Credit where due is a good way to go, and Pear Audio credits the late Tom Fletcher and his designs for Nottingham Analogue.
Further downstream was a GamuT Di-150 Limited Edition amplifier ($11,900), which was making its world premiere. And the music goes round and round and came out of a Larsen 8 speaker ($6995/pair). I'm afraid I don't have notes on whatever else was in the system, as I was so enthralled with the sound—at least that's my excuse—so I refer you to Herb Reichert's Day 2 report for more detail. It was hard to leave this room, but I had to check for pulses in the rest of the ward.
Thirteenth floors are supposed to be unlucky. But I didn't feel that way when I entered the Essence of Music room there, and met the Clarity Cable husband and wife team of Melissa and Chris Owen. Oddly enough, I did not get much info on Clarity Cables themselves, as we were so busy listening to and discussing the rest of the system. Avatar Acoustics imports the UK-based AMR Acoustics hardware I heard. Starting with an AMR CD-777 ($4995), moving on to the AMR DP-777 DAC ($5495), with the amp being an AMR AM-777 (US price not listed but European price is €3450). Loudspeakers were from Italy-based brand Rosso Fiorentino—their Volterra model ($12,995/pair). This is a not-too-huge, two-module floorstander, with the bottom module functioning as a "sealed-box sub."
Finally I was handed the Essence of Music CD-treating package ($300): two bottles of mystery fluid, in part intended for dedicated rippers to apply to their discs. I will experiment with my demo starter pack when I get home. Sounding fine in this room was David Gilmour. A lot of David Gilmour, in fact, as the guy who asked to hear his disc wanted to hear the whole thing. I got out my stethoscope and ear-examiner flashlight and hit him on the head, in order to play a bit of classical. I hope he comes out of the coma soon.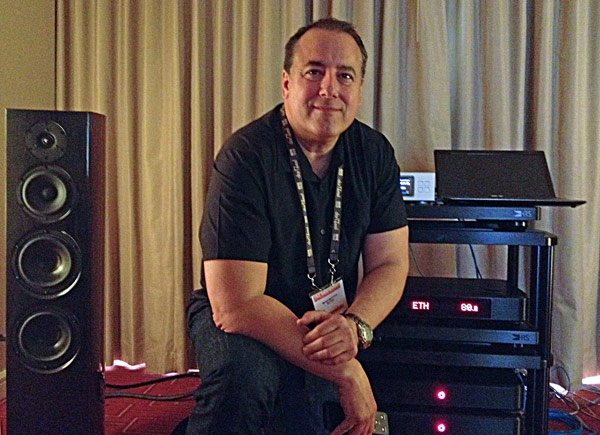 Next stop on the yellow brick road was actually black. As in the new "Black" amplifications system from Bel Canto. Bel Canto president Michael McCormick (above) was busy demonstrating the gear with some way-powerful drums. I spent a fair amount of time discussing with Michael what is going on here, and I would urge readers to journey to the company's website for detailed info.
Only available at this time as a system ($50,000), the Bel Canto Black comprises three boxes, each machined from handsome-as-all-get-out, black-anodized aluminum. There is one controller, the ASC1, and two mono amplifiers, the MPS1, these using customized Hypex class-D output modules and capable of putting out 1200W into 2ohms. The controller features include: Proprietary Asynchronously Distributed ULN Master Clocks; 32-bit volume control elements; Proprietary Low Noise—Wide bandwith ST fiber signal distribution; a dynamic range of 128dB; Ethernet UPnP/DLNA streaming up to 24/384 and DSD64/DSD128.
With Aerial 7T speakers ($10,000/pair), and cabling from Transparent Audio (prices not provided), I was knocked out by the power and authority of the sonics in this room. [Michael Fremer will be reviewing the Black system in the July issue of Stereophile.—Ed.]
The next room I had a chance to spend time in was hosted by Sweet Spot High End Audio. Retailer Bill Coomes and Leif Swanson stepped me through what I was listening to. For analog source we had an Oracle Audio Delphi Mk.VI Gen-2 turntable ($10,000), with the Oracle Audio SME 5 Reference tonearm ($7750), fitted with an Oracle Audio Corinth Reference Phono Cartridge ($6325). I only heard LP while here, but in the lineup for digital was an Aurender N10 Music Server ($7999) and Berkeley Audio Design Reference DAC ($16,000). The turntable was running into a Pure Audio Vinyl Preamplifier ($4500), and thence to a Pure Audio Control Preamplifier ($9500), and into a Pure Audio Duo stereo amplifier ($9500). I was told the amp operates as class-A for the first 25 watts, and then in class-A/B up to 100 watts.
I got to hear this through an Endeavor Audio Engineering E-5 Reference Loudspeaker ($35,000). This speaker is a large three-way design. I mean large, as in full-person tall, and it sounded very full-range indeed. Rated at a sensitivity of 91dB, the E-5 stands 66" high, with a stated frequency range of 20Hz–50kHz. Bill Coomes described it to me as "full immersion" and I agree.
I asked to hear some of an LP pressing of Daphnis and Chloe. And that was blessed relief for my ears. I heard that magical opening of Ravel's great composition unfold itself before me so beautifully, I almost teared up! My bottom line for music re-creation, and I know there are other priorities that people have, is to hear if the harmonic series is being presented in a true and musical fashion. Without that, IMO, the music is DOA. That did not happen here—with this system I heard all those harmonics sparkling away with tons of air surrounding them. Massed strings sounded great, and when that choir started to ramp up—look out! I really enjoyed the results in this room.
Next up on my rounds was one of two rooms hosted by Constellation Audio and Von Schweikert Audio. The room I spent quality time in had the lower budget for the overall system of the two. Irv Gross of Constellation Audio (above) presented me, (figuratively, not literally), with a wonderfully matched system. And to those of you who demand a listing of every bolt and nut in each room—sometimes I received price sheets and equipment lists, sometime not. This time it was info verbally conveyed to me. A Cygnus Media Player/DAC ($32,000) fed an Argo integrated amplifier (125Wpc, $25,000), with a pair of Von Schweikert Unifield 2 Signature Loudspeakers ($25,000/pair), these making their premiere at THE Show. These speakers have bass extension down to approximately 32Hz. Cabling was also by Von Schweikert, their new model Master-built (no prices given). Irv Gross showed the back of the Argo amplifier. This is a brand-new model, and options to add cards for a DAC and a phono Stage are still being developed.
This time when I asked for a bit 'o classical, I received Stravinsky's L'Histoire du Soldat. The system gave me such a kick; a very convincing drumstick "whack" for a loudspeaker this size. That way-cool circus-troop band, which Stravinsky so brilliantly scores—with the bass drum being beaten in rhythmic swing to the fiddle—just felt great. A real ear treat. And when we went to some acoustic combo jazz, that was also smokin'. Nice!
It was getting into late innings for me, but I did succeed in spending some time in the Auralic/Ryan Speakers room. And here is where dividing things up to write about based on budget, can get a little fuzzy. My hard-working buddy Herb Reichert also visited here, and I know he also was impressed with the balance between cost and quality/function.
Starting with the electronics, Richard Colburn of Auralic (center in photo) introduced me to a complete Auralic system ($17,300 without cables). But for those who might like to go à la carte, you can purchase components separately, starting with the Vega Digital Audio Processor ($3499), and Aries Wireless Streaming Bridge ($1599), into a Taurus Pre ($2099), and into the Merak monoblock amplifiers ($2499 each). The Taurus Pre runs fully balanced as well as single-ended and includes a headphone jack, while the Merak mono puts out 200W into 8 ohms and utilizes what Auralic calls "Hybrid Analog Amplify," which they say combines linear and switching circuits. The amps also contain a patented "Orfeo class-A module and linear power supply." The latest version of the wireless Aries Streaming Bridge can handle it all—including PCM up to 384KHz and three DSD formats—64, 128, and 256. Cabling in the system was a mix of fine AudioQuest and Cardas.
But there was more! All the quality juice above, wound its way finally to a pair of Ryan Speakers R630 ($5000/pair). These are a three-way, floorstanding design, and on hand to introduce them to me were brothers Trevor and Todd Ryan (left and right in the photo above.) The music-making with the pairing of these two brands was first-rate all round. The Ryans rate their R630 model at 89dB sensitivity, which certainly was a great fit with the Auralic monos. Music was poppin' with "everything in its right place." And I say that because Radiohead was cued up. This system managed to make very high-techy synth/electronica type music sound almost warm and engaging! I can't recall enjoying this track more anywhere else. This was chill. (My wife just asked me if I know how to use the word "chill" as an adjective.) Bravo Auralic and Ryan Bros.
Doctors visiting hours were almost up, but I managed to get to the Angel City/Melody Valve Audio room. Also very much part of the team effort here, was Knut Skogrand (above), designer/owner of Skogrand Cables out of Norway. It really is an intense collaboration the designers and exhibitors go through at these shows when they share systems and space, and I salute their efforts!
There was a lot to listen to and makes notes on here. Analog source, I was pleased to see/hear, as I own one, was the VPI Aries 3D Turntable. This recent iteration of the long-running Aries model includes VPI's 12" 3D-printed tonearm—much praised in the audio press, including by myself. If you haven't yet auditioned what the VPI 3D tonearms can do, you need to get to it. And for the record—hey, that's a pun!—you can also purchase the 3D tonearms on their own, or as part of various VPI packages. Very heavy magic going on with these tonearms.
The table was plugged into a Modwright PH 150 phono stage (price not provided), and from there into a Melody preamplifier ($4999), and on into a pair of Melody mono amplifiers ($8499/[air). Melody is out of Australia, and though I wasn't provided with any spec sheets, I do know the amps utilize 845 tubes. For loudspeakers, I heard from Angel City Audio, their Seraphim floorstanders ($8000/pair and up for different finishes). Angel City Audio CEO Hugh Nguyen was on-hand to introduce me to this outstanding bang-for-the-buck model. The Seraphim weighs in at an imposing 260 lbs for the pair, has a sensitivity rating of 91dB, and a frequency range of 28Hz—21kHz.
Now for the cabling: Knut Skogrand ran a few of his designs by me: the Wagner Power Cord ($2500), the Tchaikovsky interconnects ($8150 for 2 meters), and the Tchaikovsky speaker cable ($9350 for 3 meters). The names of the cable models were a bit of a disconnect however, as when I asked to hear a little classical music, there wasn't any on hand. Female jazz vocals there were, however, and playing from LP off the VPI Aries, they sounded sweet and natural, while at the same time being intimate and also room-filling. This was a very full-range experience, with a large rich low-end foundation upon which the sweet mids sat very well indeed.