Russian Romantic Piano Trio Bonanza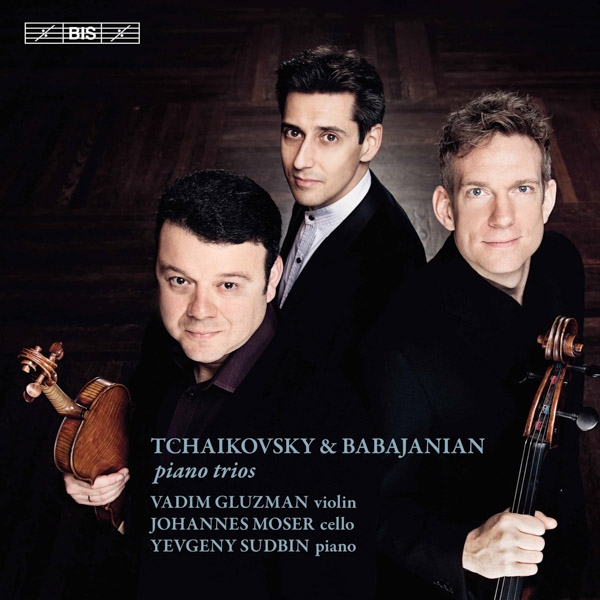 Romantics rejoice! In an age where ice seems to melt faster than hearts, there are still great musicians who uphold the Russian tradition of romantic music. Vadim Gluzman, Johannes Moser, and Yevgeny Sudbin may not (yet) have the cachet of David Oistrakh, Mstislav Rostropovich, and Sviatoslav Richter, who famously came together with Herbert von Karajan to record Beethoven's Triple Concerto, but their new SACD of Tchaikovsky's Piano Trio in A minor, Op. 50, and Arno Babajanian's sole Piano Trio (BIS-2372) places them firmly in the grand Russian tradition of emotive, give-it-all-you've-got musicianship.
Auditioned via 24/96 WAV files, which is the native resolution of BIS SACDs, the recording transmits all the color and emotion that these three artists pour into Tchaikovsky and Babajanian's music. Violinist Gluzman's sweetness on high finds its counterpart in the richness of cellist Moser's low range, and pianist Sudbin possesses the rare ability to play fff without sounding like he's pounding on the keys. In Variation VII of Tchaikovsky's trio, Sudbin manages to invoke the colors of a full orchestra without grandstanding.
Before recording—on a Stradivarius violin, a Guarneri cello, and Steinway D—these artists worked out their balances and dynamic swells to perfection; each knew when to rise to prominence or fall back into ensemble mode. When the trios really gets going, as in Tchaikovsky's extremely long, overmilked final variation and coda, all three manage to let loose in proportion while maintaining beauty of tone.
They sound absolutely right in the elegiac 17+-minute opening of Tchaikovsky's 48-minute trio. As strong a player as he is, Gluzman manages to sound fragile at first, as Moser plumbs the depths. Without hesitation, they get to the heart of music dedicated to Tchaikovsky's late mentor, pianist/conductor/orchestral director Nikolai Rubinstein.
Tchaikovsky had not yet entered the "Pathétique" phase of hopelessness and grief over his homosexuality that preceded his death, perhaps by suicide. As sincere as his mourning may have been, many of the 12 variations that follow the opening elegy are joyful. Variation VIII, for example, is a fabulous romp. It may soon cede to the quiet soulfulness of the succeeding andante, but a mazurka and wild final variation and coda follow. Only at the piece's ending—a long ending that milks its themes for a bit longer than it's worth—does he seem to recall that he's writing a piece "à la mémoire d'un grand artiste" and cool his exuberance.
The trio of Babajanian, who was born in 1921, 28 years after Tchaikovsky's death, most exemplifies the grand tradition in its sorrowful opening and slow, soaring middle-movement andante. It's a beautiful piece of music—one that received its premiere in 1953 with Oistrakh on violin, Knushevitzky on cello, and the composer on piano. Rostropovich, who commissioned a cello concerto from Babajanian in 1963, praised him as a "brilliant composer, fiery pianist, beloved neighbor and devoted friend."
Rostropovich also conducted the 1992 premiere of Alfred Schnittke's opera, Life with an Idiot. At the cellist/conductor's request, Schnittke inserted into the opera a short tango that he had first used in his 1974 film score for Agony and subsequently recycled in his Concerto Grosso No. 1. Now dancing on its own, in its fourth incarnation, Schnittke's tango closes the recording in Sudbin's arrangement for violin, cello, and piano. The piece, which grows increasingly hilarious and sardonic as it mocks virtually every classic tango that preceded it, also seems to laugh at the very tradition that Gluzman, Moser, and Sudbin uphold so beautifully. As with Tchaikovsky at his most elegiac, this trio of gifted musicians cannot help but break into a smile.