Robert Johnson, Steady Rollin' Man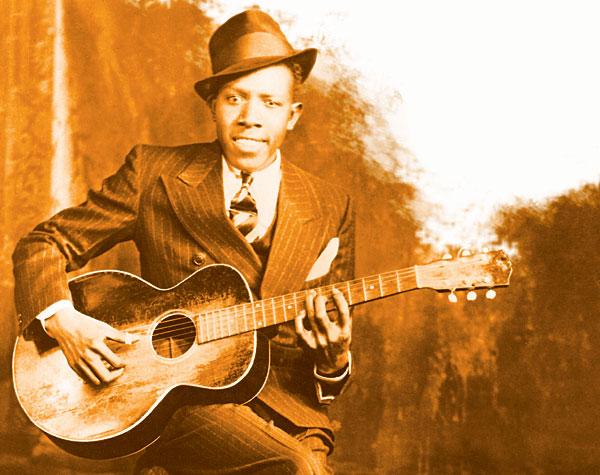 "Sometimes I can evoke the breathless rush of feeling that I experienced the first time that I ever really heard Robert Johnson's music. Sometimes a note will suggest just a hint of the realms of emotion that opened up to me in that moment, the sense of utter wonder, the shattering revelation."—Peter Guralnick, from
Searching for Robert Johnson
(New York: Dutton Obelisk, 1989)
It's an experience that all true blues fans need to savor. Fly into Memphis, drive south on US 61, into Coahoma County, Mississippi, down to the Delta, down to Robert Johnson country. There, on one of those steamy nights when the moon is full and fog, or maybe restless spirits, rise from the cotton fields, you can drive down to his two graves, in two churchyards nearly within sight of each other. You can sit in the dark and listen to the trains that were his constant mode of transportation. And on the way back to Clarksdale, the Delta burgh where Bessie Smith passed, you can go down to the crossroads and judge for yourself. Romantics say you can feel, smell, and even hear Robert Johnson's music, if not his desperate deal, still hanging in the humid Mississippi air.
That music is nothing fancy. Most of his songs begin the same way. The guitar hits you first: those spidery fingers picking their way up the frets, then bursting into a nearly unhinged frenzy of masterful actions—bass parts, rhythm parts, solo fills, and, most distinctly, doubling his vocal lines with a slide on a Kalamazoo or Stella guitar. Next comes that high, spooky, otherworldly voice with its unforgettable crying tone, the "whooooo" falsetto leaps and tormented moans in the higher registers, and those feral asides to himself, more spoken than sung, all in a deep Mississippi Delta accent. Finally, when "Sweet Home Chicago," "Hellhound On My Trail," "Come On in My Kitchen" ends, there comes the realization—at least to those who read liner notes—that this luminous singer and player, who was what his contemporary David "Honeyboy" Edwards called a "one-man band"—also wrote his own material.
To those for whom music is the most soulful art form, this white-hot triple threat, this solitary cipher, is America's answer to Mozart: freakishly talented, short-lived and yet, while alive, a rake. For the more expansively minded, those with an eye toward pinpointing America's most profound contribution to world culture, Johnson's slim oeuvre equals those of Gershwin, Pollock, Whitman—or the collection of personalities and artists that collectively make up Hollywood. In a highly imitative and often repetitive genre of music, he remains the most transcendent and imposing player, singer, and writer of the blues. His music, much of it covered after his death by such latter-day admirers as the Rolling Stones and Eric Clapton, inspired rock'n'roll, which in turn became the cornerstone of rock. Finally, there is something fitting and cosmically true about the fact that America's greatest musical genius—the details of his everyday life as unknown as Shakespeare's, his body of work as small as da Vinci's, his grave as unknown as Mozart's—spent his short life broke, illiterate, itinerant, and the grandson of slaves.
And, oh yeah—in song ("Cross Road Blues") and in legend, he is the American Faust.
"The guy on a farm, doesn't want to be a farmer, goes into town to play [guitar], they laugh at him," says Steve Berkowitz, coproducer of the new edition of Johnson's recordings, The Complete Original Masters: Centennial Edition. "He leaves, he allegedly sells his soul to the devil at the crossroads, to be able to play [so amazingly]. He comes back, 'Oh my God! He must have sold his soul to the devil to be able to play like this.' A jealous lover, maybe male, maybe female, [poisons him]. He's in the street, foam coming out of his mouth, crawling like a snake down the road. He dies."
Perhaps most mysterious and improbable of all is the fact that, since the advent of the CD—and a growing number of celebrity endorsements from the likes of such Johnson admirers as guitarists Eric Clapton (who has recorded two albums of Johnson's music), Keith Richards, and Jimmy Page—the enigmatic bluesman has also achieved record-business legitimacy: his records now. The 1990 Columbia boxed set The Complete Recordings has sold over a million copies. In 1986, Johnson was part of the first class of inductees to the Rock and Roll Hall of Fame, and in 2006 he received a Grammy Lifetime Achievement Award. In 2011, the year in which he would have been 100 years old, his song "Love in Vain" will be inducted into the Blues Hall of Fame; Robert Johnson, The Man, The Myth, a theatrical production based on Johnson's life and music, is touring major American cities; and even a performer as stylistically disconnected from the blues as Big Head Todd Park Mohr and his band, the Monsters (who have needed a fresh idea for years), have recorded Big Head Blues Club: 100 Years of Robert Johnson, with guests B.B. King and "Honeyboy" Edwards.
Johnson's recordings are owned by Columbia Records, (itself now a division of Sony BMG), which in the 1990s paid for the production of three different digital remasterings of Johnson's collected works, each using 78rpm pressings of ever higher quality. The centennial of Johnson's birth has convinced the label to pay for two more fresh remasterings, both of which use a mix of new and previously released source material. Two different collections of Johnson's works have come from these efforts. The first, The Complete Recordings: The Centennial Collection, produced by Johnson expert Stephen LaVere and engineered by famed reissue producer Steven Lasker, is a bargain-priced ($14.99), two-CD set that includes the 29 issued master takes of Johnson's material, as well as the 15 known alternate takes, all taken from a new collection of 78s sourced from Lasker and collectors around the world.