RMAF 2016: Wrapping Up with Herbo
In the room with the most beautiful speakers, they played Norah Jones. Not Nina Simone, Kirsten Flagstad, or Iris DeMent. Norah (f-ing) Jones! (Jason, can you hear me?) But it was pretty good…for Norah Jones. It was Norah singing Hank Williams and Lucinda Williams, and I survived. But only because they also played the Wailin' Jennys, which was a beautiful discovery that sounded extremely free-running and tuneful.
Speaking of running, my RMAF runnin' buddy Jana Dagdagan asked them to play Elton John's "Goodbye Yellow Brick Road" (she likes Elton like I like Elvis), but what's up with these remasterings? What the hell is the provenance on some of these "high-resolution" remakes? I could barely tell who was singing. Norah sounded nice—Elton sounded scary-bad.
I swear, folks, it ain't high-resolution or high-fidelity if you can't tell who is singing. While I was listening to a screechy Sir Elton, I made a note in my book to buy a fresh Mint–minus promo copy of "Yellow Brick Road" on a 7" 45. (With pop songs, the original 45 is usually the best provenance.) On what we listened to, even the piano sounded like tin.
Meanwhile, I continue to be a giant fan of Davone Audio (of Denmark) loudspeakers. They seem unique in the way they merge old-world craftsmanship with high-end-audiophile sound. I have auditioned them a few times at In Living Stereo in NYC; every time they sound smooth and detailed in a sexy, intelligent sort of way that would match my Eames chair if I had one. Think rich and satisfying. And don't be deceived by their looks: the Devones are not "lifestyle" speakers: they're high-quality audiophile creations for hip folks and audio persons without bad breath, dandruff, or combovers.
Devone's importer, Nate Mansfield, played music on a beautiful pair of Davone Grandes ($20,000/pair) driven by a Pass Labs INT-150 integrated amplifier ($7150). Life was good.
Look! A spinal cord of magnets and orange three-way plugs!
Dang, this stuff looks amazing, and pleases my greasy gearhead heart. I listened closely to a presentation on how these exotic-looking objects work…and I read Art Dudley's review of High Fidelity Cables' Magnetic Adapters. I get it. I think they may be on to something Tesla-true and relatively unexplored in audio. AC signal currents are electromagnetic shock waves that, in fact, travel mostly outside the waveguide wires—but after that, my ADHD/LSD kicks in and I lose consciousness. This was a static display but it gets my nod for the most alluring, exotic, sci-fi/hi-fi product of the new century.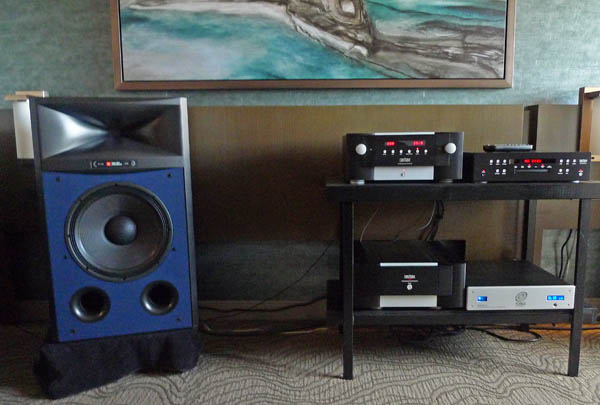 When I arrived at the Home Audio room I was tired: I needed either a bed or a Red Bull. But what I got was some smooth—let my breath out—easy-flowing music. The afternoon light from the west-facing window made this simple system look as good as it sounded. JBL 4367s ($15,000/pair), powered by a Mark Levinson ML No. 585 integrated amplifier ($12,000) and a ML No. 534 stereo power amplifier ($20,000). When I walked out, I felt restored. Thank you Home Audio.
When I entered the Voss Audio room I stopped cold in my tracks by the door. I knew instantly…whoever set up these Acoustic Zen Crescendo II loudspeakers ($22,000/pair)…whoever decided they should go far out, away from the back wall and close to side walls…whoever it was really knew what they were doing. The sound was sharp, clean, focused, and pulsing tightly. Imagine the sound of low distortion. I was deeply impressed.
Maybe all that high-budget gear sitting behind the Acoustic Zens was contributing to all that tight musical sound? Maybe. I noticed a Voss Auquus ST Reference amplifier ($54,000), a Voss Liquus Reference line stage ($44,000), an Aesthetix Romulus Eclipse CD player ($14,000), Jena Labs Model 2 AC filter ($2000), and some neatly arranged Jena Labs cables. Bravo, Voss Audio!
I am partial to full-range drivers, but I must confess: Every full-range speaker I have heard (or owned) distracted me with nonsense at the frequency extremes. Their natural, no-crossover phase coherence is a unique pleasure—except when it's muddied by cascading irregularities from out of band. Nevertheless, I am always cheering on their behalf.
The made-in-Germany Voxativ Acoustic Technologies 9.87 System ($39,300/pair) is always a spectacular and beautiful reason for me to cheer more and louder. Go full range! The 9.87 employs a highly efficient drive unit, made with either wood or paper cones, that uses electrodynamic (field-coil) magnets. What more could I want? Extreme beauty? The 9.87s are beyond attractive. Fit and finish are perfect. This Voxitiv speaker feels well-executed and intelligent. Funny business at the frequency extremes seems nearly nonexistent. They play music with a precise, coherent manner.
The Voxativ 9.87s were powered by Voxativ's own T211 integrated amplifier ($17,900) and wired with their own Ampeggio loudspeaker and interconnect cables.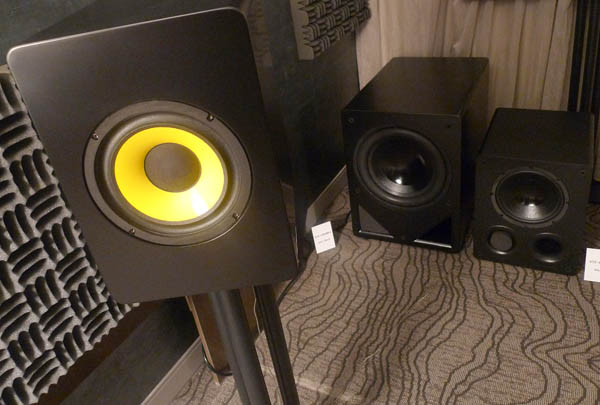 I am not so good at telling fun stories about subwoofers. I have used a few subwoofers, and even reviewed a few, but those reports were always about my struggles to get the dang things set up right and to make the review as fair and accurate as possible. And then, along came Dr. Poh Ser Hsu and his good-sounding—and very reasonably priced—subwoofers. Hsu's flagship VTF-15H MK2 ($899–$1049/each) always makes me think: If ever I buy a sub, I am certain it will be a Hsu.
It is against my religion to assign virtue or value to people, places, or things. I don't like to categorize, rank, or make lists. But John and Jason force me to. One does it stoically, the other with hyper-peskiness. So here goes…
For me, the only way to discover excellence (or its opposite) is to wait: Wait and see how powerfully or obstinately memories of my experience sit in my head, and how frequently they invade my consciousness. With audio shows, it usually takes a few days to see which rooms rise to the top and clarify my impressions of their virtues.
At RMAF 2016 I knew, the minute it was over. There were no subtleties to wrestle with. Three rooms jumped out of the Rocky Mountain Tarot deck and continue to make me feel good. Three rooms continue to invade my consciousness with their genuine audio-world value and their extraordinary sound.
The first is the Focal-Micromega-Audio Plus Services room. It reminded me of French (rouge) Champagne. It keeps sweeping me back and fueling my memories with its beautiful Japanese paper lighting and its matching (orange) Focal Sopra No2 loudspeakers ($13,999) and Micromega M-One 100 integrated amp ($3999). This under-$20K audio system looked so good, sounded so good, and made me feel so good, I may never forget it.
The second was Dennis Fraker's Serious Stereo room. Dennis's is always my favorite down-to-earth room to visit. While I was sitting there, listening to Jim Reeves and Hank Snow, I started thinking—I want to come back on Sunday when the show closes, help Dennis pack, and maybe ride in his truck: back to Montana. The sound he gets with his hand-built amps and coaxial transmission-line loudspeakers is surprisingly not that different than the sound in the Focal-Micromega room. Both were luminous, delicate, and highly tactile. Fundamental realism predominates.
And lastly: I can't take full credit for this, because my friend Michael Trei texted me to join him in the Vaughn Loudspeaker/Wavelength Audio room. He said it was the best sound at the show, and that they weren't playing any "audiofool" records.
When I got there, I listened silently. After a few songs, Michael asked, "So? What do you think?" I said I thought is was not just the best sound at this show—it might be the best sound at any show, ever. (But then you know I am prone to wildness and hyperbole.)
What really impressed me was the Vaughn Plasma Signature's ($20,000/pair) exquisitely, perfectly resolved midrange, coupled to the best top octaves I have ever experienced. The plasma tweeters have control knobs that go from silence to full on. I listened in wonder as Jim Jordan (Vaughn's founder) turned the knobs and made the midrange go from extremely good to unbelievably good. If you love electrostatic speakers (as much as I and Michael Trei do), you might lose your mind for this dynamic-plus-plasma tower that out-stats your stats. Right now, Vaughn's Plasma Signature gets my vote for the only speaker that might actually do it all! Is it perfect? No. Now that I think of it, I did wish for a little more slam, slash, and wham-bam-do-da. But then I was listening to their records, not mine.
Meanwhile, who's higher up on the audio smart-cool chain than Gordon Rankin of Wavelength Audio? Nobody. I love Gordon, we go way back together, and his Europa, Crimson, Cosecant, Brick, and Proton Nano inventions probably gave Jim Jordan's Plasma Signature loudspeakers an extra good shot at that best sound ever prize. And…
Thank you John Atkinson, Jason Serinus, Jana Dagdagan, and all you Rocky Mountain Audiofest-ers, for being kind companions and making my time in Denver seem so lovingly about music (and not politics).