Rick Visits . . . David Johansen Page 2
"I still listen to a lot of Latin music. And then I listen to a lot of classical, jazz, movie soundtracks—especially Italian movie soundtracks. My favorite, of course, is Nino Rota, but I like a lot of the other guys too. And I paint, so a lot of times I put music on my boombox, and it just is there. It's like a friend of mine. Lately I've been listening to this series of early American rural music that Shanachie puts out. There's some great music there you'd never get to hear."
"I'll have to check that out."
And So my Wish was Granted. Johansen happened to be packing a deluxe-size CD case positively jammed with discs. He carries it around to listen on his Discman, boombox, or any system he can successfully commandeer. The Chesky conference room (aka Johansen's living room away from home) contains a pair of B&W 801s, with B&K ST-140 amplifier and CS-115 preamp, sourced by a JVC XL-Z1010 CD player. Not their reference system, but quite musical.
Johansen situated himself in front of the system and began to pull discs. From Times Ain't Like They Used to Be, we heard Richard "Rabbit" Brown's "James Alley Blues"— one of the songs covered on his record, also found on pioneering musicologist Harry Smith's seminal Anthology of American Folk Music on Folkways. The sound was by no means un-crackly, but the emotion certainly came through. This was particularly the case on another ancient blues, "Lowe Bonnie," by Jimmy Tarlton...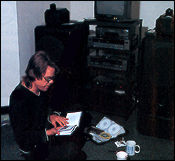 "That'll break your heart, that song. All these songs are about mayhem. There's a lot of that in the Harry Smiths record. Generally, someone dies in each of the songs. [laughs] These are the first records of this stuff that I've heard where they really did a good job cleaning them up, just to the point where it would impinge on the integrity of the music. There must be some kind of brand-new technology or something to take the pops and scratches out of them. What the hell do I care, as long as they sound good? They sound like a record, not like somebody put a microphone next to a Victrola and taped a 78."
We heard to a few pieces of simply breathtaking acoustic guitar by D'Gary and Dama, from field DAT recordings made in Madagascar by David Lindley and Henry Kaiser.
"This guy lived in the bush. They found him in some village and he had lost his guitar in a flood. I don't know how long he hadn't played a guitar, but it's just killer. This guy's beautiful, isn't he? And he's singing these songs, they're about his cow and shit.
"Have you ever heard this, Rick?"
"No, I haven't."
"Have you heard this one?"
"Uh-uh."
"Do you know this stuff?"
"Nope."
That's how the bulk of the conversation went for the rest of the afternoon, with Johansen enthusiastically hipping me to favorite cuts from CD after CD. We heard more early country blues. "Oh Death," from Dock Boggs—another song that appears on Johansen's Harry Smiths record. Joseph Spence and the Pindar Family made some fascinating, rhythmically complex Bahamian vocal harmonies. We heard various hot Cuban septetos on compilations from the Corason label, whose Eduardo Llerenas is described by Johansen as the Alan Lomax of Latin America and the Caribbean.
We listened to examples of a wild Latin style known as perico ripiao, which translates as "pulling the wings from parrots." From the Eastern end of Cuba, in Guantanamo, came the distinctive beat of changüì. Ali Hassan Kuban, a Nubian dance band from Cairo, gave us the delightfully bazaar "Sukkar, Sukkar, Sukkar." The crazy Colombian cumbia we heard was reminiscent of jungle themes from old cartoons. We listened to some of Jimmie Dale Gilmore's new record, to soundtrack music from Nino Rota, to the captivating piano of the Buena Vista Social Club's Rubén Gonzàlez, to the Latin rhythms of Grupo Folklòrico, and to some of Chick Corea's favorite Bud Powell recordings. David J happily played DJ for a couple of hours.