Astell&Kern A&ultima SP1000 portable audio playerPage 2
None of this would be worth a damn if a full charge of the SP1000's battery pooped out too soon, but A&K claims it will last 12 hours. Using a 9V, 1.67A charger (not supplied), fully charging the completely drained battery should take no longer than 140 minutes. A 5V, 2A adapter did the job in five hours. A 12V charger won't work, and could damage the SP1000. Supported operating systems are Windows XP/7/8/10 (32/64 bit) and Mac OS10.7 and up.
Setup
For every reason I hate iTunes, I loved the A&ultima SP1000's Android-based operating system. An hour with the SP1000 made me realize that my problems with iTunes were not related to my age or computer illiteracy but to iTunes—a terrible, user-unfriendly app built years ago that has ever since been regularly upgraded by engineers who are out of touch with users, and uninterested in connecting with them to find out why iTunes continues to suck.
After reading the quick-start guide, I understood the SP1000's basic functionality. The review sample arrived with some music already on it, and soon I was playing and enjoying it, and navigating its menus with ease. Not once did I find myself cursing and screaming in frustration, as I often do when trying to find stuff on my iPhone with iTunes.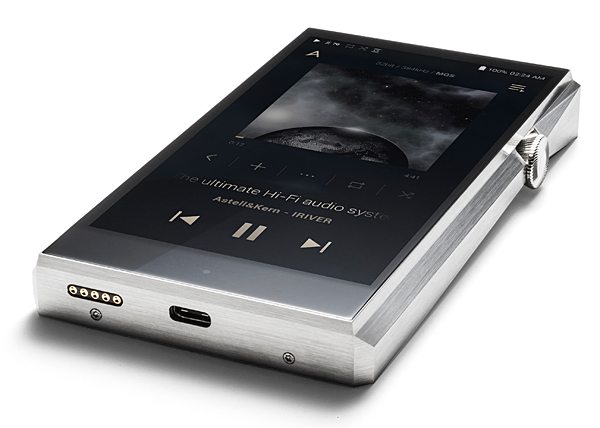 I read the manual, then found I could use all of the SP1000's incredible functionality without again referring to it. If I got lost while learning, I'd go back to the top and start over by gently touching the Home button—a tiny, almost invisible spot at the center of the non-illuminated black band at the bottom of the touchscreen. In little time, I could swipe the screen to get any desired result and/or information (of which there's a great deal). What's more, the powerful CPU was fast, responsive, and glitch-free.
All of this versatility, plus the ease with which I was able to grasp it, meant that in short order I'd downloaded the Android-to-Mac file-sharing app and easily transferred many hours' worth of hi-rez files from my iMac to the SP1000, and streamed music over my WiFi network from the SP1000 to my two Marantz receivers, which the A&K automatically found. Files of 24/96 were smoothly streamed from the SP1000 to the receivers, but 24/192 files weren't glitch-free.
The A&ultima also found and played music from a Wolf Audio Systems Cub music server I'd been playing with for fun—the Cub had come loaded with hundreds of files—as well from the libraries on my computers. The hi-rez files I'd loaded into the SP1000 produced the best sound I've gotten from my auxiliary home-theater system (see "Associated Equipment").
I digitized at 24/96 hundreds of tracks from LPs for the AnalogPlanet WFDU-FM radio show that I hosted for nearly two years (footnote 1). The music folders for each show are stored on an external hard drive connected to my iMac. It was easy to quickly load on the SP1000 many shows' worth of files, and just as easy to grab an appropriate JPG image from the Web and place it in the uploaded file, so that an image appears on the touchscreen for each file, as it does for an album. I'd devoted a two-hour show to Phil Spector, and for that I'd pulled that well-known shot of the huge-haired Spector during his trial for murder. The song titles, as listed in the folder, appeared on the SP1000's screen, as did the files' resolutions.
Among the other things I did with the SP1000: I switched the player's output to optical, then used an optical cable to connect it to my home system's DAC. I also streamed CD-resolution music via Tidal. The SP1000 doesn't include MQA decoding, but perhaps that's coming via firmware. In any case, on the road it's not critical.
It was easy to create playlists. The SP1000's OS automatically creates Most Played and Recently Added lists. You can choose or search for music by song, genre, album title, and artist name. The OS offers a linear playback history or it can be sorted by number of plays. You can play an album's tracks in sequence, randomly, or in repeat mode. If you select the Random icon in Song mode, the system goes into Shuffle mode. Master Quality Sound (MQS) mode lists files of 24-bit or greater resolution. The one option I didn't try was using the player as a soundcard via an outboard portable DAC. In that mode, DSD is converted to PCM or DoP (DSD over PCM, if your DAC can handle that).
There are even more playback options. I could fill more pages describing more of what the SP1000 can do, but I won't. Instead, you can download the manual. Basically, the SP1000 is an incredibly versatile, high-resolution audio player that was easy to use.
On the Road
I've now taken two long trips with the Astell&Kern A&ultima SP1000. One was to California, and the other to Bangkok, Thailand. When I landed in LA (from New York), the battery was a good bit less than half drained—my point being, despite the SP1000's versatility and powerful processor, it's not wasteful of power. The player probably would have made it to Tokyo without a recharge, but I plugged it into the plane's USB port after about 15 hours. And compared to an iPhone, its greater weight was actually helpful on an airplane, especially during takeoff, landing, and turbulence: The SP1000 stayed put—and the phone went into my computer bag, where, when I fly, it now stays.
When I arrived in LA, I heard from Audeze's Mark Cohen, who told me that a pair of their new, portable LCDi4 planar-magnetic in-ear headphones were on their way to my hotel room, where I was required to stay put for days (footnote 2). I didn't know then that the LCDi4s cost $2495, but when I plugged them in and listened to some files, I figured they must be pricey. The A&K-Audeze combo put on my head a truly high-end, ultra-lightweight, super-comfortable, $5994 audio system that produced a level of portable hi-rez sound I hadn't thought possible.
The differences between Audeze's planar-magnetic and Jerry Harvey's multiple-balanced-armature 'phones were similar to the differences I've heard between planar-magnetic and moving-coil loudspeakers: respectively, higher resolution and delicacy vs greater dynamic slam and image solidity. If I had more space, I'd go into greater detail (footnote 3). To say that either pair of 'phones brought the sound of a first-class, digital home audio system into my hotel room is not hyperbole. On the go, I hadn't ever before experienced anything like what I was now hearing, nor had portable listening gear ever brought me so much enjoyment.
Smooth, Dazzling Sound
One of the first things I played through the Audeze LCDi4s was the Doors' Strange Days (Elektra): the 24/96 commercial download, as well as a needle drop of an original pressing. Jim Morrison's voice floated there eerily, more in front of than between my ears, relaxing on a rich, cushiony reverberant field, presented in a way I'd never before heard from this album.
While some think the band's first album, The Doors, is better, nothing in their discography matches this second album's dark, creepy atmosphere. Through this system, "Moonlight Drive" was rapturously three-dimensional, spread across a soundstage that seemed impossibly expansive and that wrapped well beyond the usual "in the head" dimensions.
In some ways, the various musical elements were excessively dissected, but overall, the timbral and textural balance, along with the precision of attacks and generous sustain, produced a picture that seemed to be organic on the "cellular" level, without ever sounding mechanical. The sound of John Densmore's cymbals, particularly from the vinyl rip, was ideal, as was the sound of his kick drum in the title song. That was a tribute to both the Audeze headphones and to the A&ultima SP1000.
Being an audio nerd, I of course swapped the LCDi4s for the Jerry Harvey Laylas. The sound now had more bass slam, weight, and extension, and more tightly compacted images on a somewhat narrower but more focused stage. Two different sounds, both first-rate. I'd have a hard time choosing one over the other, though I found that the LCD-i4s' lack of noise isolation made them unusable on an airplane, or even in the low din of the United Club.
But this is a review of a portable player, not a pair of headphones. The qualities I found so easily identifiable and annoying with every track I listened to during my first encounter with an A&K portable player—that mechanical edge to transients and a bright tonal coloration, particularly as I increased the volume—were completely absent with the SP1000. Now, each file revealed its own familiar qualities, rather than anything tacked on by the player. The SP1000's output was sufficiently high to drive, without strain or distortion, both the planar-magnetic, 32 ohm Audezes and the 20-ohm Jerry Harveys. At home, I also tried high-impedance AKG AK-701s, and while not the ideal match for the A&K, they sounded ultra-transparent and pure, with more than enough volume, and plenty more available from the SP1000's output.
I particularly enjoyed the vinyl rips that I'd never listened to on headphones. Would I now hear vinyl artifacts close up—or, worse, the stylus scraping through the groove? No. Sure, there were occasional pops and clicks, but for the most part, my greatest pleasures with the A&K were listening to those vinyl rips. They were worth all the time they'd taken me to make.
You were expecting something else?
Conclusions
Astell&Kern's A&ultima SP1000 is probably more portable player than you'll need, and at $3499, its price might even offend some. But in terms of build quality, ergonomics, and sound, A&K's ultimate player delivered what A&K has promised. All you might need is one of A&K's less expensive players, but if you want the best, this is it.
It was so much fun to listen to hi-rez files and rips from my turntable at 40,000 feet. Sandy Denny's aching voice singing her "Who Knows Where the Time Goes?" (from a pink-rim Island pressing of Fairport Convention's Unhalfbricking); or Fleetwood Mac's "Future Games"; or "Transfusion," from John Renbourn's Sir John Alot of Merrie Englandes Musyk Thyng & ye Grene Knyghte; or Mel Tormé singing "New York State of Mind," from his Live at Marty's; or Zubin Mehta and the L.A. Philharmonic performing John Williams's Star Wars Suite—it all sounded so thrillingly transparent, delicate, and analog-like that I plunked down the dough and bought the demo unit.
You were expecting something else?
---
Footnote 1: All of my themed radio shows are archived
here
. Check out my three-hour tribute to Rudy Van Gelder, complete with Ben Sidran's NPR interview with Van Gelder from the mid-1980s.
Footnote 2: I was there to testify as an expert witness in the trial of Quincy Jones vs Michael Jackson, which Jones eventually won.
Footnote 3: JA is reviewing the Audeze LCDi4s in the December issue.—Ed.