Regina Carter: A Family Affair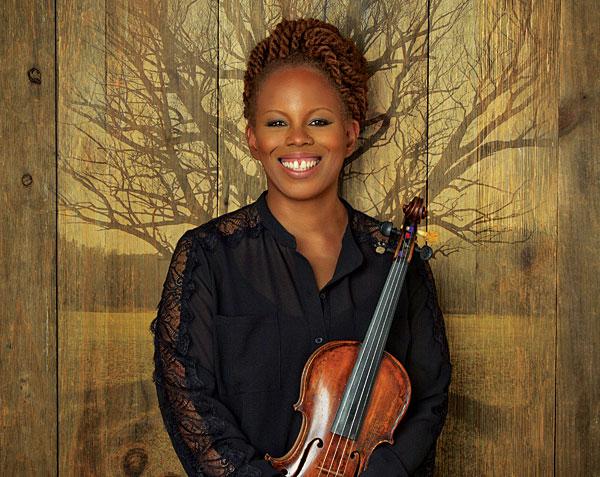 Making a recording is always a personal journey—everyone has a story to tell. Jazz violinist Regina Carter's latest,
Southern Comfort
, is an eloquent musical expression of Carter tracing the roots of her paternal lineage back five generations. For the project's sound engineer, Joe Ferla, it's the final project of a engineering career, and the beginning point of his new life as a practicing musician. The entwining of these journeys gives the album's music and sound a rare honesty.
Released by Sony Masterworks, Southern Comfort began as a Web addiction. "I got hooked on this Ancestry.com site, and there's a DNA test, and I started reading, and I thought, 'You know what, let me delve into this and see if I can get any further.' I know more information about my mother's side of the family than I do about my father's. And I thought, 'Man, that might be an interesting project—to see what music may have been happening during the time that my grandfather was alive, and I could try to make some connections through the music.'"
Carter's paternal grandfather, Dan Carter, was a coal miner. Born in Georgia in 1893, he later moved to Alabama. "He would move around, depending on where there was work. He and my grandmother raised 14 kids. Two sets of twins, my father and his twin being the oldest—or so I was told. But going on Ancestry.com and looking for records, it might be another story. It's interesting what you find out."
Digging into American recordings ca 1893 means folk music, prison songs, children's songs, lullabies, and mountain music, soon to be called "hillbilly." This was the pre-disc era of the wax cylinder, which led Carter to the field recordings, many made much later by Alan and John Lomax, housed at the Library of Congress.
"I went there and listened to a few, but there was so much that I would had to have been there for months at a time. So I had a young lady that was excited to help me—she's definitely into research—and so she went down for me. I gave her a list of things that I wanted her to get copies of, and then just told her, 'This is kind of what I'm looking for, so anything you might see that I didn't think of . . .' She collected lots of reading material for me, and also had reel-to-reel tapes transferred for me onto CD.
"Besides being so taken by the field recordings, that were so haunting and beautiful, there was the history. I was horrible at history when I was in school, but I think if it had been taught this way—where you're studying a particular time in history, you hear the music, you see the art, and all of it is connected—it would have made more sense to me. It would have been more interesting, and I would have remembered it.
"You have all the Europeans who came to the Americas, and a lot of them settled in the South, in the Appalachians. You have the Irish and the Scots, African-Americans, the Native Americans, everybody, so that hodgepodge of sound that we have is really beautiful. And you can hear a lot of times where the dominant music is. Some of it has a very strong sound of, 'Okay, this really came from this place or these people.'
"What's interesting is when I play some of these field recordings for people, they say, 'I know that. My mother used to sing that.' In fact, Chuck Mitchell [senior VP, Sony Masterworks] said, 'My mom used to sing that to me, but it had different words.' When you start researching any music—no matter where you start—and you just keep following that thread, you see how much we're all connected, whether we want to be or not. So it's been fascinating—it's like my own homeschool course."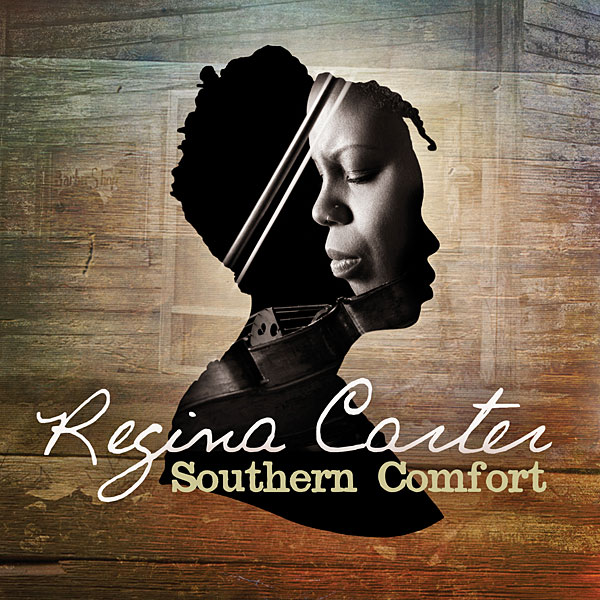 What makes Southern Comfort so musically interesting is the fact that Carter asked a number of arrangers, most of whom are also musicians, to arrange these tunes, some of which are beyond iconic—like Hank Williams "Honky Tonkin'," arranged by bassist Chris Lightcap in a loose style that, odd as it may sound, has some of the liberty of free jazz.
"I loved 'Honky Tonkin',' and I loved Lightcap's opening line," Carter says. "It's like an Ornette Coleman bass line. Why rerecord the tune as it was? There's no point. If you're gonna do something, respect it, of course, but then pay homage to it by putting your own voice to it.
"The other tunes that were field recordings, I told the musicians they had to keep the beauty of the original field recordings there, but to also modernize those pieces. I think those were easier to arrange, because they were just a single voice on a field recording—there were no chord changes or anything, so that gave us all so much more freedom."
After the unique "Honky Tonkin'," and a slow, evocative version of Gram Parson's country rock standard, "Hickory Wind," another highlight of Southern Comfort is the traditional "I'm Going Home," which Carter agrees belongs in the hallowed pantheon of such sacred American standards as "There Is a Balm in Gilead," "Amazing Grace," and "Danny Boy."
"It's so beautiful, the sentiment, and when [guitarist] Adam Rogers arranged that one, I remember I was in Canada, and he called me and said, 'I just want to get a sense if this is okay for you.' He played it for me over the phone, and I was like, 'Oh my god, I'm gonna cry.' It was just so beautiful."
The tune that probably required the biggest stretch for Carter was "Blues de Basile," a tune associated with Creole accordionist Amédé Ardoin. "Someone sent me a video about Amédé, and it was such a heavy, heavy story that he would be hired to play these parties by white families, and they loved him, they loved his music—and then the men would get drunk and they would forget that they hired him, and they would chase him. Or one time he was playing and a woman dabbed his head with her handkerchief, and they were really not having that, and chased him and caught him and killed him. It was really brutal."
As with two other eccentric geniuses of American music, Buddy Bolden and Robert Johnson, little is known about the life of Amédé Ardoin (1896–1941). The cause of his death has never been firmly established. One story is that, after he used the white woman's handkerchief, he was deliberately run over with a car by outraged white men. He may also have been poisoned by a jealous musician. Ardoin died in a Louisiana insane asylum.
"Every country, continent, has its ugly history," Carter continues, "but Ardoin's music is just phenomenal. It's beautiful. It's uplifting. There was art that came out of that. We don't have to beat a dead horse as far as the history goes, but let's not throw the music and art out. Let's not ignore that. Let's take the good that came out of that and present it, and say, 'This is something beautiful that came out of something ugly.'"
Speaking of history, Carter realizes that playing Cajun (aka Arcadian) fiddle is a deep tradition. "I hadn't really tried to play music from Louisiana before. I listened to it and tried to get it, but that's a whole other animal. If I was really going to try and do it, I'd have to go down there and live and find some people to study with, so I didn't even try [to go deep] . . . I'm dabbling."
Southern Comfort was recorded at Kaleidoscope Sound, in Union City, New Jersey, over a span of three days. Carter is very particular about how she wants her violin to sound on record. "Each wood instrument has its own sound, so when I even pick the violin, I don't like a bright-sounding instrument. I like more of an alto voice. So I look for that in an instrument, and sometimes I make adjustments to get a darker sound. When I record, sometimes people will say, 'Yeah, I know violin.' But every violin and every violinist is different—you can't just say you 'know' violin. So I had to learn to ask engineers to roll some sounds out, so it's not so bright and harsh."
Fortunately, Carter has found an engineer who can get that sound on record. Joe Ferla, who has engineered projects with everyone from B.B. King and Donny Hathaway to John Mayer and Keith Richards, has worked with Carter since the mid-1990s.
"Regina was always concerned about the violin, as a melodic featured, instrument, that it wouldn't sound strident and annoying," Ferla says. "She has a beautiful, warm tone. When we first started to work together, we held a session at Avatar Studios [in NYC], so we could meet each other and experiment with different microphones and see how to achieve this sound she likes to get. My thought was to use ribbon mikes on her—a Coles 4038, which is a really old design, and a beautiful, warm, rich-sounding microphone. That ended up working out really well. I put one mike where everybody would mike a violin: a couple of feet away from the instrument, pointing down at where she's bowing. And then I put another ribbon mike a couple of feet behind the violin, so it was two mikes facing each other, and I flipped the phase. Adding that bottom mike was a way to get a darker sound. The bottom mike by itself sounds a little muddy. There were times when I was able to mix that in. And then I played around in a given piece: if there was a note that sounded a little strident, I could feature the bottom mike a little more."
Southern Comfort is Ferla's final recording project. ("I drove him out of the business," Carter jokes.) He's returning to his youthful passion of being a player. "I have a renewed passion and interest in playing guitar. I started as a kid, and stopped when I got into engineering in 1969. I didn't play guitar for about 40 years, and picked it back up about three and a half years ago. I have the passion for my guitar the way I had passion for my engineering. I redirected my passion. So retired is really kind of a weird . . . I'm not engineering anymore, and this is kind of Phase II of my life, where I'm collaborating with musicians and I'm in a band, and just playing locally at open mikes and trying to become a good guitar player. I haven't missed a beat, and I think I'm busier now than when I was engineering.
"I kind of choreographed my last three albums: a Kenny Garrett album, a Makoto Ozone and Gary Burton duet album, and Regina's album. I wanted my last three albums to be super enjoyable, with people I know and love and that I know will make really great records. I don't know how many people get to call the shots like I have, so I feel really blessed."
Southern Comfort was recorded entirely on the computer using Pro Tools, a situation that has gotten better as the software has improved and engineers have learned how to manipulate it with more finesse. But why not use analog tape, a medium famous for its distinctive sound?
"I think cost and convenience," Ferla says. "It's way less expensive than tape, which is probably more expensive than it ever was. And now we're spoiled with Pro Tools, in that if offers unlimited amounts of time and unlimited amounts of tracks, which are two huge, huge pluses. When you go to tape, you're dealing with 16 minutes per reel at 30ips. And you end up with five minutes at the end of each reel that you're not using, usually. And that adds up, over the course of an album. And then you're always concerned about am I going to run out of tape in the middle of a take, and the reel changes. I also question how many years I've spent in rewind. When I think about that over 44 years, my god, it's a lot of time.
"Ask me which I like better, and I still think tape sounds better. I was a real holdout before I switched over to Pro Tools. When Pro Tools first came out, the converters really were terrible. I use it as a tape recorder, as a medium to capture what I'm doing. I don't really like to get into the trickery."
Carter and the other musicians on the session—Marvin Sewell (guitar), Will Holshouser (accordion), Jesse Murphy (bass), and Alvester Garnett (drums)—recorded all the music on Southern Comfort in whole takes, live in the studio: everyone was present at the same time. This method is standard for Carter, who long ago learned a valuable lesson in studio recording.
"Years ago, I went in [to the studio] and fixed a solo in one of my tunes which I shouldn't have—it didn't get any better. And then I heard it, we were listening, and someone said, 'Why does the drummer play that there? It doesn't make any sense.' It was because the drummer was reacting to something I did on the original take. No one went back in with me when I redid my solo, and I didn't think to think about what they were doing, so now they were playing in reaction to something that wasn't there any longer."
The mention of lessons learned sends Carter into a tale about listening to final masters. For Southern Comfort she will listen to masters for release on CD and high-resolution download. The album will also be released on LP, and there will be test pressings on vinyl to listen to—but those, too, will be made from digital masters.
"The dynamics of records—I learned a really big lesson when Kenny [Barron] and I recorded Freefall [in 2001]. I didn't know anything about listening to a test copy of the master before the records were printed. And so, on 'Misterioso,' the Monk tune, I was listening to it, and said, 'Why is this so weird?' Turns out the first note was chopped off. So now I always listen to the masters."
When we talked about listening, Carter, to my surprise (and delight!), began casually throwing in names like the a Marantz SACD player, Hyperion speakers, Shakti Stones, NuForce preamps, and Straight Wire Crescendo cables. Is all this the result of a certain audiophile presence in her life? Turns out that her husband and drummer, Alvester Garnett, is an audiophile and longtime fan of this magazine.
"Before we were even dating, when he was just in my band, a long time ago, I needed a stereo so I could get rid of the boom box and listen like a real musician. He helped me out with my little Anthony Gallo system in my apartment, which had the Sirius subwoofer.
"I'm looking at a stack of Stereophiles here right now," Carter says. Her rolling eyes and shaking head are almost audible. "He reads it all the time. He gets really geeky. He's just such a . . . he and some of his other friends, they come over here, and it's like, 'Oh my god.' I have to laugh when he starts trying to talk to me about it. I'm like, 'Wooo-hooo! You know, I gotta go!'"