Records to Die For 2019 Page 5
---
Stephen Mejias
---
Meshell Ndegeocello: Ventriloquism
Naïve M6702 (2 LPs). 2018. Meshell Ndegeocello, Jebin Bruni, prods.; S. Husky Hoskulds, eng.; Pete Min, mix, mastering. DDA? TT: 53:29
When I was a kid and felt overwhelmed by various fears and foes (asthma attacks, roaches, rats, guard dogs, dark halls, ghosts), I locked myself in my bedroom, wrapped myself around a little GPX boom box, and found comfort on the FM dial. Z100, Hot 97, and Power 105 gave me Lisa Lisa's "I Wonder if I Take You Home," Ralph Tresvant's "Sensitivity," The System's "Don't Disturb This Groove," Sade's "Smooth Operator," and more. Meshell Ndegeocello breathes sweet new life into these and other R&B hits from my childhood, as though performing just for me. A portion of the profits from Ventriloquism goes to the ACLU.
Open Mike Eagle: Brick Body Kids Still Daydream
Mello Music Group MMG-00106-1 (LP). 2017. Mark Bowen, exec. prod.; Daddy Kev, mix, mastering. DDA? TT: 39:11
Rapping rapidly but effortlessly over laid-back boom-bap beats and samples—bubbling synth sounds, angular guitar riffs, echoes of funk and jazz and soul—Chicago's Open Mike Eagle digs through the rubble of the Robert Taylor Homes, a demolished South Side housing project, to protect his past from those who would rather deny it, rewrite it, and forget. In those projects, ambitious children use their superpowers to battle asthma attacks, roaches, rats, guard dogs, dark halls, and ghosts. When OME sings, "This goes out to ghetto children making code words in the projects around the world," he's singing to me.
---
Paul Messenger
---
Jeff Beck: Truth
EMI SCX 6293 (LP). 1968. Mickey Most, prod.; Ken Scott, eng. AAA. TT: 40:16
I can't believe I haven't recommended this album before. I've long been a huge fan of Jeff Beck, who's always seemed to add a sense of humor to his licks that was missing from those of Clapton, Page, and Green. And look at the sidemen: Rod Stewart on vocals, Ron Wood on bass, Nicky Hopkins on piano, etc., etc. This was the album that started the whole metal craze, some years before it actually happened. In my opinion, its existence also made Led Zeppelin largely redundant, somewhat before they found time to take off! (Vol.29 No.12)
Massive Attack: Mezzanine
Virgin WBRLP4 8 45599 1 (2 LPs). 1998. Massive Attack, Neil Davidge, prods.; Lee Shepherd, eng. AAA.? TT: 61:29
Mezzanine might not be the best album produced by Bristol-based trip-hop collective Massive Attack—that honor arguably belongs to Blue Lines, one of my R2D4s for 2000. The reason this double album makes it onto the list is largely down to one track. "Inertia Creeps" is simply the best subwoofer test track I've heard, and the fact that it provides more than a hint of menace is a bonus. The rest of the album is pretty good, too, but "Inertia Creeps" stands out, and is much more than a test track.
---
Ken Micallef
---
Forq: Forq
groundUP 8829514692 (CD). 2014. Michael League, prod.; Rudyard Lee Cullers, eng. DDD. TT: 54:19
On their 2014 debut, four-piece funk-fusion outfit Forq mash up the Meters' groove gyrations and Tower of Power's metric manipulations with a heavy slab of tightly wound New York City musicianship to create the perfect template for dance floors, pool halls, and NASA launch pads. Sticky and greasy, yet emanating a sense of heavy, organ-infused soul, Forq's instrumental lava is hot, spicy, and dangerous. For this album Forq comprised Snarky Puppy's Michael League, keyboardist Henry Hey, guitarist Adam Rogers, and drummer JC Thomas, he of the titanic beat. Since then they've released Batch and Threq, with another CD on the way for 2019. Mighty mighty!
Rafael Anton Irisarri: The Unintentional Sea
Room40 RM455 (LP). 2013. Rafael Anton Irisarri, prod., eng., mix. DDA? TT: 40:57
Defying such tags as "ambient" or "drone," Rafael Anton Irisarri combines field recordings, bowed guitars, treated instruments, and electronics in epic works that are often chilling and disturbing, but never cold. The Unintentional Sea is like the emotional soundtrack to a film about a ship lost at sea: unknown objects bang against the hull, visibility ends at 20 yards, and the ominous sea roils endlessly below. While the music conjures darkness and a void, it's impossible to stop listening. Is it the call of the unknown, or that temptation to jump off a nearby ledge, that makes The Unintentional Sea so compelling?
---
Thomas J. Norton
---
Harry Gregson-Williams: Kingdom of Heaven: Original Soundtrack
Harry Gregson-Williams, London Session Orchestra, Bach Choir, King's Consort Choir, Fretwork (Concert of Viols)
Sony Classical SK 94419 (CD). 2005. Harry Gregson-Williams, prod.; Peter Cobbin, prod., eng. DDD. TT: 61:57
Harry Gregson-Williams's score magnificently complements Ridley Scott's 2005 film about the Crusades. It's an astonishing work, superbly recorded at London's Abbey Road and AIR studios and featuring orchestra, choirs, and musical styles from both the West and the Middle East. There's a little edginess in the louder bits, but the dominant, softer choral passages, with their rich depth and ambience, are consistently addictive. If this music inspires you to seek out the film (as it well might), ignore the butchered theatrical release (justifiably ravaged by critics), and insist on the longer Director's Cut. It's a near masterpiece.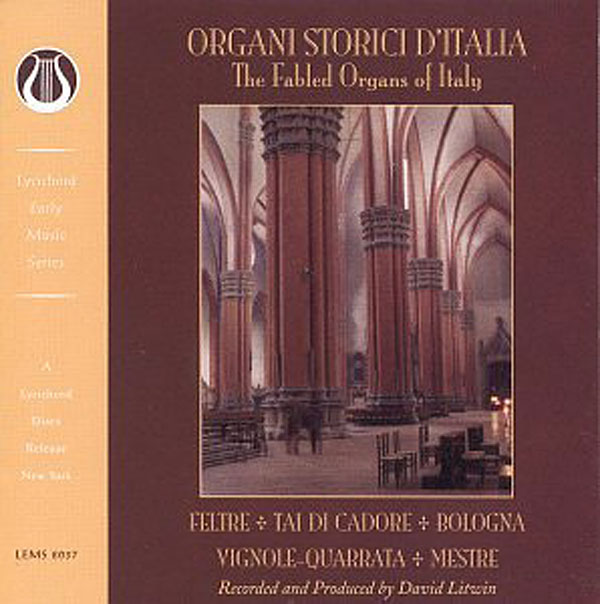 Organi Storici D'Italia: The Fabled Organs of Italy
Works for organ by Cavazzoni de Bologna, Frescobaldi, Gabrieli, Galuppi, Guami, Landini, Lucchesi, Merulo, Moretti, Pasquini, Pescetti, Segni de Modena, Spergher, Anonymous
Sergio De Pieri, Umberto Pineschi, Liuwe Tamminga, organists
Lyrichord Early Music Series LEMS 8037 (CD). 1999. David Litwin, prod., eng. DDD. TT: 70:41
Comprising 21 tracks played on six different Italian organs, this CD is a hidden gem. Even if you're not an inveterate organ enthusiast (I'm not), you can't fail to be taken by the sound of these classic beasts, built from 1471 to 1813, and each restored to its former glory in the past century. Don't expect the deepest notes, which came into style only after these instrument were built. But these recordings, made with a single pair of B&K 4006 microphones, magnificently capture both the sounds of these instruments and the rich ambiences of their venues. Extensive liner notes included.
---
Herb Reichert
---
Deep Listening Band: The Ready Made Boomerang
Pauline Oliveros, composer, voice, accordion, pipes; Thomasa Eckert, Panaiotis, voice; William O. Smith, clarinet; Stuart Dempster, trombone, voice; Al "Pop" Swanson, balloon; John Cage, indecipherable liner notes
New Albion NA 044 (CD). 1991. Foster Reed, prod. DDD. TT: 56:04
Pauline Oliveros's Deep Listening Band recorded Ready Made Boomerang inside an empty, two-million-gallon water tank in Port Townsend, Washington, and dedicated the results to John Cage. In Balloon Payment, a balloon is popped—and for the next 44 seconds its sound dramatically decays, to demonstrate the precise reverberation time of this unique recording venue. In "CCCC (Cistern Chapel Chance Chants)," a man and woman improvise lyrics in the Chapel's vast hollowness. The seven compositions on Boomerang are precisely conceived to engage listeners at the highest levels of which their minds and senses are capable. Oliveros's austere, ethereal art invites the listener to listen "deeply and completely."
Skip James: Blues from the Delta
Vanguard 79517-2 (CD). 1968/1998. Tom Vickers, compilation prod.; Captain Jeff Zaraya, eng. ADD. TT: 75:44
I grew up in Chicago, and had experienced many of the dirt-road Mississippi Delta blues legends before I could drive. But no blues persona has affected me more than the Delta's finest singer, songwriter, guitarist, and pianist: Skip James. His high-pitched, ethereal voice raised songs like "Crow Jane," "I'm So Glad," "Devil Got My Woman," and "Hard Time Killin' Floor Blues" to the highest level of musical art. James recorded for Paramount Records in 1931, then disappeared. In 1964, musicians John Fahey, Bill Barth, and Henry Vistine went searching for him—and found him. The result of their faith and understanding, originally released in 1968 as Devil Got My Woman, is included here in its entirety.