Recordings of June 1986: The First Private Music Releases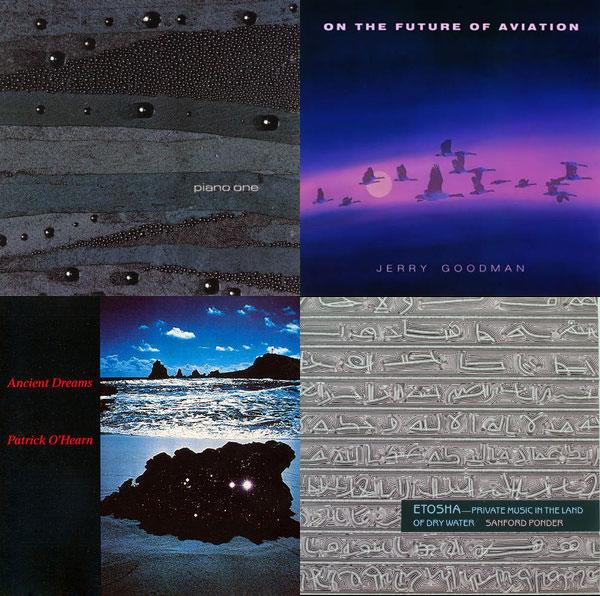 Sanford Ponder: Etosha—Private Music in the Land of Dry Water
Private Music 1101 (CD/LP)
Patrick O'Hearn: Ancient Dreams
Private Music 1201 (CD/LP)
Jerry Goodman: On the Future of Aviation
Private Music 1301 (CD/LP)
Ryuchi Sakamoto, Eric Watson, Joachim Kuhn, Eddie Jobson: Piano One
Private Music 1401 (CD/LP)
The four works in Private Music's initial release represent such a consistently high level of creation that it is remarkable to see them released all at once. The label's owner, Peter Bauman, was one of the founders of Tangerine Dream, the pioneering electronic music group from Germany (footnote 1). His influence infuses all the releases.
Etosha is a Fairlight CMI tour-de-force. Ponder has spent many years in NYC studio doing session work for soul singers, rappers, soundtracks, and anything else that came along. The recording has occasional nature sounds, which Ponder alters through his CMI. The music resembles a combination of Windham Hill, Vangelis, and Ralph Lundsten's Nordic Nature Symphonies. Both silver and black discs enjoy exceptional sound, but watch out for the first track, "Watergarden": it's a real woofer-buster. This is one of the few CDs for which I push the repeat button, letting it track over and over. A necessity for anyone fond of mellow electronic music.
As much as I love Ponder's work, O'Hearn's is even better. He has been the keyboardist for Missing Persons and Group 87 and the bassist for Frank Zappa. Structurally his compositions are similar to Robert Fripp's Frippertronics in that they build slowly but inexorably toward memorable conclusions. Tonally, O'Hearn puts out round, full, deep sounds with an incredible sense of melody. Sonically, there are transients to test the best. One sound in the first cut sounds like a steel bar dropping on piano strings and allowed to bounce there for several seconds. This was more than a friend's Grado could handle. Again, as with Ponder, there is bass that is very deep, yet a delicacy to the high frequencies that might convert anti-digitals. To put it mildly, Ancient Dreams is very highly recommended.
Jerry Goodman was guitarist and violinist with the late 1960s group The Flock. He then joined Mahavishnu John McLaughlin to form the Mahavishnu Orchestra. His record is the most conventional of the four and my least favorite, yet presents so many interesting contrasts between electric and acoustic violins that it is still recommended.
Piano One—I hope this means there will be more—is the mellowest of these Private Music releases. It features four different piano players, each with their own special style. Sakamoto is well-known in Japan as the leader of the Yellow Magic Orchestra; he costarred in, and wrote and performed the soundtrack for the movie Merry Christmas, Mr. Lawrence. His two cuts on this album are standout tracks from his Japanese release Coda, a record you should move heaven and earth to find. Eddie Jobson has been in Roxy Music, King Crimson, Jethro Tull, UK, and Curved Air. You will be quite surprised to hear his gentleness here. Joachim Kuhn, a famous European jazz pianist, makes music with more wit and style than the others, yet manages to maintain the mellow mood. Eric Watson is new to me, but his one contribution is one of the best things on the record.
All four recordings are available on CD, LP record, tape cassette. I would get the CDs, although the sound quality of both CDs and LPs is superb. (I didn't hear the tapes.) Extension at both frequency extremes is excellent, and in the middle range you will occasionally experience what this magazine's founder, J. Gordon Holt refers to as "aliveness." The acoustic spaces have been manipulated so that the imaging becomes one of the most enjoyable parts of the experience.—Wes Marshall
---
Footnote 1: Private Music was sold to Windham Hill/BMG in 1996.—
Ed
.