Recording of September 2018: Pärt: The Symphonies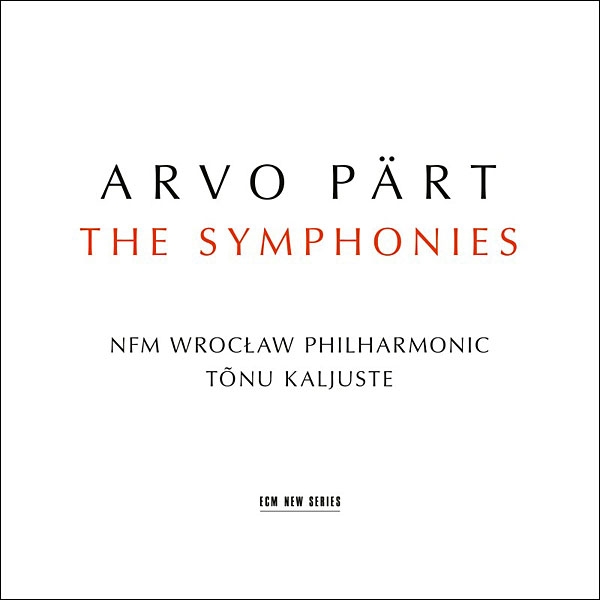 Pärt: The Symphonies
Tõnu Kaljuste, NFM Wroclaw Philharmonic
ECM 2600 (CD). 2018. Manfred Eicher, prod.; Andrzej Sasin, Aleksandra Nagorko, engs. DDD. TT: 79:40
Performance *****
Sonics *****
Arvo Pärt is now so popular that it's no longer necessary to explain him. His piety is approachably beautiful and welcoming. He was not born composing his airy, contemplative, trademark "tintinnabular" (bell-like) music; up to the early 1970s, he cut his teeth on the 12-tone scale. His four symphonies, presented here on one CD for the first time, take us through that part of his career.
The first two will shock fans of Pärt's post-1975 work. The Berg-like string choirs at about 3:30 into Symphony 1 (1963) give some comfort after the opening cacophony, but the wobbly rhythms and crowded orchestration&151;tam-tams, xylophones, winds everywhere, pizzicato strings from nowhere&151;seem designed to keep the listener at a dissonant distance. It's never ugly, but it sounds like the music of experiment, counterpoint used as a disturbance. The lone violin that begins the second movement sets its uncertain tone, then gives way to a chug-chug-chug from the entire orchestra as tension rises in a way one might call Mahlerian were it not so angry.
The three confrontational movements of the 10-minute Symphony 2 melt into one another, but the work is severely fractured. Unappealing pizzicati bring us to squeaks, tinkles, and booms from instruments and rubber toys. Bleakness reigns. One is again and again shaken by 12-tone clusters. The second movement follows suit. We've been in this symphony only six minutes when the third movement blasts in with more loud, disturbing cacophony, searching for . . . something. A remarkable oasis of loveliness is suddenly provided by a lengthy quotation from Tchaikovsky lulling enough to have its pre-resolution interruption come as yet more grotesque nastiness. In the end this agitated symphony simply goes out with a whimper, nothing left to say or feel. It was composed in 1966, after which Pärt went into self-imposed exile from composing. This is the work of a man who was fed up.
Symphony 3 (1971) is often labeled "transitional"&151;not a bad term, but relevant only if one is familiar with his earlier and later styles. Here is translucent space. Pärt had been intensely studying religious early music, and had converted from Lutheranism to Russian Orthodoxy. Suddenly chant, Gregorian and Russian Orthodox, is in play, as are Renaissance harmonies and suspensions and dissonances. Pärt called this "a joyous work"; one can take that to mean an escape from the seeking, troubled clashes of the early work.
Symphony 3 is far from the early work but not quite in Pärt's later style. A lonely but lovely opening resolves quickly into a decidedly medieval harmony. Brass and bells enter, introducing his new sound world. The ancient is evident, the tuned percussion clear and used magnificently, the sounds undeniably beautiful. Still, fans of Pärt's later work might find this work too maximalist, too aggressive. It's gloriously ambitious, harmonically ravishing, and if not revolutionary enough, too bad&151;just listen to the panoply of sounds, and the closing fanfare à la Game of Thrones. Despite hints of Hovhaness's American mysticism, this still couldn't be by anyone but Pärt.
Symphony 4, "Los Angeles" (2008), is concerned more with angels than with L.A., and indeed is a work of the later, mature, tintinnabular Pärt. The three movements are enlightened by a poem (in three parts and a coda) from the canon of the Orthodox tradition, "Holy Angel, My Guardian, pray for me," which is printed in the booklet: There are vocal-like passages in the symphony, but none that truly correlate. The work is scored for strings, harp, timpani, and percussion, and one immediately recognizes the contemplative, time-without-time style.
The mystical, arid opening gives way to a yearning quality that remains throughout. But I now realize that I can't describe it&151;just as I've had difficulty describing Pärt's work since I first hear F&252;r Alina, an 11-minute piece comprising repetitions of 15 bars of music. I can tell you about the notes rising and falling, the rubato, the occasional tolling of a bell (Cantus for Benjamin Britten), the exquisite scratchiness of the strings in any of the dozen workings, reworkings, and transcriptions of Fratres. I can mention Pärt's use of silence, that it touches the sublime and spiritual in everyone. But I can't say why.
Symphony 4 has Pärt's handwriting all over it, but it's not as gorgeous as some of his other works. If you know and love Pärt, you'll understand and agree. You can't do without this CD.—Robert Levine