Recording of September 2012: Sleeper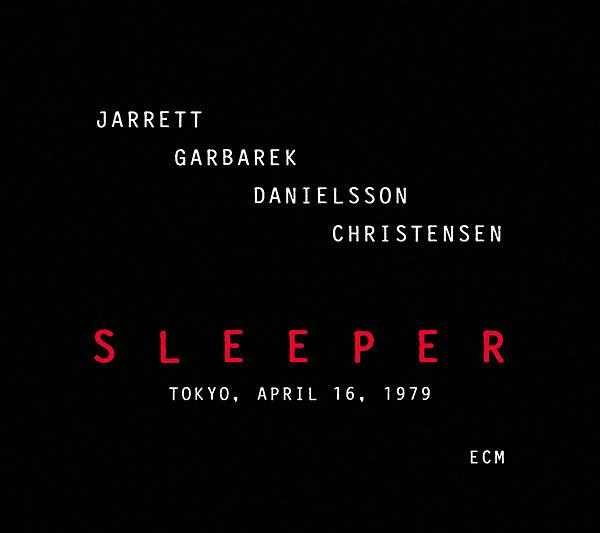 Jarrett, Garbarek, Danielsson, Christensen: Sleeper
Keith Jarrett, piano, percussion; Jan Garbarek, tenor & soprano saxophone, flute, percussion; Palle Danielsson, double bass; Jon Christensen, drums, percussion
ECM 2290/91 (2 CDs; hi-rez FLAC files from HDTracks). 1979/2012. Manfred Eicher, prod., mix; Jan Erik Kongshaug, eng., mix. ADD. TT: 106:56
Performance *****
Sonics ****
Keith Jarrett's American quartet (with Redman, Haden, Motian) was prolifically inventive. His Standards trio (Peacock, DeJohnette) continues endlessly rich and ebullient at the end of its third decade. But Jarrett's Scandinavian quartet of saxophonist Jan Garbarek, drummer Jon Christensen (both Norwegian), and bassist Palle Danielsson (Swedish), was something else again. Each player's technical mastery, combined with their collectively perfect attunedness to one other, an apparently effortless intimacy of interplay that sounds telepathic, made them special even in a career as brilliant as Jarrett's—who wrote his best tunes for this band.
These are four immense talents. Jarrett needs no introduction as a player, improviser, composer, and bandleader. Garbarek's heroic tone, equal parts ice and fire, is melded with what seems serene confidence in simple statements made with directness and simplicity, even when entered or exited via flawlessly articulated runs or swoops or turns, in full-force gale or breathy whisper. We know he experiences each note because we can ignore none in the hearing. And for years, every time I saw an album listing the rhythm section of Danielsson and Christensen, I bought it sound unheard, knowing I'd hear yet another example of how much could be done with time and beat and bottom. Never disappointed.
Jarrett's Belonging band (unofficially named for their first album together) convened only occasionally in its five years, and released few records. Belonging (1974) and the very popular My Song (1978) are both studio recordings. The two discs of Sleeper expand their legacy on disc by one-third. Recorded in April 1979 on the same Japanese tour that produced Personal Mountains (1989), and just weeks before the Village Vanguard dates in May that resulted in Nude Ants (2 CDs, 1980), Sleeper is at least as good as any other Belonging album.
Six of these seven tunes, all Jarrett's, appeared on Personal Mountains and/or Nude Ants. "Personal Mountains" is Jarrett's writing at its strongest: smooth angularity full of unexpected turns and resolutions, rhythmic playfulness, dipping in and out of minor key—and, in the solos, in and out of bitonality. Garbarek has mentioned the special joy he took in playing Jarrett's lines in unison with him; that fierce delight is audible here. Christensen plays with a fury reminiscent of Ginger Baker or Elvin Jones—not in style or sound, but in relentless intelligence and drive. Danielsson's bass cinches it all tight with sinewy, sinuous lines tough as olivewood. This was clearly a high-energy night for the group, Jarrett so full of ideas he seems barely able to cram them in fast enough—but the music is never cluttered, and he never steps on his bandmates' toes. His deftness and grace are remarkable. Ditto the rest of this band. Ditto the rest of Sleeper.
In "Innocence," an aural portrait of that quality, Garbarek's tone embodies an almost heroic earnestness. The quality of his affection for this simple, singing line is profound. Hard to imagine anyone handling it better. In his solo concerts, Jarrett often seems to channel the composers of every jazz standard ever written, and "So Tender" is another example. I struggled to remember the words to this tune. It never had any. Here, Garbarek's cool lyricism could sell air-conditioners.
The long (28:13) modal trek of "Oasis" greatly differs from versions on other Belonging albums, which begin with chiming piano. Jarrett plays percussion here, as Garbarek blows double flute Brazilian style, à la Gilberto Gil. The journey to this "Oasis" is harder driven, less ruminative; halfway there, in a beautifully built solo, Garbarek waxes so vocal on tenor, in deep consort with Jarrett's piano (and voice), I half expected his horn to speak words. A striking example of a formidable talent pushing itself, its technique, its instrument all but beyond the possible. Later, his flutter-tonguing conjures a swarm of basso bees. Oasis reached.
The churning "Chant of the Soil" is slower, darker, bluesier than on Nude Ants, Garbarek's defiant solo egged on by elegant comping from Jarrett, who has never received his due for the sensitive attentiveness of his accompaniment. His own blues-drenched solo is ground fine through the implacable millstones of Danielsson's bass and Christensen's drums. The ballad "Prism," written for but until now unrecorded by this band, is all singing lyricism. The joyful beguine of "New Dance" is magicked by Jarrett's always unexpected fills and asides, the counterrhythms of his rich chords full of deft wit. The sheer appetite of these four for making this music radiates through each note.
The concert, recorded in Tokyo's Nakano Sun Plaza, has not quite the sense of space or depth we've grown to expect from ECM in recent years, and there's occasional print-through. But nothing stands in the music's way; Sleeper sounds better than other Belonging CDs.
If ever a great jazz combo were ripe to reunite, it's this one—not to re-create past glories, but to create new ones. What more might they have to tell us on the other side of the 33 years of maturing, seasoning, and living since April 16, 1979? They're all still gigging; the oldest, Christensen, won't be 70 till 2013. Book it now, guys. I can't imagine you have nothing to say to/with one another. If Sleeper is any indication, the only problem you'll have is trying to stop.—Richard Lehnert