Recording of October 2013: Selected Signs III–VIII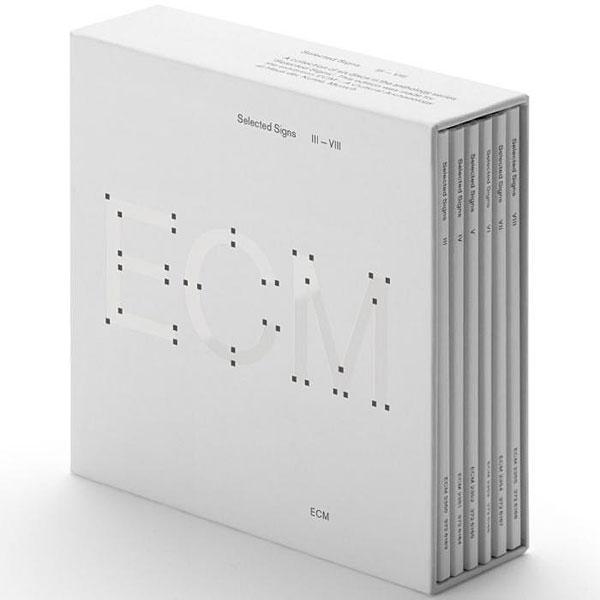 Various Artists: Selected Signs III–VIII
ECM 2350 through 2355 (372 6163 through 372 6168) (6 CDs). 2013. Manfred Eicher, prod.; Jan Erik Kongshaug, Peter Laenger, Stephan Schellmann, others, orig. engs.; Kongshaug, Christoph Stickel, sequencing engs. AAD? TT: 7:19:56
Performance *****
Sonics *****
The most indelicate, if not gory, term in all of music is the ever-popular "bleeding chunks." The bane of classical audiences cursed with lazy pops conductors, bleeding chunks are movements of works—or even parts of movements—strung together in that abomination known as a medley. The effect can be, I guess, soothing to those who, for example, know only a little about Mozart. But for anyone well versed in their Wolfy, these programs are jarring, and can produce involuntarily grinding of those cavity-prone back molars.
But, like many things musical, what is fundamentally icky in the wrong hands can, in the right hands, become art of exceptional, original beauty, a breathtaking achievement—like Selected Signs. Intended to serve as mini-soundtracks for the rooms of the exhibition ECM: A Cultural Archeology, which ran from November 2012 through October 2013 at Haus der Kunst, in Munich, Germany, each of these six collections of music is a wonderful surprise. The exhibition's goal according to the ECM website was to "show the range of the label's artistic endeavours in music, graphic art, and photography and its creative interchanges with film, theatre and literature." The soundtracks are, of course, the work of ECM's founder and unstoppable force, Manfred Eicher.
If Eicher did not keep coming up with amazing works of art such as this six-CD boxed set which spans classical, jazz and world music, a well-worn theme here at Stereophile—that Eicher has a special genius; a singular vision and drive—would not bear repeating yet again. Here, in gloriously rich, detailed, alive sound, selected bits of the ECM catalog are stitched together to make Selected Signs a remarkable if lofty tour through the ECM universe, courtesy of the eyes and ears that created it.
Not everything here is a bleeding chunk per se. Two of the programs are filled by the extended works of just a few artists. Volume V, for example, is filled with long pieces by Greek pianist and film composer Eleni Karaindrou, as well as the music of a trio of Norwegians: jazz saxophonist Jan Gabarek, jazz pianist Jon Balke (with Moroccan singer of Andalusian classical music Amina Alaoui), and early-music lutenist Rolf Lislevand. As an example of how Eicher's mind works, a selection of Karaindrou's ruminative, reverberant pieces for chamber orchestra is are followed by Garbarek's mysterious, mournful "Dis," which he plays on wood flute. That in turn precedes a slow, vocal showpiece by Alaoui, accompanied by violins, keyboards, percussion, and trumpet, that unfolds into a mix of Western early-music flavors with a North African balladeer's sense of drama.
The program finishes with four very short snatches of instrumental music by Lislevand based on what the liner notes call "early baroque compositions," some of which, like "Toccata," are playful string romps, and others, like "Passacaglia Andaluz II," are more akin to modern flamenco. The idea here is simple, but hugely rewarding to the musically adventurous: from track to track, it's mirrors facing mirrors, prisms tellingly turning, new colors and ideas emerging from fresh juxtapositions. Best of all, these are not programs to be enjoyed only by those already familiar with the riches of the ECM catalog; in many ways, this is a matchless introduction to the label and its focused, musically consumed owner.
This is sequencing—now almost a lost art, in this age of buying and listening to individual tracks—taken to a whole new level. Listen to how, in Vol. VII, the quavering electronics and busy, insistent whirlwind of percussion in "Celestial Food," by jazz experimentalists Food, give way to Tord Gustavsen's quiet, introspective solo piano in his "Prelude." It's hard not to marvel at how these two very disparate pieces of music seem connected by similar emotional tenor and intent. Their proximity here also seems to bring out aspects of each piece that listeners might have missed—Gustavsen sounds not quite as serious as he usually does, while the Food track has more substance in this context. It's easy to hear how these programs were essential to the museum exhibit.
This approach even works for some of the best-known pieces in the label's admittedly esoteric catalog. One of the most assertive and persuasive transitions in the entire set takes place in Vol. III, between a frenetic, 11½-minute excerpt from Steve Reich's well-known Music for 18 Musicians and the quieter yet equally distinct Fratres (11:24), from Arvo Pärt's Tabula Rasa, the latter played by two ECM stars: violinist Gideon Kremer and pianist Keith Jarrett. Placed next to each other as snapshots of the worlds of their composers they have an urgency and a power that are not present when listened to separately.
At any time in the history of the music business, few label heads would or, more critically, could sit down and thoughtfully compile programs of music from their back catalogs that sire new meanings and contrasting relevance. Ultimately, the success of Selected Signs lies in Manfred Eicher's affinity for bold, exacting music. Sadly, there will be no high-resolution downloads or LP pressings of this limited edition. Yet the formidable catalog from which Selected Signs is drawn continues to grow in esteem and significance with every passing year, and this set has revitalized it in satisfying new ways. Bravo!—Robert Baird