Recording of November 1981: Citadels of Mystery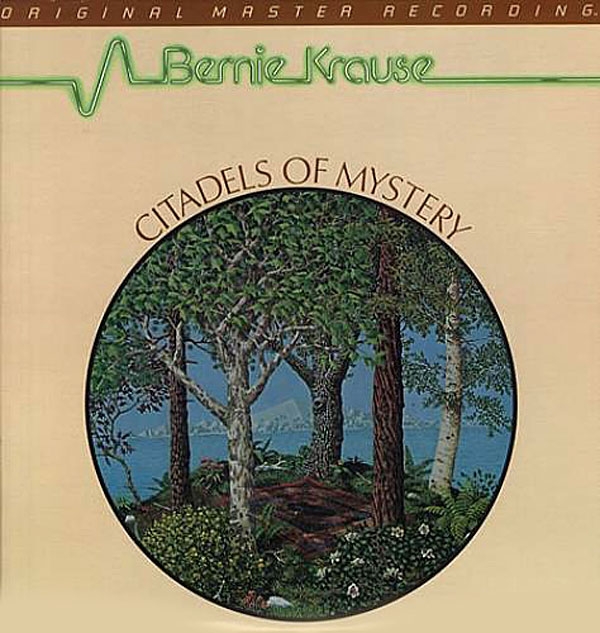 Bernie Krause: Citadels of Mystery
Mobile Fidelity MFSL 1-505 (LP).
This is a very hyped, contrived recording, but then nobody ever pretended that this kind of musical construction was supposed to approximate the sound of a live performance. The strings are quite steely on this but, in all other respects, the recording is is stupendous—unctuously rich, smooth and limpidly clear, with some awesomely taut low end and cuttingly crisp percussion sounds.
Much of the program draws from African and Haitian sources, and I must say I found some of the maddeningly repetitive passage to be maddeningly repetitive. I'm not sure whether or not to recommend this, because the program is strong enough in character that it is likely to have strong appeal to some of you and none at all to others. There will be no indifference to this!
The title is rather misleading for much of the music is riotously joyous, which is not my idea of mysterioso. Other parts are hair-raising, with moments of blazing intensity and power.
Regardless of how you may feel about the music, this is unequivocally a Top-of-the-Pile recording (footnote 1).—J. Gordon Holt
---
Footnote 1: If "Top-of-the-Pile" sounds like something on your carpet, it isn't. It's the term we use to designate a recording that combines an outstanding musical performance with an outstanding recording. You may have noticed that
Audio
magazine now has what they also call a "Top-of-the-Pile" list. They borrowed the name from us. We'll bet they won't give it back.