Recording of February 2014: Classified: Remixed and Expanded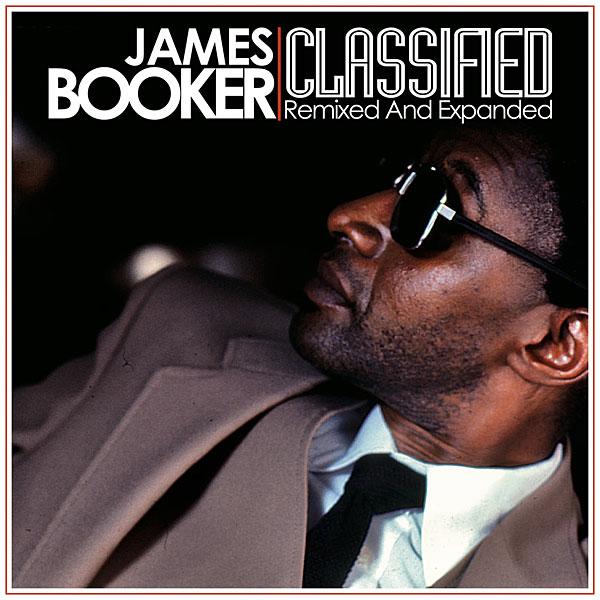 James Booker:
Classified: Remixed and Expanded
Rounder 11661-9175-1 (2 LPs). 1983/2013. Scott Billington, John Parsons, prods.; Jay Gallagher, eng.; Jonathan Wyner, transfer eng.; David Farrell, remix. ADA. TT: 68:12 Performance ***** Sonics ****½
Before anything else, there's his musicality. No one has ever played the piano like James Carroll Booker III. If the piano is New Orleans' preeminent musical instrument, then Booker is its most talented virtuoso. A child prodigy who went on the road as part of Little Richard's band when he was 14, the Ivory Emperor, the Bronze Liberace, Li'l Booker, Little Chopin in Living Color (as he was variously known throughout his life) was breathtakingly gifted. Although he could play blazingly fast, it was his grand gestures and his uncanny ability to drop quotations into a piece—the theme song of the Woody Woodpecker cartoon series inserted into a Chopin Nocturne is a memorable example—that made him such a singular talent. While grounded in stride and New Orleans second-line rhythms, Booker also knew his Bach, and was a fan of the ornamental flourishes of Liberace.
His thin, crackly singing voice made up in ebullience what it lacked in actual quality. His stage outfits—a gold cape over a purple Speedo comes to mind—were amusingly deranged. And where on earth is there a cover version of "King of the Road," just James Booker belting it out and playing piano, with as much feeling, or as much ability to simultaneously draw both a smile and a tear? That's just one of the many jewels on the newly remixed and expanded edition of Classified, one of the few records Booker released in the US during his lifetime.
Beneath Booker's exuberance, native intelligence, and rakish charms, there was also a tragic love of the dark side and unhealthy doses of fear and nagging doubt, all of which are on display, or at least hinted at, in Bayou Maharajah: The Tragic Genius of James Booker, a new documentary directed by Lily Keber. Watching this film—the best of a recent crop of stellar music documentaries whose subjects include the Muscle Shoals music scene and the great Doc Pomus—you're struck by how lonely and deeply troubled Booker was. Even more striking is the fact that not one of the people interviewed in the film expresses any real affection for him. I'm sure his personal demons made him a high-maintenance friend, but no one deserves to die alone in a corridor of New Orleans' Charity Hospital, sitting in a wheelchair after having been dropped off there by a "friend."
Asked about Booker's death, even the famously reticent Dr. John seems especially uncooperative and sheepish, responding with an oddly bloodless "That's what happens in the music business." Mac Rebennack is the source of the most widely quoted remark on Booker: that he was "the best black, gay, one-eyed junkie piano genius New Orleans has ever produced"—which is either hilariously funny or, to my ears, callously cruel.
Having been fortunate enough to have seen and heard Booker's music and his mouth a number of times, mostly at the Maple Leaf Bar, in New Orleans, I can attest to the fact that he was a handful and then some, and both his enthusiasms and his weaknesses come through on Classified. Lily Keber's request to hear the Classified tapes set the album's original producer, Scott Billington, on a path to remix and reissue the album with nine additional tracks of unreleased material from the original sessions. The 24-track, 15ips analog master tapes, recorded on Ampeg 456, were first baked to stabilize the binding; they were then converted to digital at 24-bit/88.2kHz and loaded into Pro Tools, where they were remixed and edited using a combination of analog and digital outboard gear. The 24/88.2 remixes were then mastered in analog for the vinyl edition (an HDCD CD is also available). While the sound of the original album was clean, clear, and uncluttered, the remastering is sonically spectacular.
In the liner notes that Billington wrote for this reissue, he shows a gift for understatement when he says that 30 years ago he was "not fully cognizant of what I was getting into" The original sessions at Ultrasonic studios, in New Orleans, with A-list New Orleans players Alvin "Red" Tyler (tenor saxophone), James Singleton (bass), and Johnny Vidacovich (drums), were erratic and mostly unproductive until the final day of recording, when most of what fills these two LPs was captured in a single afternoon's work. At the conclusion of that momentous final session, Billington gave Booker a check for $3000. Booker promptly disappeared for several weeks, during which time he may or may not have ended up in jail under an assumed name. The album was released in May 1983. Six months later, Booker was gone.
Yet the flashes of brilliance he left behind in the short pieces on Classified still burn bright, and none brighter than his ballad "If You're Lonely," one of his best tunes, which he sings here with a yearning that clearly came from his personal travails. The standout among the unreleased tracks is his take on "Warsaw Concerto" (composed by Richard Addinsell in the style of Rachmaninoff for the 1941 film Dangerous Moonlight), which is both playful and sweepingly grandiose. An instrumental version of "Theme from The Godfather" is a quiet success, and in the instrumental version of Doc Pomus's "Lonely Avenue," which features Red Tyler's sax, Booker shows that he could be a first-class accompanist.
Overall, a welcome reissue done right.—Robert Baird