Recording of May 2014: The Imagined Savior . . .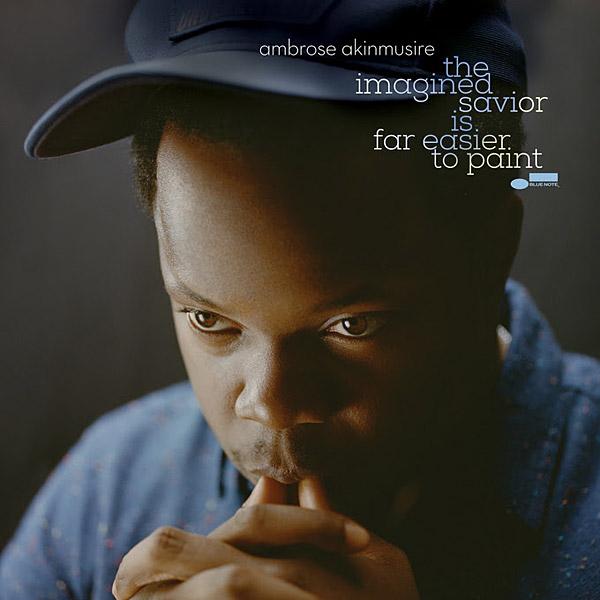 Ambrose Akinmusire: The Imagined Savior is Far Easier to Paint
Ambrose Akinmusire, trumpet; Walter Smith III, tenor saxophone; Charles Altura, guitar; Sam Harris, piano; Harish Raghavan, bass; Justin Brown, drums. With: Elena Penderhughes, flute; Osso String Quartet; Theo Bleckmann, Becca Stevens, Cold Specks, vocals; Muna Blake, reading
Blue Note CAPF430152 (CD). 2014. Ambrose Akinmusire, prod.; Andy Taub, eng.; Dave Darlington, mix. DDD. TT: 78:42
WANTED: Jazz Hero. Must be willing and able to bring stunning new creative energies to a musical genre in danger of becoming stale and repetitive. Must be comfortable with a Marsalis level of celebrity. Saxophone or trumpet players preferred. Old men need not apply.
In 2011, jazz prayers were answered with the release of When the Heart Emerges Glistening, a brilliantly inventive mainstream jazz album led by Ambrose Akinmusire, a photogenic, 28-year-old trumpeter from Oakland, California. The young man had lots of fresh ideas, speed and dexterity to burn, and a unique tone, the combination of which brought back a flood of memories: Miles Davis, Clifford Brown, Pops.
Akinmusire's pedigree is equally compelling. Recruited after high school by alto saxophonist Steve Coleman, Akinmusire toured Europe with Coleman's Five Elements band at the age of 19. Returning to California, he enrolled at the Thelonious Monk Institute of Jazz in L.A., where he studied with Wayne Shorter, Herbie Hancock, and Terence Blanchard. In 2007 he won the Thelonious Monk International Jazz Competition, judged that year by a panel that included trumpeters Clark Terry, Roy Hargrove, and Hugh Masekela. Akinmusire was quickly crowned the latest great hope for jazz. A record deal with Blue Note Records sealed the deal.
But now comes the second major label record, and that lurking, semi-mythical, but often all-too-real psychosis known as the sophomore jinx. Happily, The Imagined Savior is Far Easier to Paint sails over any obstacles, artistic or psychological, with a confidence and style that whisper yet again that here is the real deal: a new jazz voice with much to say and much to give. (Fred Kaplan also recently praised this album.) In interviews, Akinmusire has explained his long song and album titles as byproducts of making art that's too complex to be summed up in one or two words. In press materials for The Imagined Savior . . . , he says, "The inspiration for this album is things outside of myself: people I know, documentaries that I've watched, characters that I've made up." Accordingly, the titles of many of the songs have subtitles: "As We Fight (Willie Penrose)," "Bubbles (John William Sublett)," and "Ceaseless Inexhaustible Child (Cyntoia Brown)."
The music is anchored by Akinmusire's working quintet of drummer Justin Brown, bassist Harish Raghavan, pianist Sam Harris, tenor saxophonist Walter Smith III, and the recently added guitarist Charles Altura. Dip into the new album anywhere and it's abundantly clear, from the assured, oblique artistry, that this is a jazz player to be reckoned with. Highlights abound. In "The Beauty of Dissolving Portraits," the Osso String Quartet and guest flutist Elena Penderhughes together create a drone over which Akinmusire solos. The trumpeter admits that in this case his influence was Arvo Pärt, "whose compositions tend to evolve slowly . . . It's really hard with jazz instrumentation in a sextet format to get that sort of sustain." This young man is no ordinary talent.
Fans of post-bop jazz will warm to tunes like "Memo (G. Learson)," which feature the standard run of solos and ensemble passages, albeit with Akinmusire's inventive, inside-and-outside solos leading the way. The biggest musical wrinkle here, and a fairly large but very welcome risk for a second record, is the inclusion of three guest vocalists, Becca Stevens, Theo Bleckmann, and Cold Specks. Each was given a "sketch of an idea," and asked to write lyrics based on it that would later become compositions that he or she would be asked to sing. Although this sounds like a prescription for unlistenable brass navel gazing, the results are stunning and effective crosses of art rock and jazz experimentalism, all of which somehow come out sounding mainstream enough for even the itchiest hater of modern fusion. The Bleckmann piece, "Asiam (Joan)," inspired by Joni Mitchell, opens with just piano and voice—but, like many Akinmusire compositions, it grows into a mini-symphony of sorts, with Bleckmann using a tasteful assortment of vocal effects that mostly create high, wordless exclamations, and a choir-like swirling of his overdubbed voice that swings back and forth between the channels.
The album was tracked at Brooklyn Recording by Andy Taub, who has engineered all three of Akinmusire's records, and was mixed by Dave Darlington at Bass Hit Recording, in Manhattan. According to Taub, it was recorded almost entirely live, except for a few vocal parts and some trumpet fixes, and Taub used a variety of microphones to record straight to Pro Tools. "The trumpet sound is just two mikes, a condenser mike and a ribbon mike. [Akinmusire] likes it dark, so a lot of times we will cut it and EQ it going in using an inductor EQ, but with a pretty broadband shelf at the top so I can do a gradual-slope cut—but at a low frequency like 5kHz—and then start dialing it down, but in a warm way, off of a Coles 4038, which is already dark to start with. For the string quartet, which was recorded live with the bassist and piano player, I used a Decca [mike] tree from a distance. Theo is a U-47 guy, and on Becca I used the U-67, both Neumann mikes from the '60s."
Given Ambrose Akinmusire's awareness as an artist, this record's title may summarize his situation with the implied next clause, "than to actually . . ." looking toward the future, which looks brighter with every note he plays. A force to ignore at your own risk.—Robert Baird