Recording of March 2012: Seasons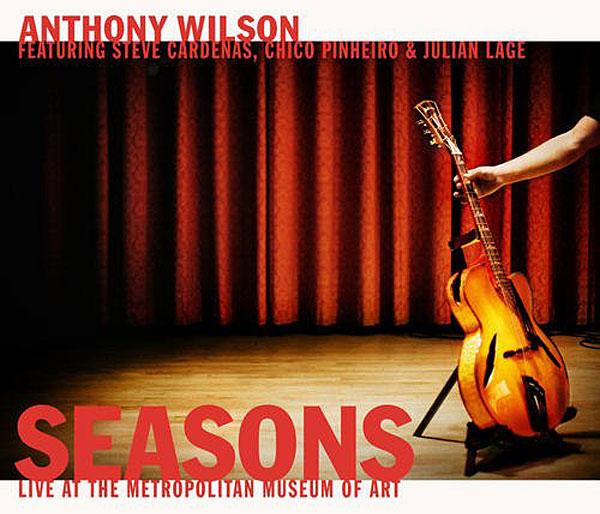 Anthony Wilson: Seasons
Anthony Wilson, Steve Cardenas, Julian Lage, Chico Pinheiro, guitars
Goat Hill Recordings 003 (CD/DVD). 2011. Anthony Wilson, prod.; Todd Whitelock, eng.; Damon Whittemore, asst. eng.; Kevin Gray, mastering; George Petit, live sound assistance; Steve Becker, Chris Scarafile, cameras. AAD? TT: 63:35
Performance ****½
Sonics ****½
Halfway into the interview in his management company's offices, as Steve Earle literally squirmed in his seat, I got the distinct impression that he had somewhere else to go, something more important to do. Turned out he was anxious to get to the Metropolitan Museum of Art to see the exhibition Guitar Heroes: Legendary Craftsmen from Italy to New York. Suddenly, instead of talking about his career, he was rhapsodizing about the jazz-guitar luthiers—John D'Angelico and James D'Aquisto—whose work was being exhibited, and a display that featured one of the four guitars known to have been made by Antonio Stradivari.
On the walk back to the Stereophile offices, I pondered the mystical connection between musician and instrument. While pianists and tenor players and ukulele bands all love their flat-top boxes and hunks of brass, and spend interminable hours chattering about their "action" and "feel," there's something unusually sensual and close about guitarists and their guitars.
Also displayed in Guitar Heroes (which closed July 4, 2011) was a quartet of guitars by John Monteleone. Of these, Ken Johnson of the New York Times wrote, on February 10, 2011:
"Mr. Monteleone, who befriended and learned from D'Aquisto in the '80s, also has a sculptor's attitude, but is willing to add elements that exceed strictly functional necessities. His most spectacular effort in the exhibition is a quartet of guitars representing the four seasons. Winter has a nearly white top of alpine spruce. Autumn, in red-and-yellow sunburst with leaf-shaped sound holes, is just a bit more mellow than the fiery Summer, whose upper-left shoulder spirals to a point like a flame. The chilly blue-and-white Spring has sound holes and inlays representing raindrops. The list of materials used collectively is not exactly Spartan. Besides exotic woods, it includes sterling silver, diamonds, turquoise, red coral and rubies."
While they can look great in a museum—"works of art," as guitarist Steve Cardenas says in the DVD feature about the making of these guitars—musical instruments, no matter how jewel-encrusted, are made to be played. Guitarist Anthony Wilson, a talented jazz guitarist and a dedicated audiophile, composed a suite, not too surprisingly titled Seasons, to be played on Monteleone's four guitars with the help of three of Wilson's friends and guitarist peers—Steve Cardenas, Julian Lage, and Chico Pinheiro—in a concert that was a part of the Met's exhibition. Seasons, Wilson's "Meditation on Autumn," and covers of tunes by Joni Mitchell, Wayne Shorter, and Antonio Carlos Jobim, among others, are all parts of an impressive new package, released on Wilson's Goat Hill Recordings, that includes a DVD containing a film of the concert and a documentary on the making of the guitars.
Unlike many dry, lifeless documentaries made to explain a recording project, this one, featuring mostly Wilson and Monteleone in conversation, has some worthy moments—as when Monteleone mentions that one of his formative experiences as a luthier was smashing a guitar in his parents' basement to see what was inside. The entire project was financed by 147 fans, who donated a total of $20,070 online, via Kickstarter.com, to get the project off the ground—a newish trend in recording that has been dramatically expanded by the Threadhead organization in New Orleans.
The four guitarists approach the complex counterpoint in Wilson's Seasons with the precision of a string quartet. Spring is predictably sprightly, while Winter is stark and reflective. The guitars' tones throughout are resonant and warm, as is the recording itself, with a wide dynamic range and gorgeous separation of the instruments. Each player then performs a solo, of which Wilson's take on Shorter's "Fall" is the most rewarding. The emotional tenor of this concert lies somewhere between serious jazz-guitar explorations and the more lighthearted feel of popular music, with a rousing ending as all four join in a spirited rendition of Mitchell's classic "The Circle Game," made famous on Tom Rush's album of the same name before Mitchell had even recorded her own version. Throughout the record, the playing and interpretive choices are impeccable.
At a time when new models for recording and delivering music, and the music business in general, are all the rage, Anthony Wilson's Seasons is a package impressive for both the music and the images it contains, and as evidence of the partnerships between devoted fans and skilled performers that brought this ambitious and fascinating project to fruition.—Robert Baird