Recording of June 2015: Yesterday I Had the Blues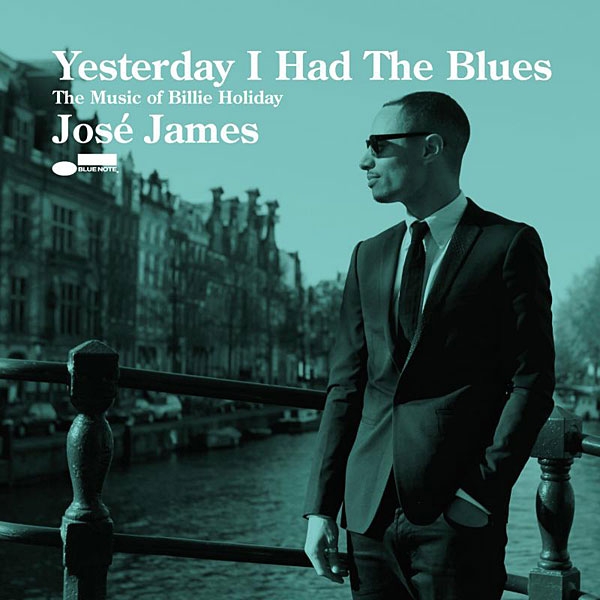 José James: Yesterday I Had the Blues, The Music of Billie Holiday
Blue Note B002283102 (CD). 2015. Yoshihisa Saito, exec. prod.; Don Was, prod.; Chris Allen, eng., mix. DDD? TT: 49:33
Performance ****
Sonics *****
Unlike the conundrum of today's country music, whose lyrics celebrate family and tradition even as the country-music community ignores and disrespects the giants of the music's past, jazz and rock have for the most part remembered and celebrated their musical pioneers and game changers, and the singular, monumental virtuosity of artists like Billie Holiday.
On April 6, the day I finished this review, Billie Holiday, who would have turned 100 in 2015, was inducted into the Apollo Walk of Fame, in Harlem. This honor was presented by Cassandra Wilson, who, just a day after the Apollo ceremony, released her own tribute to the singer, Coming Forth by Day. Among the many other events centered around the Holiday centennial are: a relaunched website; a BBC Radio 2 program, When Frank Met Billie, hosted by Jamie Cullum; another recorded tribute, Lady Sings the Blues, by former X Factor singer Rebecca Ferguson; and digital reissue by Universal Music of Holiday's work from 1939 to 1959 for the Clef, Commodore, Decca, MGM, and Verve labels. At the end of March, Sony released a single-disc, best-of collection of Holiday's work for Columbia Records, which, despite some wonderful late-career work for Verve, remains, far and away, the most essential Holiday on record.
Singers in particular almost inevitably want to pay tribute in song to their greatest influences; so far, during the Holiday centennial, that means Wilson and José James. The Minneapolis-raised James, 37, has always been the guy who was going to combine the worlds of hip-hop and jazz into a revolutionary new genre, though that has yet to happen. Meanwhile, under the tenure of Don Was, president of Blue Note Records, James has made a canny marketing move by cutting a Holiday tribute record.
The setup is beautiful, and the undisputed star of this recording is its sound. Was, who produced the sessions, has made a great-sounding record to go with some of the sonically less impressive milestones of his past. At Sear Sound, engineer and mixer Chris Allen captured the band and James's voice in gorgeously natural sound, with near-perfect space and balances. Another nod goes to engineer Mark Wilder, of Battery Studios, for a beautiful final mastering. It's fabulous, in 2015, to hear music recorded this well.
Then there's the band. Texas-born Jason Moran, a longtime resident of the Northeast, continues to be one of the preeminent keyboard players in all of jazz. He and drummer Eric Harland, an ex-schoolmate and frequent collaborator, have a special musical connection that's audible here. Widely traveled and recorded veteran bassist John Patitucci, who in recent years has been playing with Chick Corea and Wayne Shorter, completes the sterling and sympathetic trio playing with and behind James.
At times, it seems that James is game for this challenge. He smoothly and believably pushes his voice into "Tenderly," caressing the melodic folds of this archetypal entry in the Great American Songbook as the trio nails the tune behind him. In "God Bless the Child," for example, it's Moran on Fender Rhodes who stands out; James adds little color or interpretive verve to an otherwise perfectly executed reading of this Holiday classic. "Strange Fruit," perhaps the most difficult cover of all because of Holiday's own extraordinarily raw and emotional performance, is the highlight here, thanks to a background vocal chant built from James's voice and his inspired lead vocal.
Some of his choices are puzzling. In "What a Little Moonlight Can Do," one of Holiday's most luminous hits for Columbia, the band grooves, Patitucci setting a particularly muscular pace. But with the opportunity for a bravura performance beckoning, James lays back and fails to match his bandmates intensity.
A male singer choosing to cover the work of an iconic and entirely unique female singer is a steep hill that James admirably tries to ascend. Having a vision for the material is the only way to the top, and there James wavers. His coolness works against him. Repeated listens to Yesterday I Had the Blues revealed a peerless band and terrific sound quality and quality singer who can only occasionally make up his mind. For an artist who supposedly aims to reinvigorate jazz, James has made a solid Holiday tribute record, good as it is, but frustrating for what a little more risk and vulnerability could have made it.—Robert Baird