Recording of June 2014: The Rite of Spring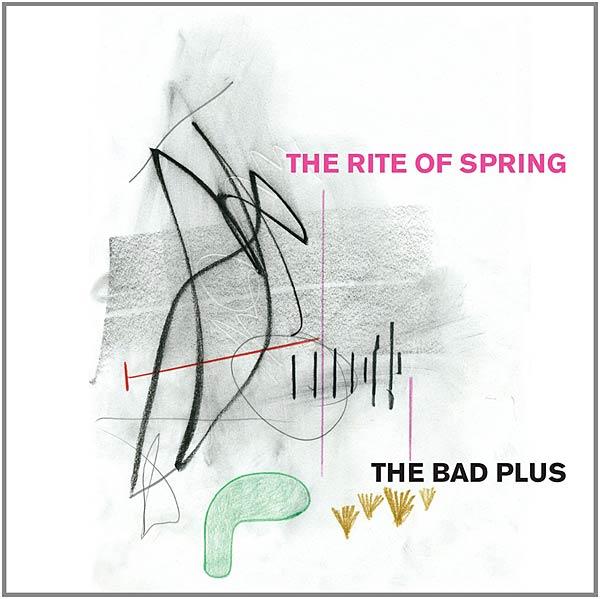 The Bad Plus: The Rite of Spring
Sony Masterworks 88843 02405 2 (CD). 2014. The Bad Plus, Darryl Pitt, prods.; Pete Rende, eng.; Ian Cassel, asst. eng.. DDD? TT: 39:24
Performance ****
Sonics ****½
The link between jazz and the works of Igor Stravinsky is well known. In Conversations with Igor Stravinsky, his landmark 1959 collaboration with Robert Craft, the composer mentions jazz artists like Art Tatum and Charlie Christian. The fact that Stravinsky was captivated by the improvisational freedom of jazz and its insistent, inventive rhythms makes all his work, especially Le Sacre du Printemps (The Rite of Spring), a natural for jazz players to play and quote from, and over the years they have more than obliged. Charlie Parker, in particular, peppered his impossibly fluid blasts of ideas with quotations from The Firebird and The Rite of Spring. The pounding, nervously rhythmic The Augurs of Spring, the Rite's second section, was a favorite of Parker's, and he famously recorded a snatch of it as part of his solo in "Repetition," by Neal Hefti (who played trumpet for Woody Herman and later arranged for Count Basie), recorded in 1947 for an anthology called The Jazz Scene. Ornette Coleman, Hubert Laws, and Alice Coltrane have all recorded parts or all of Rite.
Now a new jazz version of Rite comes from pianist Ethan Iverson, bassist Reid Anderson, and drummer David King, better known as the Bad Plus, who in past years have concocted successfully jazzified versions of rock tunes by Black Sabbath, the Pixies, and Rush, as well as Variation d'Apollon, from Stravinsky's Apollon musagète. But in taking on Rite, Bad Plus has waded into much deeper waters. Despite the fears of both jazz fans and Stravinskyites, the trio has scored yet another triumph—an enlightening new reading of the eternally inspiring Rite.
On his website, Do the Math, in an essay titled "Mixed Meter Mysterium," BP pianist Iverson provides some insight into the motivations behind his band's rendering of Rite:
"Reid Anderson made me laugh: In rehearsal, I mentioned that Peter Schickele [aka P.D.Q. Bach] had said that The Rite of Spring was so influential that much of 20th century classical music could be called 'The Rewrite of Spring.'
"Reid shook his head. 'No: The Rite hasn't been influential enough.'
"It's true! There wasn't enough red-blooded, folkloric rhythm infused into concert music of the last century. Sure, there was some. But not enough.
"Remember Stravinsky! He had that earthy groove since birth. He denied it and did everything he could to keep others from getting it . . . but he had it, which is one reason why The Rite and most of his other masterpieces will continue to gain in stature."
The Rite will never be easy music to play or listen to, and in their version the Bad Plus make no attempt to soften its edges. Opening with a heartbeat's rhythmic pulse, a single note on piano, and looped samples of LP surface noise and of a woman inhaling a quick breath, the BP's Rite soon descends into the headlong hell ride that is The Augurs of Spring, kick drums and pounded piano chords allaying whatever fears a listener might have had about a mere trio tackling a work that usually demands weighty instrumental forces. While this Rite has a stripped-down quality that is a natural result of its being performed by just three musicians, they generate enough heft, enough primal Sturm und Drang, to carry it off. The sound quality throughout is natural and, for a trio, surprisingly expansive. It's clear, however, that the Bad Plus are playing at the edges of their talents and skills. Some moments simply overtax their musicianship.
The Bad Plus's greatest achievement here is the way in which a three-piece rhythm section, in particular Iverson, re-create a piece composed for an orchestra heavy in woodwinds and brass. Two sections near the work's center, Games of Two Rival Tribes/Procession of the Sage and The Sage/Dance of the Earth, seem to work best. The muscular interplay between Iverson and King, who does a masterful job of bashing and controlling his cymbals throughout, gives these sections their drive. The following section, Dance of the Earth, the conclusion of the Rite's first half, is slow and brooding in its first moments, with just piano chords and bass, before abruptly switching to a punching, snapping rhythm close to straight-ahead jazz, then ending, as the score demands, in a blunt full stop.
The Bad Plus's The Rite of Spring is experimentalism of the best sort. Just as Stravinsky spent the rest of his life revising the score—in all, he made more than 20,000 changes—other musicians and musical visionaries have been adapting and it ever since. This is only the latest successful re-creation of a classic that even its composer realized needed to be given fresh inspiration by vital revisions and original reimaginings.—Robert Baird