Recording of June 1983: Magnum Opus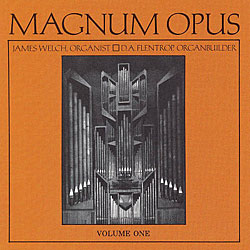 JAMES WELCH: Magnum Opus
James Welch, Organist, and D.A. Flentrop, Organ-builder.
Wilson Audio W8111 (LP). David Wilson, eng.
Hearing this organ gives one delusions of grandeur! How wonderful to be rich as Croesus and be able to commission an organ like this for one's (baronial) home. At any rate, those of us who don't live in Seattle can hear it at home, thanks to this superb recording.
True to its title, this is as much a recording of the organ as it is of the organist. Full specifications are given on the back, and although it is not Flentrop's largest organ in terms of number of ranks of pipes, it is physically the largest: it contains a 32-foot Pedal Prestant which emits a floor-shuddering 16Hz!
James Welch has chosen a diverse program to display this unusual instrument. It ranges from the 17th Century through the 20th, and opens with the familiar Bach Toccata and Fugue in d, which allows Mr. Welch to demonstrate the 32-foot pipe. This is followed by a simple and charming Bach Chorale, Liebster Jesu, wir sind hier, BWV 731. The next work, Fantasie, pour le verset Judex Crederus au Te Deum, Opus 38, by Alexandre-Pierre-Francois Boely is something of a showoff piece. Mr. Welch states that a friend of his calls it "a real bellows-buster," and that it is. Needless to say, it is a dramatic work, and ends with the entire forearm being laid across a large group of notes low on the manual—a startling effect, to say the least. The first side ends with Dale Wood's Let Us Break Bread Together, a work based on a spiritual, and reminiscent of John Jacob Niles.
The second side contains Louis-Claude Daquin's Noel, Grand Jeu et Duo, No.10 in G. This charming set of pieces allows Mr. Welch the opportunity to exploit many of the available organ stops. It is followed by Jehan Ariste Alain's Deuxieme Fantasie, an introspective and somewhat brooding work. It is very 20th-century in its short themes, multiple harmonies, and rhythms. Dr. Welch's choice of stops is excellent. When one hears this work, one can only regret the early death of Alain at the hands of the Nazis before his thirtieth birthday.
Dr. Welch uses the 16-foot Trompet very nicely in the Louis Marchand Basse de Trompette from his Suite sur le Premier Ton. This is a charming but all-too-brief work.
The final work is Domenico Zipoli's Pastorale from Sonate d'Intavolaura per Organo e Cembalo, written in the late 16th or early 17th century. Dr. Welch calls this a descriptive work with passages imitative of birds and other animals. You shouldn't miss the nasal brays of the Regaal 8-foot stop of the Borstwerk. It is delightful.
Credit for the recording is given in the jacket notes to organ builder Michael McNeil from California, who assisted David Wilson by describing the spatial reasons for the placement of the pipes, thus enabling him to "capture the sound intended by Mr. Flentrop." The recordings were done with omnidirectional Schoeps CMC-32 condenser mikes in a spaced-pair configuration, and Mr. Wilson states that they were placed in order to allow the Rugwerk to be heard distinctly and to "project a greater sense of presence than the rest of the organ." This certainly results in a most realistic-sounding recording. If one turns the volume up to fairly high level, there is a surprising feeling of being in the hall with the organ. This is certainly a Top-of-the-Pile recording, one that any music lover would enjoy having in their library.—Margaret Graham