Recording of July 2016: American Tunes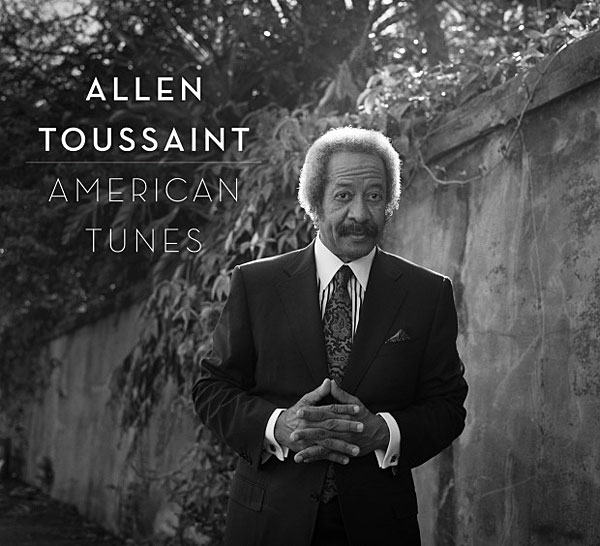 Allen Toussaint: American Tunes
Nonesuch 554644 (CD). 2016. Joe Henry, prod.; Ryan Freeman,, eng.; Wesley Seidman, Monique Eveleyin, asst engs. ADD? TT: 49:31
Performance ****½
Sonics ****½
David Bowie, Glenn Frey, Phife Dawg, Merle Haggard, Dan Hicks, Ernestine Anderson, Lonnie Mack, Maurice White, Blowfly, Otis Clay, Steve Young, George Martin, Keith Emerson, Henry McCullough, Prince. Was there a genre or subgenre of music that did not grieve in the closing months of 2015 through spring 2016—a period that must rank among the most devastating ever for the loss of important and influential songwriters and musicians?
In New Orleans, that most essential city of American music, the loss has been especially keen since the passing, in November, of Allen Toussaint, 77, from a heart attack following a concert in Madrid, Spain. In a career that lasted more than 60 years, Toussaint did it all: songwriter, performer, A&R rep, record producer, and owner of a record label and a recording studio. He collaborated on albums with Paul McCartney (Venus and Mars) and Elvis Costello (The River in Reverse). He provided horn arrangements for the Band's Rock of Ages, and The Last Waltz. He and his partner, Marshall Sehorn, employed a house band at Sea-Saint Studios, in New Orleans, consisting of Art Neville, George Porter, Leo Nocentelli, and Zigaboo Modeliste—an amazing quartet that later became the Meters, the funkiest and most influential of all New Orleans bands.
Although providing a steady, paying gig for the Meters is, all by itself, unbelievably sweet and weighty cred, perhaps the best thing about Toussaint was that, in a town filled with colorful if less-than-savory characters, he was a class act as a musician and as a human being. It's fitting, then, that his final recording project, American Tunes, completed just before his death, is a work of great taste and decorum. Almost entirely instrumental, with just Toussaint at his piano, the album was recorded in two sessions: at his home studio, in New Orleans; and in Los Angeles, with such musicians as Bill Frisell, Greg Leisz, Van Dyke Parks, Charles Lloyd, and singer Rhiannon Giddens (though the instrumental accompaniment is spare throughout). The album is a fantastic and esoteric tour through the Great American Songbook, as selected by the old master himself. Both sessions were produced by Joe Henry, who worked with Toussaint on his next-to-last studio album, Bright Mississippi, which was our "Recording of the Month" for July 2009.
The other thing that Toussaint was throughout his entire life was New Orleans piano professor—perhaps the last in a long, distinguished line, and a skill often obscured by his many other talents. It's natural, then, that after a performance of Toussaint's own "Delores' Boyfriend," American Tunes continues with two songs associated with rent-party luminary Thomas "Fats" Waller: the Waller original "Viper's Drag," then "Confessin' (That I Love You)," a robust, good-time tune also associated with Louis Armstrong, who recorded it often. Accompanied only by drummer Jay Bellerose and bassist David Piltch, the rhythm section from the L.A. sessions, Toussaint proceeds at a jaunty pace, capturing some of the number's trademark sassiness.
This album is being billed as Toussaint's tribute to Henry Byrd, aka Professor Longhair. In one of Fess's best-known tunes, "Mardi Gras in New Orleans," Toussaint shows what a great interpreter and arranger he was by draining the song of its usual manic energy and chugging pace, and remaking it as a fabulous, spacious jazz number taken at leisurely pace, with a vibe of "summertime, and the livin' is easy." The relation of Toussaint's refashioning of the song into a near ballad with a simple ending and final chord coda, to Fess's famous party hymn, is at best tangential—and, for that, it's almost unspeakably wonderful. Toussaint's love and understanding of Fess's music is unequaled. Not even Dr. John could pull off something that sounds this offhand and yet is so intricately constructed. And no whistling! Bravo!
Three tracks later, Toussaint gives a more or less straight reading, ornamented with plenty of Fess-like trills, of Earl King's "Big Chief"—which, after "Mardi Gras in New Orleans," is Byrd's next-best-known tune. He also hews close to the original version in the third Longhair tune here, "Hey Little Girl," originally recorded as part of the Professor's landmark 1949 and 1953 sessions for Atlantic Records, later released on the LP New Orleans Piano (1972).
At another point here, Toussaint takes on another very different player, Bill Evans, and his "Waltz for Debby." Adding a light broth of New Orleans funk, he transforms another tune inextricably associated with the artist who created it into his own seriously arranged but joyously played frolic. There's a lightness and a masterful playfulness to the entire album that make it an appealing epilogue to Toussaint's career.
There are also three Ellington numbers: "Lotus Blossom" (by Ellington's great collaborator Billy Strayhorn), "Come Sunday," and "Rocks in My Bed,"the last two of which include the rich, expressive singing of Rhiannon Giddens, of the Carolina Chocolate Drops.
Oddly enough, Toussaint's reading of his own "Southern Nights," perhaps his biggest hit single, is strangely disengaged and meandering. Perhaps, with that tune, he'd already said everything he had to say.
While American Tunes is very much Part Two of Bright Mississippi—which included covers of tunes by Django Reinhardt, Thelonious Monk, and Jelly Roll Morton, among others—the music chosen here seems a little closer to Toussaint's heart. He had more to say on a number of these songs, particularly in the finale, Paul Simon's "American Tune," where he sings his final lines on record:
You can't be forever blessed
Still tomorrow's going to be another working day
And I'm trying to get some rest
That's all, I'm trying to get some rest.
—Robert Baird