Recording of January 2012: Bad As Me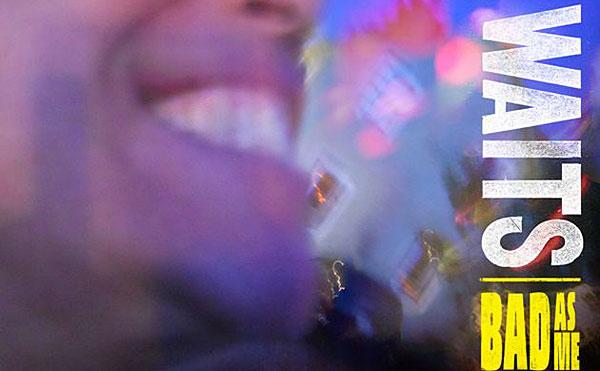 Tom Waits Bad As Me
Anti- 87151-1 (LP). 2011. Tom Waits, Kathleen Brennan, prods.; Julianne Deery, prod. coord.; Karl Derfler, eng.; Zack Summer, asst. eng. ADA? TT: 44:37
Performance *****
Sonics ****½
They only come out at night. Or when recession, wars, and gridlock rule. On Bad As Me, Tom Waits's first record of new material since 2004's Real Gone, things having gone bad all over gives his uniquely American narratives a fresh resonance: "Well we bailed out all the millionaires / they got the fruit, we got the rind / and everybody's talking at the same time / everybody's talking at the same time." ("Talking at the Same Time"). But lest anyone get the idea it's all politics and no licentiousness, the next track, "Get Lost," dives deep into loopy rockabilly slap beats as two of the three stellar guitarists who dominate this album, Marc Ribot and David Hidalgo (Los Lobos), conjure a twitchily convincing froth over which Waits revels in the simpler pleasures of Wolfman Jack and "real tight sweaters."
Since his career-changing one-two punch of Swordfishtrombones (1983) and Rain Dogs (1985), Waits's music has uneasily fit into two broad categories: ballads and banging. On Bad As Me, neither mode has been better since those two earlier successes. For those who mourn the passing of the easy-to-love melodies and sentimental turns of his years on Asylum Records, there's "Last Leaf": Waits and Keith Richards join their cracked, creaky voices in a regretful old-man duo, as a tenacious leaf hangs on to its tree: "I'm like some vestigial tale / I'll be here through eternity / if you want to know how long / if they cut down this tree / I'll show up in a song."
As far as love songs go, few in recent years have approached the sentimental genius of "Back in the Crowd," whose fragile, gorgeous, south-of-the-border feel is thanks to the Cuban-Mexican nexus created by the guitar flavors of Hidalgo and Ribot. And if you miss Tom Waits the gritty solo piano player, "Kiss Me" is the kind of voice-and-piano performance (with Marcus Shelby on bass) that Waits made his name on.
Lovers of the assaultive, barking, processed-vocal Waits will appreciate perhaps his best example ever of the form: the thundering, terrifying "Hell Broke Luce." Set to the rhythms of military drill this modern war nightmare, is aural Blitzkrieg complete with machines guns rattling, dark guitar riffs, an oom-pah brass break, and Waits in gruff, full-throated holler. Throughout Bad As Me, that voice is at the center of everything, the rage-ified howl exclaiming cartoon dialog ("heavens to Murgatroyd!" over stabs of organ in "Raised Right Men"; the unearthly falsetto in "Talking at the Same Time"; the joyous yap in "Get Lost"; the straightforward confessional tone in "Pay me"; the low, quiet uncertain lover of "Back in the Crowd"; and the nearly-out-of-control pleading tone in the title tune. They're all voices you'll remember from Waits albums past, and it's remembering that's at the heart of Bad As Me. Every the fearless art-rock warrior, Tom Waits has finally paused and perhaps grown just a touch nostalgic. For long-time fans, what's most critical to know about bad To Me is that, here, he's singing again.
Keith Richards, the celebrity guest singer/guitarist on Rain Dogs, returns to play on three tracks here: "Satisfied," "Hell Broke Luce," and "Last Leaf," on which he also sings. In the Stones-y "Satisfied," which obviously refers to that band's famous lack of it (as reference points, "Respectable" and "Shattered" also come to mind), Waits's mention of the Glimmers comes off sounding a bit too cozy and insider: "Now Mr. Jagger and Mr. Richards / I will scratch where I've been itching." And while it's a pleasure to hear Waits's sandpaper crooning applied to a well-known tune, such as the snatches of "Auld Lang Syne" he works into "New Year's Eve," this exercise in quotation doesn't have quite the impact that those winning quotes from "Waltzing Matilda" did in "Tom Traubert's Blues" (from Small Change,1976).
Closely recording Waits's voice in all its repertoire of sound qualities and temperaments has to be a challenge. Yet Bad As Me manages to catch the jagged badlands of his voice, its many timbres, and his shifting pitch and volume, all in gorgeously natural detail.
Many (it would be silly and wrong to say all) of the personas Waits inhabits in both his singing and songwriting—from demonic preacher to Weimar carnival barker, from self-loathing loser to shy lover—are the making of Bad As Me. Neil Young's introduction at the 2011 Rock and Roll Hall of Fame induction ceremony perhaps touched this point best: "This man is a great . . . he's sort of a singer-actor-magician-spirit-guide-changeling kind of performer. . . . This man is performing, and I'm seeing maybe three or four of him up there, and they all seem to be waiting for the other ones to finish so that they can come in. And one of them was whistling at me, and one of them was singing in Tom's kind of voice—and then the Eagles covered it."—Robert Baird