Recording of February 2015: Der Ring des Nibelungen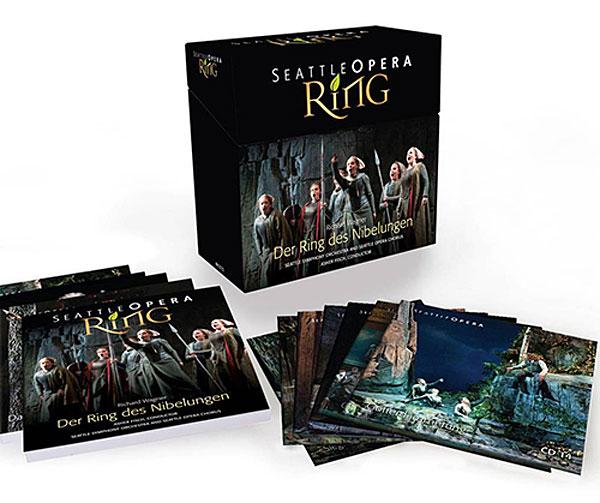 Wagner: Der Ring des Nibelungen
Greer Grimsley, Wotan; Alwyn Mellor, Brünnhilde; Stefan Vinke, Siegfried; Stuart Skelton, Siegmund; Stephanie Blythe, Fricka, Waltraute; Margaret Jane Wray, Sieglinde; Richard Paul Fink, Alberich; Dennis Petersen, Mime; Wendy Bryn Hammer, Freia, Gutrune; Daniel Sumegi, Fafner, Hagen; Andrea Silvestrelli, Fasolt, Hunding; Markus Brück, Gunther; Mark Schowalter, Loge; others; Seattle Symphony Orchestra & Seattle Opera Chorus, Asher Fisch
Avie AV2313 (14 CDs). 2014. Evans Mirageas, prod.; Rick Fisher, mastering. DDD. TT: 14:35:33
Performance ****
Sonics ****
Judging from the pictures in the booklet accompanying these 14 CDs, Seattle's "green" Ring was quite beautiful. What we have to go by is audio only, but even without the visuals, it's very impressive.
Is there a movement toward de-monumentalizing the Ring? The Frankfurt Opera's (on Oehms), recently released on CDs and DVDs (different performances), is similar: the accent is on the behavior and interactions of those who inhabit the world of the Ring. The orchestral emphases are on transparency, not bombast. The "heavy" aspects are underlined by neither slow tempos nor long pauses, but by the low brass (a matter of leadership rather than engineering, I suspect) and the exclamatory delivery of the sung notes and text. Fricka offers such a powerful, indisputable argument in their Act II Walküre confrontation that Wotan, whom we've come to know in Rheingold as boisterously manly and fun-loving, is afterward never the same. His double exclamation of "Das Ende"—the first fff, the second inward and filled with terror, underlined by a rare long pause—shows a shattered man. It's an epiphany of Hans Hotter magnitude.
The brass that introduces Hunding is not as noisy as usual—it's obviously a nervous alert to Sieglinde, alone and as she speaks to him, her impatience and unhappiness become clear. The back-and-forth between the twins is conversational; one can sense they are drawn to one another immediately, and Act I, scene iii has spectacular, inevitable drive. The "Ride" seems subdued at first but takes off, despite the lack of stress on the timpani. In Siegfried, Wotan's angry humor is obvious, the relationships clear, the Awakening Scene filled with wonder. The duet in GötterdÑmmerung's Prologue is joyous and Act II is fiery, but the scene of Siegfried's death is taken too quickly, and the Funeral Music is played for sadness rather than heroism, melting into the scene at the Gibichungs' hall. The lack of majesty may not be to everyone's taste. Asher Fisch brings out a vitality and colors that grander-scaled performances tend to overlook; that said, the cataclysmic finale—nothing held back here—is all the more powerful for a refusal to overstate elsewhere.
Some of the singers border on the magnificent. Greer Grimsley gives, as suggested above, a performance close to Hotter's scale. The tone is ample, the moods—from playing with Loge to fury and sorrow—vivid and vital. And the voice sounds as fresh at the end of each of Wotan's three operas as it does at the beginning. Stephanie Blythe is beyond compare as Fricka, who changes the direction of the entire cycle by demanding morality and justice—she's no harridan here; she is right. Ditto her Waltraute; the voice is glorious. Stuart Skelton and Margaret Jane Wray are all one could ask for as the twins: his cries of "WÑlse!" are magnificent in the Vickers/Melchior manner, and she catches every nuance in her situation, with fine tone and superb dramatic sense. She's more knowing in Act I, less crazed in Act II, than the norm.
The Brünnhilde is Alwyn Mellor, with a handsome midrange and spectacularly secure top—almost too secure in her final, humongous high C in Siegfried, which is ghastly ugly. Weak only in the lowest notes (an issue in the Todesverkundigung), she is a fine goddess: filled with joy early on (her "Hojotoho!"s are filled with laughter and bright as silver); growing more serious as she listens to her father; transforming from goddess with sadness, anger, and finally grace and joyous resolve; wild in the final opera's Act II; and brilliantly dignified and still in glowing voice in her Immolation Scene. Her tireless Siegfried is Stefan Vinke, a true tenor with bight, ringing high notes, an appealing timbre, and a fine way of reacting to what others are saying to him. Thrilling in the big moments, a bit of a letdown in the gentler ones (Forest Murmurs), he's the finest Siegfried I've heard in years.
Dennis Petersen's Mime is not a cartoon but a force to be reckoned with; Richard Paul Fink's Alberich is good enough, though Fisch speeds through his scenes. Andrea Silvestrelli is a nasty piece of work as Hunding. The Fafner and Hagen of Daniel Sumegi are vocally not in the big leagues, but as characterizations they're splendid. Wendy Bryn Hammer vividly portrays Freia and Gutrune. The Rhinemaidens are a shabby lot in Rheingold, better in GötterdÑmmerung; the Norns are good and gloomy. Donner and Froh and even Loge disappoint somewhat—their moments fly by.
The booklet touts Meyer Sound Laboratories for their microphone and M/S decoder, and, indeed, these recordings have all the urgency of live performances, as well as depth and a total lack of artifice (save for a thunder machine, etc.). It may not be even a close-to-perfect Ring, but it's the most human I've encountered.—Robert Levine