Recording of December 2010: Blood/Candy
The Posies: Blood/Candy
Rykodisc RCD 11094 (LP). 2010. Jon Auer, Ken Stringfellow, prods., engs.; Paco Loco, Scott Greiner, others, engs.; Greg Calbi, mastering. AAA? TT: 42:39
Performance ****½
Sonics ****
Having a long career in the temporal world of indie rock, as the Posies have, has its drawbacks. Before I wrote this review, someone sent me a quote about Blood/Candy from the all-powerful world of Internet music criticism, where speed trumps knowledge. "A collection that's thankfully a world away from their largely charmless and invariably dull nineties output for Geffen."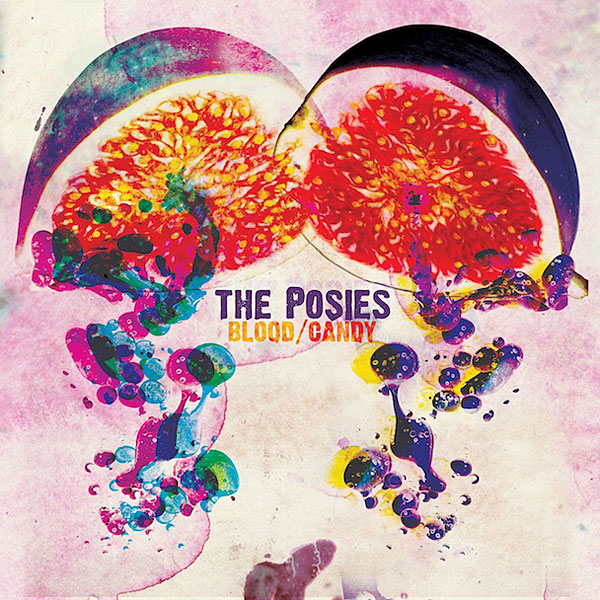 It's true that the Posies began back in the horse-and-buggy days of the late 1980s, but another truth, for those who know their history, is that Blood/Candy sounds more like the band's rich, rockin' Geffen records than anything they've done since. It is, in the best sense of the word, a Posies record: expansive, brainy, tuneful pop folk-rock with a slight punk twinge (they like it loud), two well-played guitars, and two male voices in harmony. Psychedelia—which is, to use a Posie-ism, the current flavor of the month in indierockdom—is glazed across nearly every song on Blood/Candy in tasteful, sparing ways. And what was once simply imaginative power pop—a term Jon Auer and Ken Stringfellow now, not surprisingly, dislike as too confining—has grown far more ornate and mannered, leaning further into chamber-pop territory, and showing the effects that years of voracious listening and touring wisdom can have on songwriting.
Like many charmless and invariably dull songwriters, the Posie boys have over time absorbed and learned even more from the songwriting genius of such masters as the Beach Boys and the Beatles. The best result of that combined with their increased life experiences comes in a stretch of tunes deep into Blood/Candy. In "Accidental Architecture" (track 8) the Liverpool and SoCal streams collide in the ringing verses of the "White Album" Beatles, while the vocally lush chorus, "There's architecture in the way you care," is an unmistakable bow toward and a cop from the wily Mr. Wilson.
Next up is "She's Coming Down Again!," led by shimmery guitar chords. After a skuzzy, phased fuzz bass thumps in, Stringfellow's soaring voice dissects the grim, selfish life of a hipster, with a chorus—again, silly big and, musically, eminently lovable—that's matched to lyrics that build, sweet `n' sour, to an accidental overdose: "Felt so good when she got high / She took too much and she started to panic / Does anybody have a couple extra Xanax / What a shitty way to spend the night." Again, the swirl of the ending vocal flourish sounds like an outtake from one of Brian Wilson's ever-more-influential Teenage Symphonies to God.
What follows that, "Notion 99," is the two-headed love child of "Golden Blunders" and "Dream All Day," both Posies singles from the '90s. A driving guitar rocker, it joins Auer's "The Glitter Prize" and Stringfellow's "So Caroline" as Blood/Candy's accessible rock tunes aka singles-in-waiting. The sinuous, intricate "Cleopatra Street," a tune many early listeners have cited as the album's most Beatles-esque, is a stunning example of how Auer combines his musical intelligence and playful, lyrical urges into a sharp smart gem.
Then there's "Holiday Hours." This is Auer at his very best, singing high and delicate over a McCartney-tinged melody whose chorus hook is the soul of irresistibility. The Posies have always wisely liked a little noise in their sweet pop for texture, and while Auer's guitar solos remain major-key and coherent, in many of the tunes here, including this one, keyboard samples and percussive touches wash and/or poke in, in the back of the mix.
Full of color and heft in the LP version, Blood/Candy was recorded piecemeal in different studios in places like Spain and Ecuador, and on both Stringfellow's and Auer's home rigs. At the band's record-release show at the Rock Shop, a Brooklyn club, one of the first groups Stringfellow thanked from the stage was YouSendIt.com, a public FTP service by which music files can be sent via e-mail. The resulting mixes took some extra mastering work, according to Sterling Sound mastering engineer Greg Calbi, who worked on the project. "The mixes I got were all different, and some required more work than others, but the songs are really good, the ideas are really good, and for this environment, this economy, this was a good listen."
Auer and Stringfellow feel that the sound on Blood/Candy nails what they wanted to hear. "We like details," Stringfellow says. "I like that there's always something shimmering, bubbling, oodling."
"We always talk about keeping it simple, even on our solo records," Auer adds—"and then we really go for the layers. You really can, upon repeat listenings, find more and more. It's layers upon layers upon layers—it's inevitable. The track count here on some of the songs is insane."
Although several guest singers—Broken Social Scene's Lisa Loebsinger, and Kay Hanley from Letters to Cleo—add background-vocal cameos, and the Stranglers' Hugh Cornwell contributes a spoken-word bit to the opener, "Plastic Paperbacks," it's the partnership of Jon Auer and Ken Stringfellow, now clearly renewed, that's so impressively alive on Blood/Candy.—Robert Baird