Recording of December 1988: Bird (Original Soundtrack)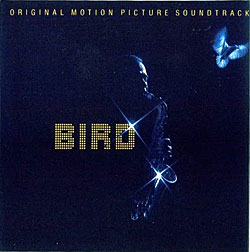 CHARLIE PARKER: Bird (Original Soundtrack)
Charlie Parker, Charles McPherson, alto saxes; Red Rodney, trumpet; Monty Alexander, piano; Ray Brown, Ron Carter, basses; Charlie Shoemake, vibes; John Guerin, drums; others
Columbia SC 44299 (LP), CK 44299 (CD). Bobby Fernandez, Neal Spritz, engs.; Clint Eastwood, Lennie Niehaus, prods. ADA/ADD. TT: 41:21
Unlike Round Midnight, which encased Dexter Gordon's Bud Powell character in a soft-focus, romanticized, soundstagily mythic NY/Paris jazz juncture that never quite was (Herbie Hancock's music direction was deliberately inauthentic for that or any time or place other than the film studio), producer/director Clint Eastwood's labor-of-love Bird attempts to place Charles Christopher Parker Jr. squarely in the bebop world he created. The modern musicians he "plays" with here blow strictly in that tradition, accompanying Parker's solos, as peeled off the original Savoy, Verve, and home recordings with audio wizardry (massive EQing, dynamic noise filters, etc.).
Although Leonard Feather's liner notes state that "the vital problem was that of providing music that would be at once authentic and recorded with state-of-the-art technique," producers Niehaus and Eastwood, and engineers Fernandez and Spritz, have come up with a sound authentic—in all the worst ways—to the late '40s and early '50s: dry, flat, boxy, no top, no bottom, and compressed midrange. It makes my PS Audio CD-1 sound like my old Sony CDP-101.
But it works, as far as it goes, and even works a little bit better on CD. (Though I think that's because the CD's relative lack of depth jams everything together more, obscuring the disparate source tracks and leveling the entire mix. The result is a more cohesive, if false, "ensemble" sound at the expense of depth and roundness.) At the worst, Parker sounds as if he's playing at right angles to the rest of the band, facing stage right to their straight ahead. Let's just say that Bird sounds as much a part of the "soundstage" as any of the others—that is, not at all. I don't mean this entirely negatively: don't listen with those golden, stethoscopic ears and it's entirely convincing—another multi-mono acoustic jazz album, and not a bad one.
Comparing the original Savoy recordings with these audio-rotoscoped cut-and-paste jobs, it's clear where alto player Charles McPherson (who plays in the ensemble heads—only Bird's solos are transcribed) leaves off and the real McCoy steps in. "Parker's Mood," the new string arrangement adding 1½ minutes to Parker's original, sounds as chopped up as it actually is, with an entirely unbelievable ending (no way would Bird not have played over the closing chords), but otherwise, though the patient died 30 years ago, the operation was a success.
The "live" cuts (most of the rest of the album) are a lot more convincing. These are mostly Parker choruses from a gig at Harlem's Rockland Palace, spliced onto a concert staged for the film—how's that for a sonic hall of mirrors? A lot can be fudged by filling in with audience noise, and, given the context of the film, it works well enough.
The "Parker & Strings" cuts—"Laura" and "April in Paris"—sound like early-stereo recordings listened to on one of those gawdawful "console" systems from the late '50s/early '60s: screechy, slushy string arrangements, violins extreme left, celli extreme right, no centerfill. And "All of Me" is a rhythmic shambles—it's hard to guess how they let this one get by, unless it accompanies a scene in which The Band Has A Bad Night (haven't seen the flick).
Parker addicts must, of course, buy this album for "All of Me" and "I Can't Believe That You're In Love With Me," two previously unreleased cuts originally recorded on Lennie Tristano's home tape recorder. They're not great Parker—he sounds slack, tired, far from brilliant—but that won't stop the completists.
But it's easy to get so caught up in the techno/timewarp glitz of this project that we overlook the fact that, beyond the grave or no, some entirely convincing jazz is happening here. Bassists Brown (the only musician in these sessions to have actually played with the living Parker) and Carter are their impeccable selves, and Monty Alexander's piano is a witty delight throughout. Session drummer John Guerin (LA Express, Frank Zappa, many Joni Mitchell albums, etc.) wears the bebop mask effortlessly, and Red Rodney's trumpet approximates a blend of Davis and Gillespie—appropriately. Jon Faddis credibly impersonates Dizzy on "Ornithology." Really, as a jazz album, it works. Incredulously recommended, sort of.—Richard Lehnert