Recording of December 1987: Marsalis Standard Time, Vol.1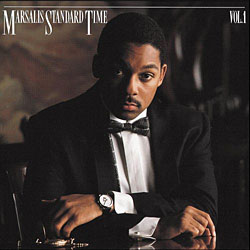 Wynton Marsalis: Marsalis Standard Time, Vol.1
Wynton Marsalis, trumpet; Marcus Roberts, piano; Robert Leslie Hurst III, bass; Jeff Watts, drums
CBS CK 40461 (CD), FC 40461 (LP). Tim Geelan, eng.; Steve Epstein, prod. DDD. TT: 62:54
When someone has garnered as much hoopla as has Wynton Marsalis over the last five years, it becomes harder and harder for a critic to believe that the hype continues to be justified. Nor does winning Grammys in the jazz and classical categories help the situation's believability. Worse, Marsalis's own bristly demeanor and portentious pronouncements on the state of jazz—see "Book Reviews" elsewhere in this issue—make it all the more important that he put his money where his mouthpiece is. (As Miles Davis, never known as the soul of tact himself, groused a while back when leaving a Grammy Award ceremony at which Marsalis had held forth: "Who asked him?")
Nor is the job made any easier by the fact that, last month, I highly recommended trumpeter Randy Brecker's In the Idiom (which recommendation, by the way, still stands). But in the light of Marsalis's new release, I'm groping for superlatives. Everybody should have such problems.
No beating around the bush: this is a strong, rich, generous, and virtually bottomless album. There is simply so much to listen to here, again and again. But let's to it.
After the thin, elusive compositions of J Mood, and that album's serious but humorless playing, Marsalis and his quartet take on nine jazz standards and two Marsalis originals to reaffirm jazz roots that Marsalis has never strayed very far from in the first place. Jazz trumpet quartets, like string quartets in the classical tradition, are in many ways the most revealing of ensembles—there is no place for the trumpeter to hide, no other horn to balance the otherwise percussive sound. The form demands ensemble playing as the quintet never does.
And the ensemble playing here is faultless. Despite the spareness expected of the four instruments, the playing is densely textured. Even Miles's second great quintet never played quite this well together—certainly not as consistently. Unlike Miles, however, Marsalis breaks no new ground (and never really has, for that matter): ballads, bebop, mainstream blowing, cool—all are represented. What unifies them is Marsalis's intensely analytical rhythmic sensibility, his careful, razor-sharp dissection of the temporal elements of these all-but-too-familiar tunes, and his almost cubistic reconstruction of them. In short, it's called "swinging," and in this case means quite a few things.
One of which is that Marsalis's solos are much more interesting rhythmically than harmonically or melodically, which is fine with me—he's always impressed me more as a bandleader, arranger, and sonorist than a soloist (his tenor sax-playing brother Branford has always been the more satisfying blower).
The tunes: "Caravan" is played with a quirky black humor; "April in Paris" is almost unrecognizable, even in the head, where wonderful rhythmic liberties are taken. "Cherokee" is straight bebop; two versions of the same arrangement are offered here, the second one the superior—Marsalis's soloing fairly scorches. The arrangement of "Foggy Day" is an instant classic, from Roberts's prancing opening chords to Marsalis's own solo, and Roberts's unaccompanied version of "Memories of You" is suffused with the spirit of Monk—again, that emphasis on rhythm.
Drummer Jeff Watts is strong and delicate, as he has been throughout his tenure with Marsalis. Like so many other consummately and creatively supportive bassists, however, Robert Hurst's soloing is undistinguished. But that's OK—he only solos once, and that briefly.
Although Stanley Crouch, who wrote the almost gallically pretentious liner notes, is careful to make no mention of Miles Davis, and Marsalis himself has increasingly written and spoken (though not played) as if Davis never existed, the younger trumpeter does seem to pay tribute to his elder in one of his two originals, "Soon All Will Know." This sounds like nothing so much as Blakey's "The Theme," which Davis used as his end-of-set tag from the early '50s all the way through his Fillmore concerts of the early '70s. The other original, the nostalgic "In the Afterglow," is as standard-sounding as anything else here.
The LP is an example of how pushing the limits of vinyl in one direction increases failure in all others, DMM notwithstanding. At a playing time of 62:54, exactly the CD's length, the LP's amount of music is more than generous, and CBS has done as good a job of disc mastering as can be expected; but the compression, low-level signal, and resultant S/N ratio dictate the superiority of the silver disc. The LP's sound is pinched, two-dimensional, and dead. The CD solves all of these problems.
This is one for the ages. Very highly recommended. And it's only Vol.1.—Richard Lehnert