Recording of December 1985: Respighi: Church Windows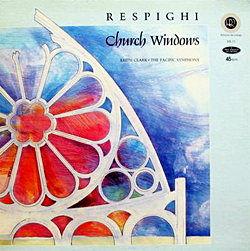 Respighi: Church Windows
The Pacific Symphony Orchestra, Keith Clark conducting.
Reference Recordings RR-15 (LP). Tam Henderson, prod.; Keith Johnson, eng. AAA
Some years ago, Harry Pearson, editor and publisher of That Other Magazine, announced his intention to help finance production of a no-holds-barred symphonic recording. The only question was, who would produce it?
Reference Recordings' Tam Henderson assures me he did not have HP's grant in mind when he conspired with the Pacific Symphony's conductor to record "something" in the Crystal Cathedral, a huge barn of a place in Santa Ana, CA. When that hall, graced by a large, romantic-sounding pipe organ and superb acoustics, proved to be unavailable because of some legal wrangle, the idea of recording something big and romantic for orchestra and pipe organ refused to go away. The result was this recording, taped in the orchestra's usual performing hall: the Santa Ana High School auditorium.
When Pearson learned that the recording had been made, he decided—without having heard it—that this would be the one to get The Absolute Sound's funding. He had heard RR's Symphonie Fantastique, and was very fond of Church Windows, so why not? It was a wise choice.
I heard a short excerpt from the Church Windows master tape in Reference Recordings' room at CES two years ago, and was bowled over by the sound. At the time, I was told it was slated for release but that no target date had been set. That was the last I heard of it until my review copy arrived.
Shortly thereafter I got a phone call from HP, asking if I'd like to review Church Windows for The Absolute Sound. After I got up off the floor, I asked him why he didn't have one of his own reviewers do it. "Conflict of interest," was the reply. I would supposedly be impartial. After all those nice things HP has said about me in print? Heh, heh, heh, I thought, rubbing my hands with glee—Gotcha!
I agreed. And I like the recording. Like it? No, I think it's the best symphonic recording I have heard, bar none.
I have in my collection an antique Capitol 4-track prerecorded tape of Grofé's "Mississippi Suite," which I often play for people as an example of the kind of symphonic recording everyone should be doing. Setting it apart from the competition is the kind of orchestral weight and solidity usually heard only at a live concert. The cellos, trombones, and tuba sound as if they are actually playing with the orchestra rather than out in the foyer. Outside of that, unfortunately, "Mississippi Suite" is veiled, flat, and closed-in. RR's new "Church Windows" isn't.
Forget, for the moment, that this is some of Respighi's most sumptuously glorious music. Forget that the performance is superb. Just listen to the sound of the recording! The number of available symphonic recordings which have either the power or the heft of a live orchestra can be counted on the fingers of a damaged hand. This has both! The lower and lower-middle-range instruments are there, where they belong in the scale of things, and the foundation they lay for the rest of the instruments makes for some of the most full-bodied sound I have heard from any commercial recording. A full crescendo on this Reference Recording sounds absolutely monumental!
This is, quite simply, a stupendous recording of a probably-definitive performance. It makes RR's last symphonic effort (the Berlioz Symphonie Fantastique) sound almost pallid by comparison. (Well, no one could call it pallid; "brash" might be a better word.)
Bravo, Keith Johnson and Tam Henderson and, of course, Harry Pearson, who didn't exactly make this happen, but helped make it easier to pay for. This you gotta buy. No ifs, ands, or buts.—J. Gordon Holt