Recording of December 1962: Britten: Noye's Fludde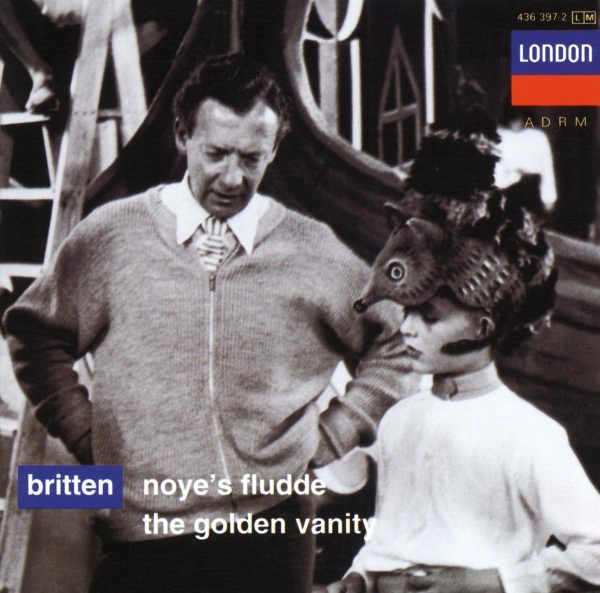 Britten: Noye's Fludde
Owen Brannigan, Sheila Rex, Trevor Anthony, Children's Chorus, and East Suffolk Children's Orchestra, Members of the English Chamber Orchestra, Norman Del Mar, conductor
London OS-25331 (LP). Colin Graham, prod. Recording date, 1961-07-03. Recording venue, Orford Church, Suffolk. TT: 48:00
This musical setting of the Chester miracle play about Noah, his ark, and the problems attendant thereof, if one of the most movingly beautiful recorded works I have ever heard. Its simplicity and sincerity are a stinging rebuke to those contemporary composers who have forgotten that music is basically an expression of emotion, without which its appeal can be only to the logic-oriented "mind" of a computing machine.
Recorded at an actual public performance, this is an absolute tour de force; the word "incredible" crossed my mind several times as I listened. I do not hesitate to place it among the supreme technical achievements of disc recording, and I find it almost impossible to pick any specific qualities of the sound for analytical evaluation. The only word that comes to mind is "natural," and how can one describe an impression such as this in terms of technical details?
I can say, though, that if a live performance in stereo is categorically this much better than a recording session, I would be all in favor of outlawing recording sessions, for I do not recall having heard any disc with such a remarkable sense of realism as was captured on this one. For reasons which I fail to understand, the bass on this disc is astounding; no sodden boom, but some of the deepest, tightest lows I have heard from any disc, stereo or mono. The entire sound is lucid and detailed, and tracking is so clean that it is hard to imagine that the master tape could have been any cleaner.
This is a record you must have, regardless of your musical tastes, for not only is it a joy to listen to, it is all the proof that anyone could ever need of the superiority of good stereo over the best mono sound.—James W. Keeler