Recording of August 2011: Bon Iver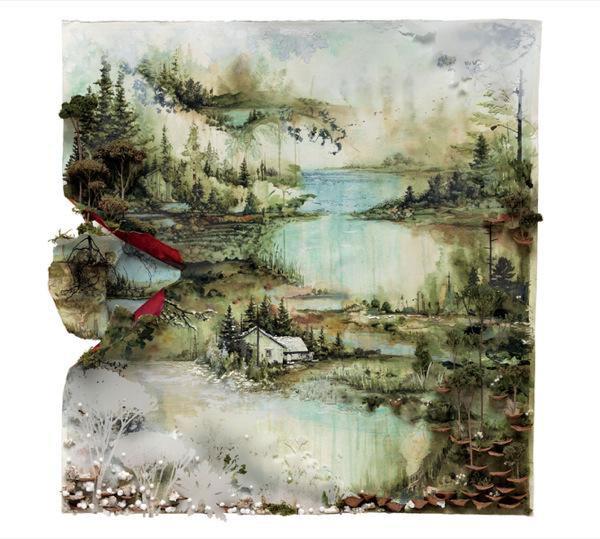 Bon Iver: Bon Iver
Jagjaguwar 52135 (CD). 2011. Justin Vernon, prod., eng.; Brian Joseph, eng.; Nate Vernon, Andy Immerman, asst. engs.; Greg Calbi, mastering. AAD. TT: 39:28
Performance ****
Sonics ****
Many, though certainly not all, musicians of most genres dream of composing, crafting, birthing a hit record—one they will forever be known for, and that will make them enough money that they'll never have to sleep on another hard floor or friend's stained couch as long as they live. Very few fulfill this dream, and those who do often don't know why or just how it happened.
In a tale that's now become indie-rock legend, Justin Vernon formerly of the obscure band DeYarmond Edison (his two middle names) holed himself up in a cabin in Northern Wisconsin in the winter of 2007, where he wrote and recorded an album under his nom de rock, Bon Iver, entitled, For Emma, Forever Ago, that became an instant if surprise hit and remains a tuneful, falsetto-drenched sepia masterpiece of introspective indie-rock singer-songwriterisms.
Following that colossus with an intelligent move, the 30-year-old Vernon then geared down and took his time, at first foiling the sophomore jinx by releasing a four-song EP, Blood Bank, that, while not advancing his vision, didn't hurt much either. On that EP, which had the flavor of being outtakes or tunes that didn't quite make the cut to be included on For Emma, Vernon, as on that first album, judiciously used Auto-Tune—not to correct his pitch, but as an effect to add a subtle ethereality to his remarkably strong falsetto. Auto-Tune, which corrects pitch or tunes voices, in the studio and onstage, of marginal hacks like Taylor Swift, was in 2010 rightfully voted one of the "50 Worst Inventions of All Time" by Time magazine. Its use as an effect by Vernon and others is controversial, and one reason Bon Iver's music remains a wedge issue for audiophiles, the folk-music faithful, and Iver fans alike. Depending on taste, it can add a haunting, mystical quality to his voice, or sound too processed for its own good. The use of effects influences the balance between musical content and sound quality, which here tilts toward the content—the overall recorded sound of Bon Iver scores a good, not great, rating; it's listenable but not peerless. Despite the use of some compression, the space in the recording has been preserved.
As proof of his increasing fame, Kanye West asked Vernon if he could sample Vernon's tune "Woods," from Blood Bank, for "Lost in the World," from West's most recent album, My Beautiful Dark Twisted Fantasy (2010). Vernon also contributed vocals to other West tunes on Fantasy, and has worked with Megafaun, Volcano Choir, the Rosebuds, and others. Yet another between-album project for Vernon was the indie-rock supergroup side project Gayngs, whose debut, Relayted, was a soulful jam-rock mix that reportedly began life as a tribute of sorts to 10cc—though it ended up sounding more Air-like to some ears—and became a big favorite of Stereophile's Jon Iverson and Stephen Mejias.
All these varied activities and time spent allowed the pressure to follow For Emma to dissipate. Wisely, when it comes to songwriting, Vernon sounds here as if he was content hitting singles and doubles this time out, rather than swinging for the fences and trying to top For Emma's forest of hooks. The stark, spare musical vibe heard on his previous LP and EP is back, albeit in more relaxed form, more elaborately arranged, and not nearly as mournful as that heard on For Emma. From the opening track, "Perth" (cities and states are a mini theme on this album), which opens with a field recording of ships in Perth harbor, it's clear that the overall idea has been to deepen the craft evident on the landmark first album. The album's single and its most enchanting tune, "Calgary," released long before the full album, is typical of this approach: a moody mix of floating keyboards and Vernon's multi-tracked falsetto together make for a kind of modern folk music.
The lyrics on Bon Iver are Vernon's now-expected tangle of simplistic phrases—"Still alive who love you," repeated three times as the chorus of "Perth"—and odd twistings and unexpected word pairings like "furling forests" (also "Perth") or "arboretic truth" ("Minnesota, WI"). How much is really going on emotionally in the words is an open question. Lines in "Holocene," like the first chorus line where he seems to admit, "and at once I knew I was not magnificent," are swamped by gibberish like the final stanzas of the album's closer, "Beth/Rest," which ends with, "Our love is a star / Sure some hazardry / for the light before and after most indefinitely / danger has been stole away / this is axiom."
"Bon Iver is often equated with just me," Vernon says in his official biography, "but you are who surrounds you." Here the cast of collaborators is deep and impressive. The ubiquitous pedal steel of Greg Leisz (Lucinda Williams, Bill Frisell), and the horns of Colin Stetson (Tom Waits), C.J. Camerieri (Rufus Wainwright), and Mike Lewis (Andrew Bird) mix with Vernon's longtime collaborators Sean Carey (vocals, drums), Mike Noyce (vocals, guitar), and Matt McCaughan (vocals, bass). Rob Moose (Antony and the Johnsons, My Brightest Diamond) worked on the arrangements.
Despite the importance of the other musical talents on Bon Iver, it's Justin Vernon and the potential inherent within his journey—musical, spiritual, sonic—that's marked him as a clever, gifted artist who has many moods and meditations yet to be explored.—Robert Baird