Recording of April 2016: Into the Silence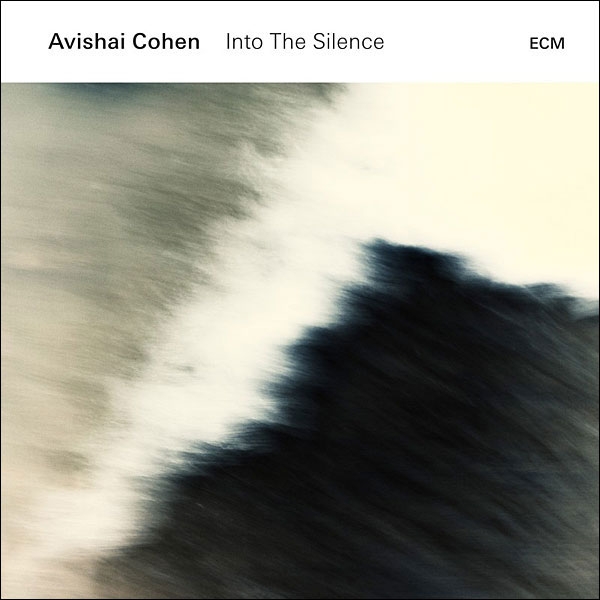 Avishai Cohen: Into the Silence
Avishai Cohen, trumpet; Bill McHenry, tenor saxophone; Yonathan Avishai, piano; Eric Revis, bass; Nasheet Waits, drums
ECM 2482 (CD). 2016. Manfred Eicher, prod.; Gérard de Haro, Nicolas Baillard, engs. DDD. TT: 53:08
Performance ****½
Sonics ****½
In the new millennium, no country other than Cuba has exported more important jazz musicians to the United States than has Israel. But even though the Israeli jazz phenomenon has been much discussed in the jazz press, critics have been late to recognize that Avishai Cohen is one of the best trumpet players alive. Cohen has two siblings who also play jazz, and his charismatic older sister, Anat, who has been winning major jazz polls on clarinet for several years, gets most of the attention in the family. And then there is Avishai's name problem: One of the best-known Israeli jazz musicians, a bassist of the same name, got to New York first.
But Cohen's recent recordings, such as Flood, Triveni II, and Dark Nights, all released by Anzic Records, have been too strong to ignore. Proof that he has arrived is his signing by ECM, the company most alert to emerging jazz talent. Into the Silence is Cohen's ECM debut. Some will attribute its rapt atmosphere to the influence of producer Manfred Eicher. In fact, its aura of finality derives from a passage in Cohen's life: the death of his father, in November 2014.
The ensemble includes Israeli pianist Yonathan Avishai and three Americans: tenor saxophonist Bill McHenry, bassist Eric Revis, and drummer Nasheet Waits. The instrumentation is atypically conventional for a Cohen band, and the album is the closest thing to a pure-jazz project, and less ethnic, than anything in his previous work. But Into the Silence is not conventional. It is intimate and individual. It opens with "Life and Death." Despite the daunting title, the piece does not feel grandiose or heavy. It is a series of fragile meditations that evolve in response to tides of emotion. Cohen is a technically brilliant, boldly imaginative trumpet player, but someday he may be known as a composer who also plays an instrument. The spare melody of "Life and Death" gets under your skin. Cohen repeats and extends it, the sound of his muted trumpet identical with loneliness and loss. This act of mourning for his father sometimes almost stops, from sadness, but always perseveres.
It is surprising to read, in press notes, that these compositions were new to the players when they gathered in the recording studio. Even Cohen had lived with these themes, composed in the six months following his father's passing, "just in his head or at the piano." The music sounds born in the moment, yet sustains the unity of a through-composed suite. In the title track, as in everything here, everyone fills a role. Yonathan Avishai's piano introduces tension through dissonance; Waits's foreboding drums clatter and erupt; Revis's throbbing bass connects with Waits's bass-drum continuum; Cohen and McHenry piece out the melody between them, or press it hard in unisons. McHenry, a new Cohen collaborator, is remarkably in touch with the spiritual forces underlying this album. He plays with fervent restraint.
Every modern trumpet player must come to terms with Miles Davis. Cohen speaks his own trumpet language with his own cultural inflections. But his sound, with or without a mute, brings back Davis's mystery and melancholy in long trumpet calls like sighs of the soul. Cohen's lines are instantly mutable because the emotions they portray are complex. Cohen the trumpet improviser alters and deepens the ideas of Cohen the composer.
The centerpiece is the 16-minute "Dream Like a Child." Cohen's father had wanted to play music when he was young, but his family could not afford lessons. He made sure that his children got those lessons. The most dramatic of the song's many turns occurs at 7:00, when it changes from a ballad to an assertive anthem, perhaps representing the handoff within the family to a new generation. This is the track that allows fire into the album's solemnity. Cohen shoots trumpet flares that light the dark sky.
Three stellar, essential contributors to this project must be singled out. Engineers Gérard de Haro and Nicolas Baillard, working in Studios La Buissonne in the south of France, achieve clean, objective sound that never calls attention to itself, but allows the personal, universal message of this music to stand clear. Pianist Yonathan Avishai is entrusted to close the suite with a stunning, radiant, three-minute solo called "Life and Death—Epilogue." It is a deep reflection on and summation of the album's emotional journey. It acknowledges sorrow, but its passionate, slow ascent arrives at acceptance.—Thomas Conrad