Recording of April 2014: Beethoven: The Symphonies and Reflections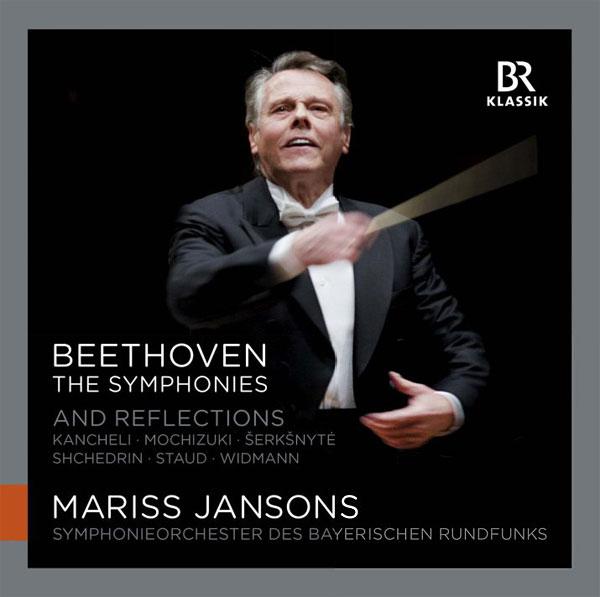 Beethoven: The Symphonies and Reflections
Symphonies 1–9; works by Giya Kancheli, Misato Mochizuki, Raminta Šerkšnyte, Rodion Shchedrin, Johannes Maria Staud, Jörg Widmann
Mariss Jansons, Bavarian Radio Symphony Orchestra. Christiane Karg, soprano; Mihoko Fujimura, mezzo-soprano; Michael Schade, tenor; Michael Volle, baritone.
BR Klassik 900119 (6 CDs). 2013. Wilhelm Meister, prod.; Ulrike Schwarz, Peter Urban, Sunao Shimazaki, engs; Mechtild Homburg, Elisabeth Panzer, Bernadette Rüb, asst. engs. DDD. 6:27:31
Performance ****
Sonics *****
These live performances of Beethoven's nine symphonies were recorded mostly in Tokyo's Suntory Hall, October through December 2012 (except 3 and 6, recorded in Munich's Herkulessaal); the ancillary material—the Reflections of this set's title—are works by contemporary composers commissioned by conductor Mariss Jansons and recorded in Munich and Tokyo in 2008, 2009, and 2012. Intended as homages to Beethoven (as if he needed any), they are supposed to reflect what these composers feel Beethoven might be writing if he were alive today. Each new work is meant to denote an aspect of a specific symphony, and the CDs are (mostly) arranged so that we can hear each after the symphony that inspired it. Some of these pieces are daring and innovative, and add value to these marvelous performances of the symphonies themselves.
When writing about the canon of recorded Beethoven, it's usually easy to pick out the classics, since they normally have overwhelmed us: Carlos Kleiber's Symphonies 5 and 7; the Furtwängler Ninth (from 1942, with Joseph Goebbels in attendance and a flamingly accusatory last movement); almost all of the 1962 Karajans (save for 6; he appears to have no patience for nature); and many of Klemperer's despite his slow tempos, which invariably sound leaden on first hearing but make more sense the more one listens. Putting aside historically informed performances, most of the "greats" come firmly out of the German tradition, which sees the Nine as the culmination of the symphonic form and Romantic expression, with a huge bedrock of strings; grand, outsized gestures; and the drama and philosophy underlined in red. Böhm, Bernstein, Barenboim, and Blomstedt have continued this tradition, and it is, indeed, valid and glorious. Mariss Jansons, though also firmly rooted in tradition, is not dogmatic: no reinterpretations, no eccentricities, no axes to grind, no points to make except musical ones.
In general, what Jansons and the superb Munich RSO offer are tempos on the quick side that make for intensity rather than rushing (like Böhm's Ring cycle); remarkable instrumental clarity without any feeling of digitalized underpinning or "highlighting"—it's all music, not technology—and a sense of each symphony's "personality." He's not interested in overwhelming with volume, but rather with the weight each movement requires: the brass tone is always stunningly rounded, and the low strings have great warmth. Rhythms are potently realized. Symphonies 1 and 2 are buoyant and classical, Ö la Haydn; by 3, Beethoven had found his voice and was digging into the profound. Finding the first movement lighter than usual makes perfect sense with the somber opening chord of the second, a Funeral March; one has an almost physical reaction to the difference. The fine tunes of Symphony 4 sound lovely and revitalizing rather than just pretty.
The Fifth is a bit lacking. Though handsomely played, the first movement doesn't make the listener nervous, as it should, and while the slow movement is affectionate, the finale doesn't leave us breathless. Jansons's Pastoral, on the other hand, may become the gold standard: incredibly evocative of the nature it describes, yet not "painterly"—the merriment of the Country Folk is not bumpkin-like, the storm is not a monsoon. The symphony does what it should: take us away from man-made places. And the playing, note for note, is just beautiful. Symphony 7 is energetic but, oddly, is the one with which Jansons takes his time; as a result, the whole misses being as stirring or rapturous as one might want. The oft-neglected Eighth is given a performance that will sell it to the unconverted: the wit and charm are here all-knowing and sly rather than puckish, with the "metronome" movement an ideal example of a conductor and players really understanding the composer's intentions.
Oh, the Ninth. Until the jubilant ending, menace is everywhere, but without creaking doors. The anguished moments of the first movement are clear and properly disturbing; the second movement never allows itself to offer comfort, with the firefly moments invariably beaten up by the timpani and the jumpy coda full of anxiety. The third movement is almost holy, and never drags; the emphasis on the long, beautiful opening melody (as well as the second theme) is ravishing. The finale is not barnstorming; it is, rather, all of a piece, and goes brilliantly from darkness to light. It has remarkable Schwung, and the chorus, ever aware of dynamics and rhythm, is brilliant. The soloists work as a team. It won't make you crazy, like Szell, Karajan, or Furtwängler, but it's a thoroughly satisfying reading, truly an ode to joy.
The "new" works vary from an upsetting, joyless piece by Staud that bears little kinship with Symphony 1 to a grand, exhilarating statement by Shchedrin, best known as a composer of ballet music. Kancheli's longish Dixi (after Symphony 9) is for mixed choir and orchestra; its affected moodswings come across as variously hypnotic and pretentious. And if I never again hear Widmann's Con brio, it will be too soon. It's a good bet that if you acquire this marvelous set of symphonies, you'll listen to the addenda just once, then revel in Beethoven anew.—Robert Levine