The Raspberries: Pop Art Live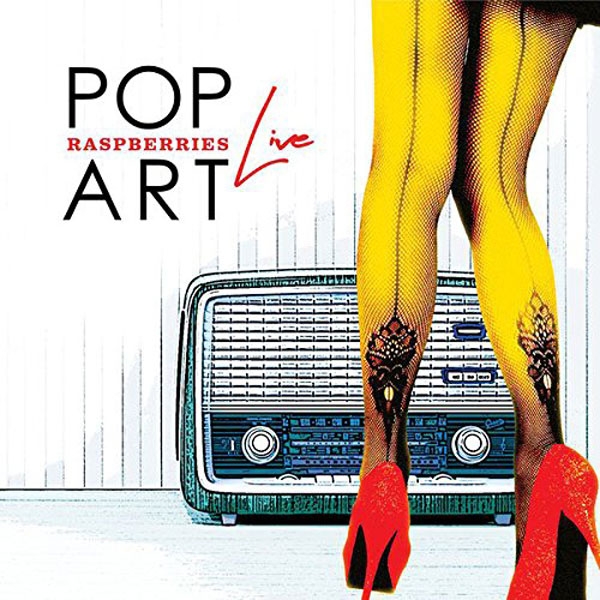 In football there's a saying to describe an unexpected outcome: "That why they play the games."
The recorded music equivalent might be "That's why you have to listen to the records." Much as you might be tempted to gaze at the cover art, remember a band's last record or think about the one time you saw them live and they really blew it, prejudging can be dangerous. In the end, you still gotta listen.
So there I was, waving around a CD copy of Pop Art Live, by 1970s power pop band, The Raspberries about to launch into a tirade about how most bands from the '70s should just stop. Just stop taking the money of poor souls who by seeing them today (or buying "new" records) are desperately trying to grasp at the ghostly threads of their long departed youth. After a number of demoralizing experiences seeing acts that were great in 1975 and are much less so now, I have sworn off seeing older acts. As pathetically obvious as it sounds, it's just never the same.
But back to the Raspberries, that anglophile/mod quartet from Cleveland, masters of the two minute pop tune, who were together for all of five years (1970-75), had a blockbuster single, "Go All The Way," released a debut album with a scratch'n'sniff sticker (that smelled like candied raspberries), and finally imploded when frontman Eric Carmen and his razor shag haircut departed for a solo career that was marked by maudlin tales of victimhood like "All By Myself."
Much to the delight of their power-pop loving fans, about half of whom are or were music writers, the band reformed in 2004, and played a bunch of shows of which Pop Art Live was the very first. Recorded in their hometown, at the House of Blues in front of rabid crowd (who you don't actually hear much on the recording), this show has been released on CD and MP3 download by Omnivore Records. An earlier 2007 CD on Rykodisc, Live on Sunset Strip, is the only other show from the 2004 reunion tour that has yet been released.
According to Omnivore, the show was recorded "professionally" at the time (ie, not a radio show or a tape from the soundboard or the audience) and was recently mixed for the first time. While Carmen's falsetto ain't quite as strong as it used to be, and the dynamic range of this recording is merely acceptable like a lot of live recordings, it's great to hear one of the 1970s' greatest band playing with this much joy. More joy in fact than they had when originally together. They are emotionally present and alive in the extreme throughout this 28-song set.
For this tour, the band wisely decided to supplement their sound with four additional musicians, two guitars, keyboards and percussion. Called "The Overdubs," these four really flesh out the overall sound and what pop tune doesn't benefit from more harmony vocalists.
Thankfully, as reunion tours go this was one for which the band clearly rehearsed and prepared for. Jim Bonfanti's drumming (which the "Mighty" Max Weinberg has cited as an influence) is superb throughout, as is Wally Bryson's guitar work. And the band's three-part harmonies (supplemented by those three extra voices) are remarkably intact for a band that's been apart for 30 years. Everything here is played with refreshing gusto. Nothing drags or has that pitiful "they really need to quit" stench that dogs so many '70s bands who make ill-advised comebacks. Best of all, Carmen and Co. made the right decision by deciding one comeback tour was enough. So far there have not been any more shows or worse, any new Raspberries records, which in my experience is always a bad idea.
And when the foursome (plus four) launch into convincing covers of The Beatles' "No Reply" and "Baby's In Black," and Pete Townsend's "I Can't Explain," it's easy to remember why these guys, who were praised while together By Bruce Springsteen and John Lennon, are so beloved. And why every scrap of their shimmery, soaring pop, which admittedly owes much to John and Paul, will always be prized by the Raspberries faithful.