PS Audio Stellar M700 monoblock power amplifier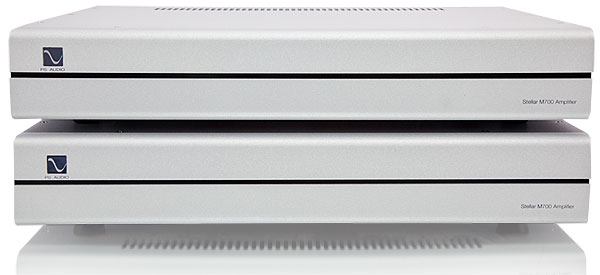 Although PS Audio's Stellar M700 monoblock power amplifier ($2998/pair) is a brand-new design from a team led by engineer Darren Myers, it draws on the company's extensive experience with class-D amplification. Sam Tellig and Kalman Rubinson reviewed PSA's HCA-2 power amp in, respectively, the
October
and
December 2002
issues, and I reviewed their GCC-100 integrated amp in
January 2006
. The Stellar M700's input stage is the latest version of PS Audio's Gain Cell, which they describe as a "proprietary, fully differential, zero feedback, discrete, class-A MOSFET circuit.
In the Stellar M700, the Gain Cell drives a 700ASC class-D power module from the Danish company ICEpower. I asked Paul McGowan, CEO of PS Audio, why they chose this module rather than, say, one from Hypex, another class-D specialist. He said that they spent a lot of time listening to modules from various manufacturers, and the 700ASC was the one whose sound quality most closely matched that of the Gain Cell.
The M700's industrial design is very much like that of PS Audio's other recent products—perhaps not as solid as the DirectStream DAC or the DMP transport, but its full-size case (it's 17" wide by 3.25" high by 13" deep) and evident attention to fit'n'finish suggest high quality.
Setup
Each Stellar M700 has unbalanced (RCA) and balanced (XLR) inputs, and two pairs of speaker binding posts, made of nickel-plated copper. My reference preamplifiers, a Convergent Audio Technology SL-1 Renaissance Black Path Edition, has only unbalanced outputs, so I had no decision to make in that department. My Monitor Audio Platinum PL300 II speakers are equipped for biwiring, but as I've never been convinced of the superiority of biwiring, I use only single wiring.
I normally like to place audio components side by side, which is how I positioned the last pair of monoblocks I reviewed, Audio Alchemy's DPA-1M. However, in all the PS Audio product literature I've seen, the M700s are shown stacked, and in any case are too wide to sit next to each other on my amp stand. (The DPA-1M is much narrower, so a pair of them fit side by side.) Thus, setup at first involved placing one amplifier on the stand, and the other atop it.
Although stacking the Stellars had no obvious detrimental effect, such as heat buildup or increased noise, as time went on I began to wonder if the M700s were actually sounding their best. I have two identical stands, so I decided to check out the possible audible effects of placing each amp on its own stand.
The music was Dance of the Tumblers, excerpted from the suite from Rimsky-Korsakov's The Snow Maiden, with Eiji Oue conducting the Minnesota Orchestra; the track appears on Tutti! Orchestral Sampler (CD, Reference RR-906). I first listened to it with the Stellars stacked, then listened again with each amp on its own stand. This piece is one of those orchestral blockbusters whose familiarity tends to breed contempt, but its very familiarity makes it a useful test of sound quality. With the M700s stacked the sound was generally fine, with no obvious weaknesses, but not as exciting as I remembered when the same speakers were driven by the Theta Prometheus monoblocks, which I used as reference amplifiers for my review of the Audio Alchemy DPA-1Ms. The Theta, a class-D design that Stereophile ranks in Class A, costs $12,000/pair—finding that it sounded better than the $2998/pair M700 wasn't surprising. Maybe this was all the M700s were capable of—appropriate for the price. I moved the top amp to its own stand and played the Rimsky-Korsakov again.
Whoa! Everything came into more precise focus, with more detailed, more extended bass, cleaner highs, and greater dynamic ease. Going back and forth between stacked and unstacked while listening to other familiar recordings confirmed those initial impressions: The Stellar M700s sounded better when sitting side by side on individual stands than when stacked atop one another. I left them on their separate stands; the following descriptions of their sound all derive from my listening to them in that configuration.
Sound Quality
The sound of a power amplifier has many aspects, some of them quite subtle and requiring extended listening to pin down. However, one aspect is immediately obvious: noise. Whenever I connect a new amp to my system and turn it on the first time, it's always with a certain trepidation. Will the system be quiet, or will I hear noise? And if I do hear noise I haven't heard before, it's not necessarily the fault of the new amp, but of an interaction between its ground-level voltage and that of one or several other components. Tracking down the source of this noise and eliminating it by trying various grounding arrangements can be a frustrating process, and not always a successful one.
With PS Audio's Stellar M700, I knew at first turn-on that there was no problem with noise. With no music playing but the volume set to a normal listening level, I had to go up to one of the speakers to hear even the slightest buzz or hum.
Whether or not a new amplifier will need to be broken in remains controversial. Some amplifier designers think all that's needed is a few minutes for the circuits to reach their operating temperature, and that the audible results of longer periods of break-in are extremely minimal, and perhaps imaginary. Paul McGowan is not of that group. Asked whether the M700 needed to be broken in, he said, "Lots." Pressed to be more specific, he said, "Two weeks."
No problem. I left the Stellars on all the time, playing music and various break-in CDs for several hours a day, and doing no critical listening for at least two weeks. I occasionally checked the sound quality during this period, and afterward kept listening for further changes, and while there was definitely some improvement—the sound became smoother and more relaxed—the degree of change was moderate. Breaking in the Audio Alchemy DPA-1M, another amp with a class-D output stage and a designer (Peter Madnick) who recommends extensive break-in, resulted in similar improvements, but to a greater degree.