PS Audio BHK Signature 300 monoblock power amplifier Page 2
This is the third tube/solid-state hybrid I've reviewed in the past few years. The others were Siltech's unique two-box
SAGA power amp
and, more recently, Musical Fidelity's
Nu-Vista 800
integrated. Though all three have tubed input stages and solid-state output stages, each sounds quite different from the other two.
The goal, according to PS Audio's website, was to build "one of the top five power amplifiers in the world, regardless of price. Bascom H. King took the charge under the condition he be permitted to design and build the amplifier his way, without restriction and that is what happened."
Maybe—but I don't believe PS Audio would have built the BHK Signature 300 had King produced a design necessitating, say, a $90,000 price (the retail cost of the Constellation Hercules II monoblock amplifier, which King also had a large hand in designing). I'm not sure what the four other top power amplifiers in the world might be that they were aiming at—or if King feels he met his goal, and that the BHK 300 has indeed joined them—but I don't think it matters: Considering what's out there, the BHK 300 would most likely be the least expensive member of such a quintet, and by a wide margin. Nor, after spending a few months of seriously enjoying the way the BHK 300s drove the Marten Coltrane III (review under way) and my Wilson Audio Specialties Alexandria XLF speakers, do I understand why PS Audio feels it must indulge in this kind of hype.
The fact is, the BHK Signature 300 is a powerful, nimble-sounding amplifier that immediately drew me in with fast, punchy, tight bass; rich, liquid mids; and delicate, transparent highs—all effectively well integrated into a coherent whole.
Detractors of MOSFETs say they can sound soft and fail to precisely image; not a problem here—nor was there a "tubey" sonic residue. Instead, I would be hard-pressed to identify anything wrong in the BHK 300's sound. No wonder that, at audio shows, the BHK 300 has been a crowd pleaser.
The BHK 300s effectively gripped both the large, efficient Wilsons and the smaller, less efficient Martens, as tightly as you'd expect a solid-state amp to do, but also produced subtle, tube-like midrange generosity of resolution and transparency, and airy clarity on top, with ideal transient-edge definition and delicacy.
I recently produced for WFDU, 89.1 FM in Teaneck, New Jersey, an AnalogPlanet.com radio show consisting entirely of direct-to-disc recordings. One of the tracks was from the L.A. 4's Just Friends (LP, Concord Jazz CJD-1001), which is one of my picks for this year's "Records to Die For." For this album, the L.A. 4 were alto saxophonist Bud Shank, guitarist Laurindo Almeida, bassist Ray Brown, and drummer Jeff Hamilton. Track 1, "Nouveau Bach," adapted by Almeida from J.S. Bach's Prelude in C Minor, ably demonstrated the PS Audios' strong suits as well as this recording's spectacular transparency, resolution of fine detail, and startlingly natural instrument attacks. Almeida's Spanish guitar—fingers on nylon strings—appeared perfectly formed just to the right of the left speaker, with just enough of the instrument's body not to be a presentation of mere "strings in space." Too-sharp attacks would have obscured the unmistakable texture and touch of fingers on nylon; too-soft attacks would have blunted the sensation of "live in my room" that this recording is capable of producing.
The BHK 300s nailed it, especially through the Martens. I played this track for a visitor. When the guitar entered, he literally jumped—but the guitar is only the first pleasure this recording offers. Shank's alto should have an almost creamy consistency, yet with plenty of body. The BHK 300 delivered that, too, just right. Brown's double bass was nimbly reproduced, with good texture and warmth, though I was used to more weight behind it.
My other R2D4 is . . .
. . . Magda Tagliaferro's D'ombre et de lumière . . . , a reissue of a highly sought-after 1960 solo recital by Brazilian-born pianist Magda Tagliaferro (LP, Electric Recording Company ERC 012), whose work I hadn't known before getting this stunning-sounding stereo recording, originally produced by the French label Ducretet-Thomson. It offers a very well-focused, rich, resonant-sounding piano recorded in a warm, generous acoustic. Tagliaferro's spirited performances of often fiery Spanish works by Albéniz, Falla, Villa-Lobos, and others produce wide dynamic contrasts, subtle microdynamics, and generous sustain that decays gradually into the room acoustic.
With this recording, the Musical Fidelity Nu-Vista 800 ($12,999) did a very good job of reproducing the piano's richness, but compared to the PS Audio BHK 300s it lost some of the attack clarity, and the note decays were lost in the acoustic. Still, with the Nu-Vista, the space was generously presented, and was comparable to what the big darTZeel NHB-458s ($135,000/pair) produce (for nine times the price).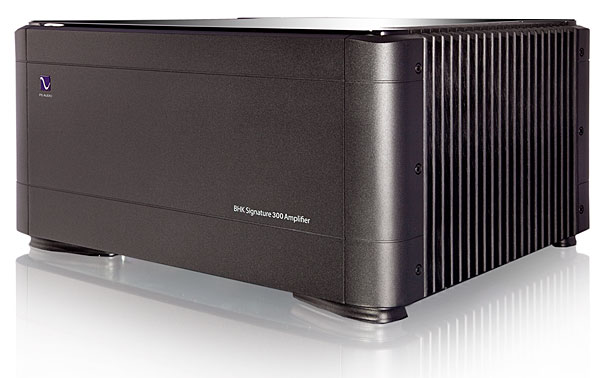 The BHK 300s' renderings of the piano's attack, sustain, and decay were closer to the darTZeels', if a bit faster, more tightly focused, and physically compacted, with more of the piano's percussive qualities and a bit less of its woody textures. However, the note attacks were still wool felt, not metal. But the recording venue was not presented as generously as it sounded through the Nu-Vista or darTZeels.
Orchestral Works
Zubin Mehta and the Los Angeles Philharmonic's 1978 recording of Mahler's Symphony 3, at UCLA's Royce Hall, was engineered by James Lock and Simon Eadon, and originally released on Decca (UK) and London (US) in the same mastering. Recently, Willem Makkee cut a new version from the original master tapes (LP, Decca/Analogue Productions APC 117). Listening to it through the PS Audios, I can sort of understand why Arnie Nudell claims he's swapped his tube amps for BHK Signatures 300s. This warm, spacious recording, which offers the listener a mid-hall perspective, should produce full-bodied, sonorous horns; weighty, ominous-sounding lower strings that feel as if they're pressing against your chest; and thunderous timpani thwacks. The BHK 300s produced a riveting rendering of all of this. The images were well defined within the rich, three-dimensional acoustic. The horns had just the right balance of brass bite and round richness, while the massed lower strings had impressive weight and convincing texture. Images were solid and three-dimensional.
The powerful PS Audios reproduced this recording's wide dynamic swings, never losing their grip on the speakers in thunderous fortississimo passages, and maintaining seamless harmonic and spatial characteristics in pianissimo sections. This kind of convincing, sophisticated performance, particularly from the midband up, is what one expects and gets from the finest cost-no-object electronics. While $14,998/pair isn't exactly a budget price, the sound quality makes it seem so. That said, I've reviewed—and owned—some very expensive electronics that produce more weight and power on bottom, and finer gradation of detail overall.
They Rock!
I spent some time comparing, for an upcoming AnalogPlanet review, the original UK edition of Elvis Costello's Trust (LP, F Beat XXLP II), mastered by George "Porky Prime Cut" Peckham, with Mobile Fidelity Sound Lab's recent reissue (LP, MFSL 1-30). I listened through the Marten Coltrane IIIs, driving them with both the BHK Signature 300s and the darTZeel NHB-458s—which, again, cost nine times more.
Peckham's original cut of Trust has more upper-bass and lower-midrange warmth. The MoFi is more in-your-face, but in a very good way: The snare drum crackles with in-your-room immediacy, as do the cymbals, one of this recording's most impressive qualities. The soundstage of the somewhat softer Peckham is deeper, with more space, but everything on it is recessed, as well as sounding generally more relaxed. The MoFi rocks! But through the BHK 300s, which are leaner and less generous in the lower midbass to begin with, the MoFi sounded too lean, even somewhat parched. Switching to the darTZeels filled in the MoFi mastering, making it far more enjoyable.
Which is the "correct" mastering, which the "correct" amplifier sound? Fight it out among yourselves and leave me out of it! And remember that I made this comparison using the Marten speakers, which have ceramic midrange and bass drivers and a vapor-deposited diamond tweeter. The Coltrane IIIs are faster, leaner, and definitely more tightly sprung than the Wilson Alexandria XLFs.
Listening to some tracks from a playlist on my Meridian Sooloos Music Server settled the dispute—at least regarding the lower midbass as reproduced by the combo of PS Audio BHK 300s and Marten Coltrane IIIs. "Angel Eyes," from Frank Sinatra's At the Sands (Reprise 759927037-2), began. Without looking, I wasn't sure who was singing! Why? Think about the distinctive timbre of Sinatra's voice, and imagine his chest tones being somewhat diminished. Through the darTZeels, I could easily recognize the voice as Sinatra's; on the other hand, those amps softened the taut bass and drums of some other recordings I'd enjoyed through the BHK 300s, resulting in a less exciting, rhythmically slower sound.
Fortunately, I did get to spend a great deal of time listening to the PS Audio amps driving the big Wilson Alexandrias, a combination that produced better sound than did the PS Audio–Marten combo—not surprising, considering that the Wilsons' size and driver complement produce more midbass weight and midrange energy with any amp.
Conclusions
From the midrange up, PS Audio's BHK Signature 300s go toe to toe with many amplifiers costing far more. They manage the smooth, rich, yet well-detailed midrange and high frequencies produced by far more expensive models without smoothing over delicate transient detail—the latter being the price often paid by less expensive designs to achieve those qualities. I've reviewed far more expensive amplifiers that don't do as well in this area.
The BHK 300s' bottom end is nimble, well textured, and rhythmically solid, though there's still more weight, power, and physicality to be had in the very lowest octaves. But given their cost—high but far from the highest—that's hardly surprising. (Of course, you'd also need speakers that can express those qualities.) Still, I'd much prefer the nimble rhythmic pacing of the BHK 300s to greater weight that's more sluggishly presented (footnote 1).
How good are the PS Audios? I spent a few months thoroughly enjoying them without reservation—especially their engaging transparency, transient delicacy, harmonic and textural richness, and convincing timbral accuracy. But I'm spoiled. I need to be able to "see into" the soundstage without restrictions caused by opacity or grain, and I have no tolerance for electronica: transients that are annoyingly soft and cloying (boring), or too sharp and artificially drawn (annoying). The BHK 300s easily passed those tests.
Near the end of my listening, I reinstalled the big darTZeels, only to make the necessary comparisons. It may not be fair to compare a $14,998 pair of amps with a $135,000 pair, but the PS Audios asked for it. I wasn't surprised by what I heard from the darTZeels: more weight, more space, greater low-level detail and textural resolution, finer gradations of microdynamics. Nine times more of those qualities? No—but who's counting?
All in all, the BHK Signature 300 is a terrific monoblock amplifier that almost lives up to its hype. But please, PS Audio—don't wait another 30 years before doing this again!
---
Footnote 1: A question for Arnie Nudell: As with many of the storied speakers you've designed over the years, do your current ones have powered woofers? If so, that makes it easier for me to understand why you'd give up your tube amps for a pair of BHK Signature 300s!