Recording of August 1982: Prokofiev: Piano Sonata No.6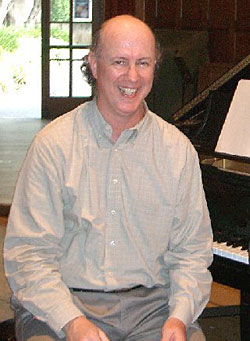 Prokofiev: Piano Sonata No.6 Op.82
James Boyk, piano
Performance Recordings PR-3 (LP). James Boyk, prod., Michael Fraser, eng., Doug Sax, mastering eng.
James Boyk has become something of a phenomenon. Not only is he a Professor of Music (at Cal Tech) who teaches how to listen to reproduced sound and writes articles about sound reproduction (for New West magazine), he is also a virtuosic pianist who produces perfectionist-caliber recordings of his own recitals. This recording, Mr. Boyk's third LP (footnote 1), is of one of Prokofiev's later works, and is a magnificent piano recording. Much credit must be given to both Mr. Boyk and his recording engineer, Michael Fraser. The instrument seems to be right in front of one, with as accurate a sound as any piano reproduction I have heard. It is interesting to note that the recording was made with ribbon mikes (the legendary Coles 4038s, perhaps?) and all-tube electronics "from mike to grooves."
The mastering was overseen by Doug Sax and the platings by Sheffield Lab Matrix. The pressing is on Teldec vinyl and was done by Record Technology. This music is not lyrical, to say the least. It is a demanding, angular piece full of staccato and fairly complex rhythms and tonalities. It is exciting and forceful music, and Mr. Boyk gives it an excellent performance. The Steinway which Mr. Boyk uses has been modified by the addition of Japanese hammers which are harder than the regular ones. This change works extremely well for the Prokofiev, but I will be curious to hear other recordings made by Mr. Boyk on this piano.
This is definitely Top-of-The-Pile, and is in contention for Stereophile's second Definitive-Disc award.—Margaret Graham
---
Footnote 1: Reissued in 1991 on CD (PR8CD) with Debussy's
Reflections in the Water
, Stravinsky's Sonata, Schoenberg's
Six Little Piano Pieces
(Op.19), and Ravel's
Sonatina
, all previously released on LP as
Performance Recordings PR4
.—
Ed.