Primare A35.2 power amplifier Measurements
Sidebar 3: Measurements
I tested the Primare A35.2 with my Audio Precision SYS2722 system (see the January 2008 "As We See It"). As the A35.2 has a class-D output stage, I didn't perform my usual preconditioning by operating the amplifier at one-third the specified power into 8 ohms for an hour. With a class-AB output stage, one-third power results in the maximum dissipation in the output devices, but this is not relevant with a class-D design. However, because class-D amplifiers emit relatively high levels of ultrasonic noise that would drive my analyzer's input into slew-rate limiting, all measurements were taken with Audio Precision's auxiliary AUX-0025 passive low-pass filter, which eliminates noise above 200kHz. Without the filter, there was 433mV of ultrasonic noise present at the loudspeaker terminals.
The Primare's voltage gain into 8 ohms measured 25.8dB from the single-ended inputs and, unusually, 19.8dB from the balanced inputs. (A balanced input typically offers 6dB higher gain rather than 6dB lower.) The amplifier preserved absolute polarity (ie, was noninverting) with both balanced and unbalanced input signals. The balanced input impedance was 13k ohms from 20Hz to 20kHz. The unbalanced input impedance was 14.7k ohms at low and middle frequencies, dropping slightly and inconsequentially to 13.5k ohms at the top of the audioband.
The A35.2's output impedance was a very low 0.067 ohm at all audio frequencies. (This figure includes the series impedance of 6 feet of loudspeaker cable.) The modulation of the amplifier's frequency response, due to the Ohm's law interaction between this source impedance and the impedance of our standard simulated loudspeaker, was therefore minuscule, at ±0.1dB (fig.1, gray trace). The response into an 8 ohm resistive load (fig.1, blue and red traces) was flat to 20kHz, with then a steep rolloff. The Primare's reproduction of a 10kHz squarewave (fig.2) featured a single damped cycle of ringing, this presumably due to the output stage's integral low-pass filter.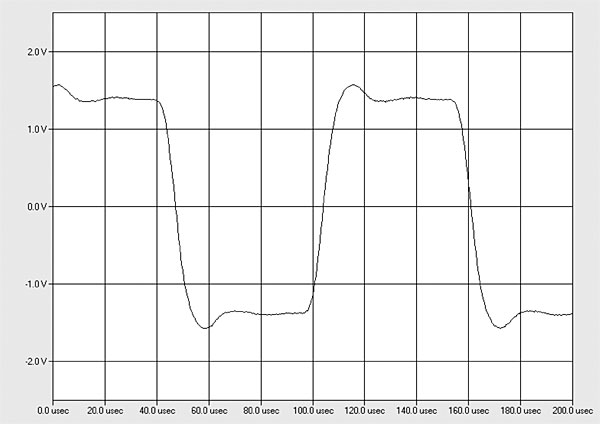 Channel separation was excellent, at >90dB in both directions below 2kHz, reducing to a still-good 72dB at the top of the audioband. Measured with the unbalanced inputs shorted to ground and with the auxiliary low-pass filter in-circuit, the amplifier's unweighted, wideband signal/noise ratio was 52.6dB ref. 1W into 8 ohms in both channels. This ratio improved to 73.3dB when I restricted the measurement bandwidth to the audioband, and to 76dB when the reading was A-weighted. Low-level spuriae at the 60Hz power-supply frequency and its odd harmonics were vanishingly low in level in the Primare's low-frequency noise floor (fig.3). However, a pair of spurious tones of unknown origin were present around 500Hz, these low in level but a little higher in the right channel (red trace) than the left (blue).
Primare specifies the A35.2 as delivering 200W into 8 ohms and 400W into 4 ohms. Both powers are equivalent to 23dBW, which implies that the Primare amplifier behaves as a perfect voltage source. Using our definition of clipping, which is when the output's percentage of THD+noise reaches 1%, the Primare exceeded its specified powers. With both channels driven with a 1kHz signal, it clipped at 225Wpc into 8 ohms (23.5dBW, fig.4) and at 460Wpc into 4 ohms (23.6dBW, fig.5).
The distortion at low powers in figs.4 and 5 was below the level of the noise floor, so I examined how the percentage of THD+noise changed with frequency at 20V, which is equivalent to 50W into 8 ohms, 100W into 4 ohms, and 200W into 2 ohms. The THD+N was very low in the midrange into 8, 4, and 2 ohms (fig.6), but rose at higher frequencies. The Primare amplifier's distortion at 50W into 8 ohms was predominantly the subjectively innocuous second and third harmonics (fig.7), these each lying at just –100dB (0.001%, fig.8). The second harmonic increased slightly at the same voltage into 4 ohms but was joined by the fifth and seventh harmonics (fig.9). When the amplifier drove an equal mix of 19 and 20kHz tones at 100W into 4 ohms (fig.10), the second-order difference product at 1kHz lay below –100dB (0.001%) and higher-order intermodulation products were not much higher in level.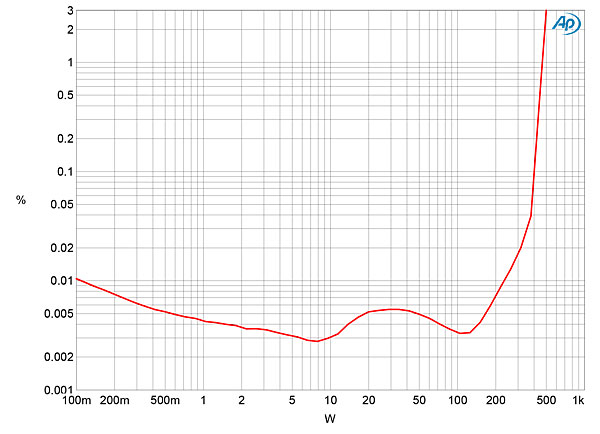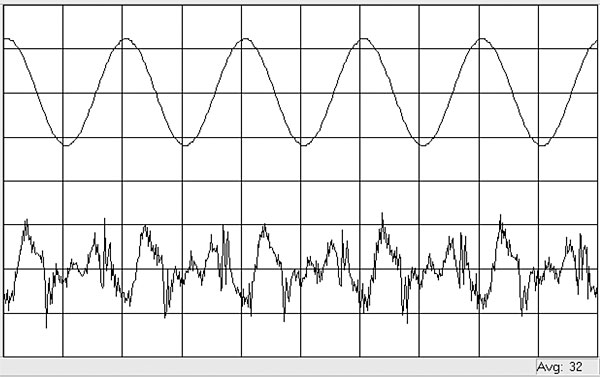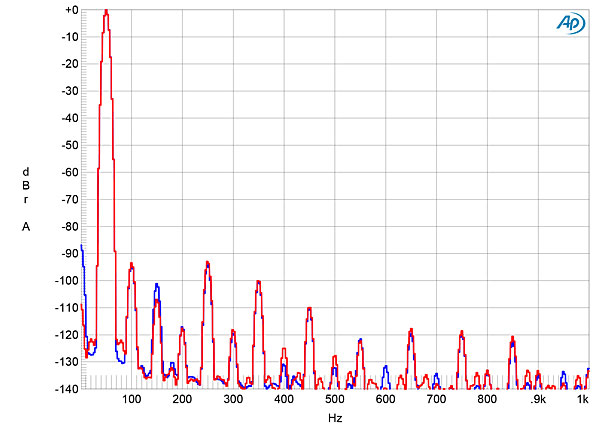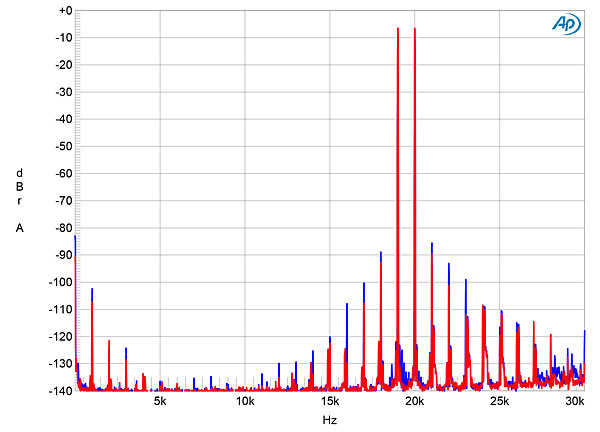 The Primare A35.2 offers respectable measured performance, with superb matching between the channels.—John Atkinson