Pono PonoPlayer portable music player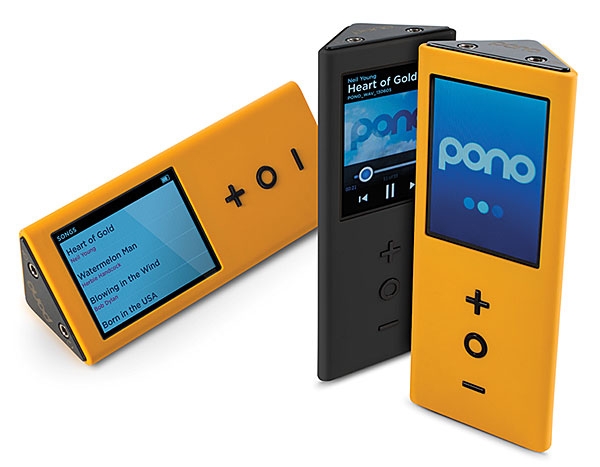 In the 1960s, musical giants walked the earth. I vividly remember the first time I heard a song called "Expecting to Fly," in a UK record store. The vast, reverberation-drenched sound was extraordinary; the frail, shaky alto voice of the singer riveting.
"Who is that?" I asked the clerk.
"It's a new American band, Buffalo Springfield . . . but they've already broken up."
I bought all I could find of the Springfield, which wasn't much, and learned that the singer and composer of "Expecting to Fly" was a Canadian, Neil Young. Young's first solo album, released in 1969, had more of that magnificent, spacey sound, courtesy of arranger Jack Nitzsche; I bought the LP on the first day of release and, over the next few months, almost wore the grooves out. But Young set a precedent for his career by disowning that album; since then he has continually reinvented himself musically, sometimes even before the paint was dry on the current incarnation.
The Loner
Young's disdain for CD sound is well known, but it still came as a surprise in 2013 to learn that he was backing high-resolution digital—in the forms of a portable device, the PonoPlayer, and a download site, PonoMusic, which would feature a proprietary file format. Development of the player was to be financed with a Kickstarter crowdfunding campaign, which ended up raising $6.2 million. Details of the hardware and software were sparse, but we learned more when PonoMusic was launched at the 2014 South by SouthWest Festival (footnote 1). "Our machine is maximized by Ayre Acoustics to be the best it can be for what it is," said Young. "And it's sized appropriately to hold a couple of key components. We do one thing and we do one thing well, and that's make a great-sounding player, and supply the best-sounding files possible of the record, exactly the way the artist made it."
At the 2014 Consumer Electronics Show, it was rumored that PonoMusic's file format was to be sourced from England's Meridian Audio, but it was announced at SXSW that music would be offered in the popular lossless FLAC format at sample rates up to 192kHz and with a 24-bit word length. Some skeptical writers have proclaimed that releasing music in high resolution is unnecessary. On the Gizmodo site, for example, one Mario Aguilar said that people shouldn't buy what Neil Young was selling, proclaiming, "to the human ear, audio sampled above 44.1 kHz/16-bit is inaudibly different" (footnote 2). Later, it emerged that Aguilar had never actually heard high-resolution files through the PonoPlayer, and had based his skepticism on a since-discredited 2007 AES paper by E. Brad Meyer and David Moran.
Then, when the PonoMusic website was launched at the end of 2014, advertising that it had the "Highest resolution music available for over two million tracks and growing," it became apparent that the majority of the music on offer was standard-resolution CD quality. Nevertheless, with our experience of true high-resolution playback, we didn't see why the Pono project wouldn't be successful. As Jason Victor Serinus reported in his December 2014 "As We See It," "Neil Young didn't manage to raise $6.2 million for his Pono system simply because he was a rock idol; he succeeded because he promised people what their hearts and souls cry out for: better-sounding musical playback."
After the Gold Rush
In late January, Michael Lavorgna reviewed, for our sister site AudioStream.com, a sample of the PonoPlayer he had purchased during the Kickstarter campaign. I refer you to that review for a detailed description, but in brief, the PonoPlayer has a triangular, Toblerone-bar shape, with a small color touchscreen at one end of its front panel. This screen's orientation rotates: no matter how you hold the player, the images are always right-side up. Adjacent to the screen are three touchbuttons, labeled "+," "O," and "–." The first and third buttons adjust the playback volume, and wake the screen from sleep. The center button acts as both a Pause control and as access to the settings menus; longer presses put the player in Sleep mode, and power it on or off. All other functions are accessed by touching and swiping the screen in a manner that will be unfamiliar only to those who haven't used a smartphone.
On one triangular endplate are two 3.5mm stereo jacks, labeled Line and Headphone, but the mode in which these are used can adjusted from the Settings menu. Between the jacks is a blue LED that illuminates when a file downloaded from PonoMusic World is played, in order to assure the listener of the file's provenance. At the other triangular end of the player are a micro-USB port and a triangular door, the latter allowing you to insert an auxiliary 64GB microSD card, to expand the Pono's 64GB internal memory to 128GB.
Audio files can be loaded onto the PonoPlayer using the PonoMusic World desktop application, developed by JRiver and available for Windows and MacOS. Files can also be transferred to the player as a USB storage device by dragging and dropping them in the usual way. (When you connect the PonoPlayer to your computer, the player's internal memory and its microSD card appear as separate drives on your desktop.) I installed PonoMusic World 20.0.50 on my MacBook Pro; the first time I ran it with the player connected, it updated the latter's firmware to v.1.0.4, which supports gapless playback.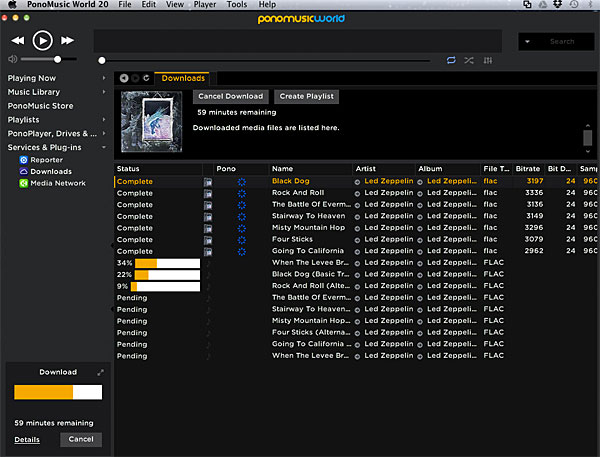 A single charge of the PonoPlayer's rechargeable battery gives up to eight hours' use, and the player accepts all common file formats (see "Specifications"). The PonoPlayer's circuitry was developed by Charles Hansen and his team at Ayre Acoustics; the DAC is an ESS ES9018M, and while this chip is used for 24-bit PCM playback up to 192kHz, it does support DSD. It was announced at CES 2015 that the PonoPlayer will soon offer DSD playback.
Listening on the move
With PonoMusic and the PonoPlayer being so identified with hi-rez recordings and playback, I am pleased to report that CD rips sounded excellent through the player. An album that has been growing on me since engineer Jim Merod handed me a copy at the 2013 T.H.E. Show Newport is the Mike Garson Trio's Wild Out West (16/44.1 ALAC files ripped from CD, BluePort). I am a fan of Garson's solo recordings for Reference Recordings, but on this live set the pianist is part of a classic piano trio, with double bass and drums. There are two takes of Miles Davis's "Nardis": one with the trio that rips along, and a second, more contemplative one with Garson alone. When I listened to both versions of this classic tune through Sennheiser HD650 headphones plugged into the PonoPlayer, Garson's 9' Yamaha grand was reproduced with convincing directness, and the bass solo in the first take had an excellent combination of the body of the instrument's tone and the notes' leading edges. Perhaps the cymbals sounded a touch too sweet—but my Santa Fe Chamber Music Festival recording of Brahms's Piano Quartet 2 in A (ALAC master file for Encore, Stereophile STPH011-2) sounded similarly rich and sweet, without the highs being rolled off.
As I mentioned in the booklet notes for this CD, the stage setup for the 1997 Santa Fe Chamber Music Festival had been changed from previous years, optimizing the sound for the audience at the expense of what the microphones would pick up. In the mastering, therefore, to "wet" the sound, I used a Lexicon PCM 90 digital reverberation processor set to match the acoustic of Santa Fe's St. Francis Auditorium. The PonoPlayer was sufficiently transparent to allow me to hear the artificial reverb tails, and, to my relief, after not having listened to the Brahms recording for several years, they didn't sound unnatural. "To be natural," Oscar Wilde said, "is such a very difficult pose to keep up." The PonoPlayer kept it up.
---
Footnote 1: See
Robert Baird's report
.
Footnote 2: See the Gizmodo review, Michael Fremer's response, and Michael Lavorgna's more considered comments.