Peachtree iDac D/A converter Page 2
With so many ways to get music into the iDac, I was curious to compare them. In the past, I've found that a DAC's various inputs sound much more similar to each other than one DAC does to another. In other words, when, say, its USB and S/PDIF are compared, a given DAC will tend to sound consistent with itself. Changing the iDac's filter setting usually made more difference than changing the input. The iDac introduced a new variable with its iPod dock, so I attached my iPod Touch, which I'd loaded with uncompressed AIFF files from my computer. I had the same files loaded on a
Meridian Sooloos
music server in FLAC format via S/PDIF, and synchronized playback of those files with the computer via USB and the iPod. I also hooked up an
Oppo Digital BDP-83
universal Blu-ray player via optical and coax-S/PDIF.
Pitting the Peachtree
First up was "Trouble No More," from the Allman Brothers Band's Eat a Peach (CD, Capricorn/Mobile Fidelity Sound Lab UDCD 513). With the iDac remote, I could easily switch between sources, and on first listen, as the two drummers locked into their groove, I detected no differences among computer-USB, iPod, CD, and Sooloos. I moved on to the aggressive-sounding "Peaches," from the Stranglers' Rattus Norvegicus (CD, EMI 5 344406 2), and still couldn't discern a pattern. Then on to Linton Kwesi Johnson and the bass-heavy "Reggae Fi Peach." Maybe there was better bottom end with the S/PDIF and USB input. And maybe—just maybe—I tended to like the Sooloos the best overall, by a thin margin.
And so it went. In the end, the iDac's various inputs sounded more similar than not, with no obvious dings. I'd have been hard-pressed to tell them apart had I gone back to relisten a week later, so I defaulted back to the S/PDIF-Sooloos and began comparing the iDac with other DACs.
Benchmarks
On hand was my Benchmark DAC1 USB ($1295), which has been a good point of reference these last few months. I cued up "Peaches of Immortality," from Gamelan Pacifica's Trance Gong (CD, What Next? 0016)—a wonderful-sounding recording of a modern gamelan orchestra, full of challenging transients and metallic percussive sounds. As I went back and forth between them a few times, trying to zero in on any differences, the Benchmark presented me with soundstage clarity and control, while the Peachtree iDac had an easier, more laid-back sense of space. The two DACs had similar tonal balances overall, though there was no mistaking the Benchmark's increased sense of focus. But flip this around—I could also say that the Peachtree sounded more rounded, forgiving, and inviting, whereas the Benchmark's stare was colder and more honest. I'll give this one to the Benchmark—with it, I felt I could more easily pick out the interlocking parts of the music, and simply preferred the extra control.
On the other hand, "Rotten Peaches," from Elton John's Madman Across the Water (ripped from CD) showcased how the Peachtree could handle an edgy human vocal with artificial studio sheen and humanize it a little. Listening to this track via the Benchmark was tougher going. Though the Peachtree couldn't perform a miracle, it did very slightly take the edge off.
Finally, I cued up the Monkees' "Apples, Peaches, Bananas and Pears" (ripped from CD) and let the pop goodness wash over me. It occurred to me then that the Peachtree was lining up against the Benchmark in the same way the YBA Design WD202 DAC ($879) had a year ago, but this time with a more refined sound. (See my review of the WD202 in the June 2010 issue.) With its nicer build quality, filter tweaking, and iPod dock, the Peachtree would be the one I'd pick for around a grand. The YBA does have a headphone jack (the iDac doesn't), but YBA's headphone output doesn't sound that great, so it doesn't count in the WD202's favor.
The Benchmark comparisons done, I thought something closer in price and features might be a good idea. As if on cue, my pal Bruce Rowley e-mailed to say he'd just picked up the new Rega DAC ($995) that Sam Tellig wrote about in May, and would I mind if he came down so we could check it out on my system. You see, Bruce has all tubes and Quad ESL-988 electrostatic speakers in a smallish room, and I'm all solid-stated and subwoofered and bigger than life, with 11' ceilings and lots of space. Bruce was looking for a very different point of reference—but he and I used to work in the same audio store: his listening credentials are solid. "Absolutely," I said. A few days later, we were set up.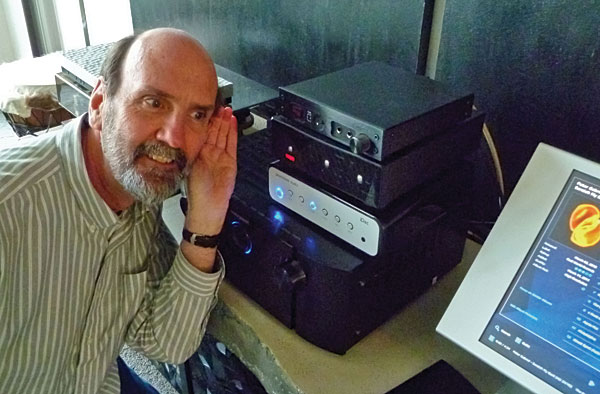 We sat down in the sweet spot (actually, Bruce sat there; I stood behind him, in Son of Sweet Spot) and started in with various tunes and various settings of the Rega, popping its apodizing filter in and out. We heard nothing too dramatic with these choices, so I decided to get down to business, drop my obsession with peachy song titles, and put on the trusty Roxy Music track I've used with most DACs here: "For Your Pleasure," from their second album.
First the Rega, then the Benchmark, then the Rega, then the Benchmark. After a dozen plays, Bruce said, "I know what the difference is now. The Benchmark feels precise and in control, the Rega warmer but a bit fuzzy." Bingo.
Now we pitted the Peachtree against the Rega. Again the Rega had the warm and fuzzy feeling, but the Peachtree's presentation felt more real—maybe a tad short of the Benchmark, but the difference in that sense of realness was unmistakable. We'd seen the door ding on the Rega and now could pick it out every time. I then played some higher-rez recordings downloaded from HDtracks.com, but nothing we heard changed our initial impressions.
Where the Rega had a slightly heavier feel in the bottom end and added girth to voices (I was surprised at how noticeable this bass boost was), the Peachtree laid back to simply reveal what we both felt were more accurate portrayals of what had been recorded. Bruce said, "The Peachtree allows me to see deeper into the music, but the Rega adds body to vocals." You might prefer the Rega if your system needs fattening up a tad, and/or you have smaller speakers. But if you're looking for more honest sound and features like an iPod dock, and don't want to spend more than about $1000, I recommend the iDac.
Conclusions
You can tell by the differences in our systems that my and Bruce's tastes in audio are nowhere near the same—yet we agreed about these DACs. For both of us, a DAC is about transparency and control, and the Peachtree iDac's sound was the most honest of all the DACs we've heard that cost a grand or less. Bruce left his Rega DAC with me; I listened to it for a week, and nothing changed my opinion of it, especially when I tested all three DACs via USB (the Rega's weak point, to my ears).
With its excellent sound, extra inputs, iPod dock, remote control, and attractive price, Peachtree Audio's iDac is a solid audiophile value. Then there's its casework, and an attention to detail, that for my sensibilities are clearly superior to those of other DACs I've seen in the vicinity of $1000. A product well thought out and well executed.