Passion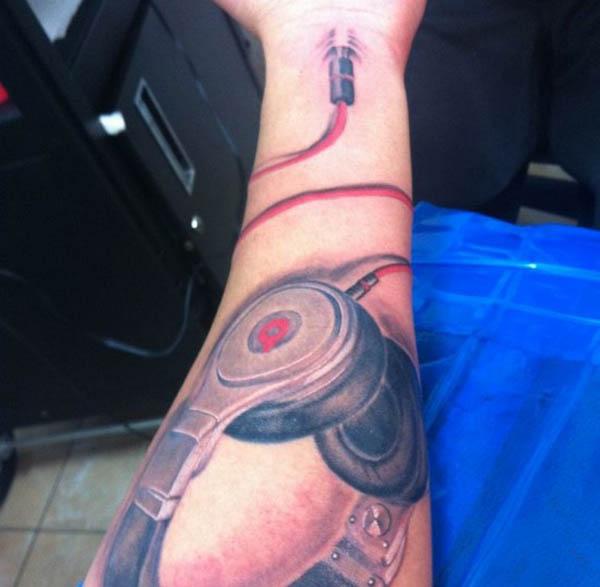 This guy cares a lot about his headphones. Though ludicrous, the Beats tattoo is admirable. He's saying, "Music runs through my veins and the Beats pumps that blood." Would you tattoo "Vandersteen" in
cholo
lettering in an arch across your back? Would you inscribe "S-O-U-N-D" and "S-T-A-G-E" on each of your knuckles so that if someone insulted your system, your beat-down would arrive in stereo?
How much do you care about your hi-fi?
This is a stupid question. Why? Because it does not put you in front of your system. Or in a record store. Or out with friends enjoying life outside of your listening room. It makes you worry about your commitment to both your music and your hi-fi, and worrying is a waste of time.
I care about my hi-fi a lot. But I try my hardest to not let my caring of it get in the way of my enjoyment of the music. Often, I fail. The point of listening is to reduce anxiety, not increase it, but as I spend time listening to more and more components with my work at Stereophile, I'm discovering flaws within my own system. This makes listening a difficult process. There are days where I will come home and sink into my speaker's loving arms. There are other days where I won't even look my system in the eye.
But I work at Stereophile! I love my hi-fi… Right? Well, what is love?
I learned what love wasn't last summer when I realized I didn't love my girlfriend. That I wouldn't scramble from rehearsal in Jersey in response to her merlot soaked text messages. That I wouldn't put up with the cigarettes and nachos. Not that bad right? Probably not, but it just wasn't me. I think I learned that love means you would do anything for that which you love. Anything. I love my cat Larry. I'd swim across the Atlantic to make sure he's fed. I love my mother. I talk to her every day.
I sure as hell would not do anything for my system. I wouldn't blow the money I made from selling my Les Paul to upgrade my amplifier. I wouldn't cover the vents on my amp with sheets to protect them from drifting cat hair just to remove the sheets every time I wished to listen. Yet, I'm attached to my system. It doesn't leave my sight. It rests in my bedroom, protected from the clutches of my roommates. Hell, I moved into my living room just so I could improve my room acoustics.
I feel protective over my hi-fi, and yet I'm loathsome of its power over me. No, you can't touch it. But sometimes, neither can I.
And then I remember. I love music. My hi-fi brings me music.
The appreciation of sound is a separate process from the appreciation of music, the former leading to torment and exaltation and the latter being a constant support. Ever since Danielle chose my best friend Zach over me for the sixth grade dance and I played the first four chords to "Battle of Evermore" for an hour and cried, music has been there. When Neil Young sings "Birds", he sings it for me. Music has been my rock and my most dependable friend. It listens to me as I listen to it. My hi-fi is an emblem of this relationship, tumultuous but gratifying, painful but enlightening. The quest for better sound is a perversion of this love.