Pass Laboratories XA200.8 monoblock power amplifier
It was almost seven years ago that
Nelson Pass
, whose talks and exhibits I'd covered at many a Bay Area
Burning Amp DIY event
and
audio show
, surprised me with a loan of two Pass Laboratories' XA 160.5 class-A monoblock amplifiers. Ten months later, after I'd commented that my system had challenged the XA 160.5s in the bass department, he sent me a pair of XA200.5 monos. I connected those bigger babies to
Wilson Audio Sophia 3
loudspeakers and some now-discontinued digital components with Nordost Odin 1 interconnects and speaker cables. Then came my way, toward the end of 2016, the XA200.8 monoblocks ($42,000/pair).
My joy at the arrival of the solid-state XA200.8s was tempered by their weight, which seemed only to increase with time. In fact, a day after we removed them from our amp stands and packed up one to ship to John Atkinson to be measured, I was wearing a back brace and moving with care. Thank goodness for chiropractors.
That joy was also tempered by the fact that two XA200.8s consume lots of power even at idle, and put out enough heat to require air-conditioning in spaces where music through open windows might disturb neighbors. The spouse, on receiving our electric bill, has more than once complained about my leaving the amps on for long periods.
However . . .
Description
The XA200.8 measures 19" wide by 11" high by 27.5" deep and weighs 157 lb. Except for a bottom plate of heavy-gauge steel, its case is made of extruded, machined aluminum, with extra-large, side-mounted heatsinks to dissipate the energy of the output stage, which is deeply biased into class-A. A decorative faceplate of thick aluminum, available in silver or black, is dominated by a single large, blue-lit analog meter showing the bias current that includes a tiny Standby LED that glows a brighter blue. When the amp is fully on, the Standby LED goes dark and the meter glows.
Below the meter is a large On button, which complements the master power toggle on the rear panel. (That toggle also serves as a thermal magnetic circuit breaker.) Also on the rear panel are: balanced (XLR) and single-ended (RCA) inputs; widely spaced pairs of locking speaker binding posts whose big tabs make them easy to tighten; an IEC power-cord inlet; a white Signal Ground terminal intended solely for active subwoofers; two binding posts labeled "12V External Turn-on"; and handles for lifting. Thank God for those handles.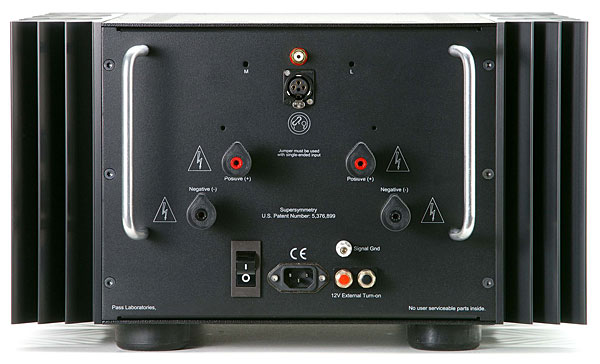 Once I'd got these very heavy amps positioned on our Grand Prix Audio Monaco stands—they need a good amount of space to dissipate all that heat—setup was easy. Because I use balanced interconnects, there was no need to insert the supplied gold shorting pins into the XLR input sockets' negative and ground holes (1 and 3). (A little stencil on the rear panel illustrates how to correctly insert the shorting pins.) After the speaker cables were connected in correct polarity, and carefully separated from the interconnects and power cord, I was ready to go.
The XA200.8 requires an hour to fully warm up, and that hour made a huge difference in the sound. Long ago, I owned a Pass Labs Aleph 30 stereo power amp. (I wish I still did, now that I finally have a front end good enough to let me fully appreciate its gifts.) One evening, I brought home a new friend who, on seeing my system, immediately wanted to hear music. I explained that the electronics wouldn't sound good until they'd fully warmed up, but nonetheless put on an LP of Otto Klemperer's recording of Brahms's A German Requiem.
Thirty-five minutes later, in the middle of a grand chorus, the soundstage suddenly went whoom—everything opened up. What before had sounded somewhat small, flat, and colorless seemed to double in size as it blossomed with color and radiance.
"What was that?" my guest asked, somewhat shocked.
"The amps just reached an internal temperature of 125°," I said with a knowing smile.
Let the XA200.8s warm up for an hour.
Delving Deeper
I don't think the audiophile wants technical perfection. He wants to be happy.—Nelson Pass
Nelson Pass may be remarkably open and generous in sharing experimental designs, and even old product casings, with do-it-yourselfers, but he keeps the details of his commercial products close to his vest. As he explains in the XA200.8's owner's manual, "Since the release of the X.5 series . . . we began working on what has now become the X.8 amplifiers. They embody everything we know, and while I can't divulge all the details, I can tell you about some things which might interest you."
Among those things: Each XA-series model is unique, with sonic characteristics determined by its number of devices, heatsinking, supply voltage, bias currents, and output-stage transfer curves. The XA200.8's DC-coupled front-end circuit contains its input and voltage gain stages, and uses a mix of four each of complementary, discontinued Toshiba JFET, MOSFET, and bipolar devices. The only capacitors are across the shunt-bias regulators and in the power supplies. Those supplies, larger than in the .5 series, include additional RF filtering in the AC primary circuits, paralleled fast/soft rectifiers, and very large, toroidal Plitron transformers.
Pass prefers to answer questions by e-mail; I sent him a bunch. In describing his goals and process in moving from the .5 to Xs to .8 series, he wrote:
The two-box Xs 300 came first, and in many ways the rest was the key turning in the lock. Since any hardware differences will affect the sound, we see a series of compromises between cost, power, size, consumption. We made the hardware bigger. The banks of output power MOSFETs already being overkill, we concentrated on the power supplies and the heatsinks. This allowed greater bias current for greater class-A operation into lower impedance loads, which improved performance at lower power levels as well. The weight is almost entirely chassis, heatsinks, and power-supply transformer.

The lesson of the Xs and SIT amplifiers was that a small amount of second harmonic of a particular phase character gives a desirable sonic result. To get that effect, we altered the arrangement of the constant-current sources in the output stage to better duplicate the sound of the Xs output stage. While the .8 amplifiers still have low distortion, they do not suppress second harmonic as much as the .5 series, giving a mostly second-harmonic character at ordinary listening levels and segueing into third harmonic at higher power.

The front end was altered to let the input stage operate with CFA-type feedback instead of VFA. VFA is where feedback is introduced through high-impedance networks, and CFA is an alternative approach with low-impedance networks. The terms VFA (voltage feedback amplifier) and CFA (current feedback amplifier) are misnomers, as both types actually have voltage feedback. As with the Xs, it sounded a little better.

By the time I left ESS. I was convinced that the best path was Bart Locanthi's dictum: An amplifier should be designed for low distortion and wide bandwidth without feedback. Negative feedback is then added to make an already good design perform even better; it is not used to 'clean up' problems in the basic design.
Sound
I've now spent so many hours listening to the XA200.8s alone and comparing it with other amplifiers that I know their sound inside out. When some members of the Pacific Northwest Audio Society commented, after an extended listening session, that they preferred the "organic" sound of the XA200.8, they were on to something.