Now on Newsstands: Stereophile, Vol.34 No.9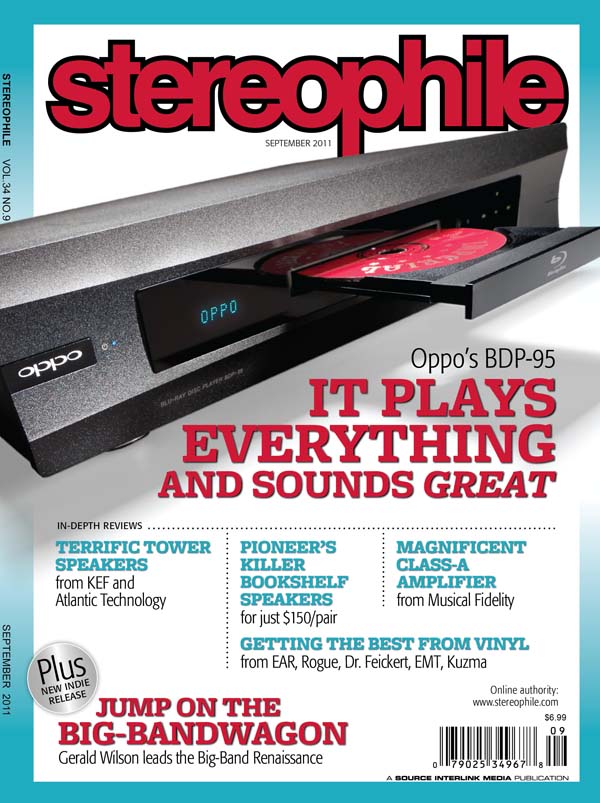 The September 2011 issue of Stereophile is now on newsstands. On the cover, we feature Oppo's latest universal disc player, the BDP-95: It slices, it dices, it plays everything and sounds great. In his review, Kal Rubinson installs the BDP-95 in his Manhattan apartment where he compares its two-channel output against that of the Sony SCD-XA5400ES, then he takes the Oppo to his Connecticut home and compares its analog multichannel output against that of Oppo's earlier BDP-83SE. He comes up with some interesting conclusions.
Also in this issue:
Erick Lichte listens to the Atlantic Technology AT-1 loudspeaker and hears some big bass; Kal reviews the KEF Q900 and admires its balanced overall sound; Bob Reina enjoys his time with Pioneer's $150 wonder, the SP-BS41-LR loudspeaker, designed by Andrew Jones; Michael Fremer is crazily impressed by Kuzma's 4Point tonearm; and John Atkinson has some fun with Musical Fidelity's silly but magnificent (and magnificently silly) 220-lb, class-A beast, the AMS100 power amplifier.
In addition, the September issue includes Follow-Up coverage on the EAR 324 phono stage, Integra DHC-80.2 pre-pro, Classe CT-M600 and MBL 9007 monoblock power amplifiers, EMT TSD 15 pickup head, and Decibel and Pure Music music player programs—something for everyone!
In "Letters," we receive some great and interesting thoughts from our readers. Perhaps my favorite letter of the entire year comes from Carl Gustin of Atlanta, Georgia, who writes:
Never mind the politics espoused or the positions vetted on the human condition being liberal or conservative, or the human-interest stories being allegory or entertainment—the content is all provocative, well researched, beautifully written, and highly creative. Your editors, columnists, and feature contributors produce literature while faithfully fulfilling my information needs concerning equipment and music.
Thank you so much, Mr. Gustin!
In "Industry Update," Paul Messenger attends the launch of B&W's PM1 minimonitor and sheds some light on the very interesting projects taking place at Kaiser Acoustics in Bavaria. (Ah, Bavaria: Land of pretzels, beer gardens, bacon, lard, and long-legged women! In a previous life, I was so Bavarian.) Paul made his trip to Kaiser during the Munich High End Show, which I also attended and loved.
In "Sam's Space," Sam Tellig obliterates his listening room walls with the Stein Music Harmonizers and Magic Stones. "You have nothing to lose but your mind," says Sam.
In "Analog Corner," Mikey recaps AXPONA in Atlanta and T.H.E. Show in Newport Beach, and spends some time with Dr. Feickert Analogue's Blackbird turntable and Rogue Audio's Ares phono preamplifer, the only US-made component reviewed in this issue. "That Rogue can offer this beauty for only $1995 makes you wonder what some of the other manufacturers are smoking," Mikey coughs.
In "Listening," Art Dudley provides an updated look at his listening environment and the reference systems therein—an always fascinating and useful exercise—and listens to the versatile Alpha Design Labs by Furutech GT40 USB DAC (with phono stage!).
In "The Entry Level," I wander from Iris Records to Natalie and Nicole's apartment, from IsoNodes to Q-Feet, from Santos y Ana's Social Club to Henry Fiol, from G-Snakes to Giant-Killers, and from Lackies to Renoites.
In "Music in the Round," not only does Kal Rubinson explore the Oppo BDP-95, he revisits the Audyssey MultEQ Pro room correction software featured in Integra's DHC-80.2 A/V controller.
In "Record Reviews," we listen to new work by American composer John Adams; a previously unreleased performance of Mahler's Das Lied von der Erde; a compilation of tracks from the NYC salsa label, Fania; an expansive, 11-CD set of Duke Ellington recordings; and new releases from Fountains of Wayne, Randy Newman, Jesse Sykes, and Charles Lloyd and Maria Farantouri—again: something for everyone.
In "Manufacturers' Comments," Stein Music, Dr. Feickert, Atlantic Technology, Pioneer, Musical Fidelity, and Kuzma respond to our coverage of their products.
In "Aural Robert," music editor Robert Baird travels to New Orleans for Jazz Fest and reflects on Katrina with guitarist Paul Sanchez.
That's a lot of stuff, but I've left perhaps the most thoughtful and provocative piece for last: In "As We See It," John Atkinson opens the September issue with some thoughts about the dearth (or death) of manufacturing in America. JA writes:
…If manufacturing continues to leave North America, while some of us may still have money, we might not necessarily have wealth.
A reader recently suggested we review only American-made products.
Without wanting to offend the many outstanding brands that do manufacture here in the States, the fact is we would love to review more American-made products, but, if we focused solely on American-made gear, we would soon run out of things to review—a sad thought, especially because I, as much as anyone, tend to idealize the words "Made in the USA." And while the thought of a strong "global economy" is similarly attractive—almost as attractive and encouraging as the boundless potential of today's independent music, which increasingly incorporates sounds from all over the world—I can't help but love knowing exactly where my loudspeakers were made, and by whose hands.
Are we losing our ability to build? And, if so, does that mean we're losing our ability to grow, to renew? A recent article in the New York Daily News offered some encouragement: A young music lover named Jay Ambrose has decided to fix headphones. From Jay's website:
As a musician, audio engineer, and a music lover, I am committed and inspired to share this unique service to improve the quality of your listening experience. Millions of headphones are left to waste due to worn wire and other fixable issues, and this service reduces that waste and has saved thousands of dollars in the cost of buying new headphones!
I absolutely love this. I admire Jay Ambrose's drive and ingenuity, and I love the idea of fixing something, rather than disposing of something and buying new. Because, in fixing something, we gain a deeper appreciation and understanding of that thing, and impart that thing with greater meaning and value, turn that thing into something special, give it soul.
We hope you enjoy the September issue of Stereophile. It was made in the USA, with love and soul. If you've got questions or comments, please let us know.