Now on Newsstands: Stereophile, Vol.34 No.12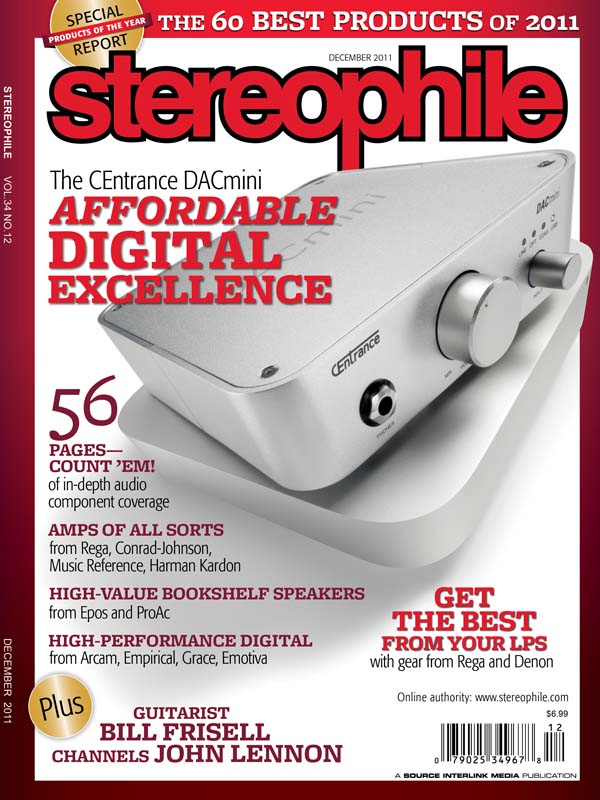 The December 2011 issue of Stereophile is now on newsstands. Here are 60 reasons to buy it:
1. In "As We See It," Tom Conrad responds to Steve Guttenberg's May 2011 opening essay, in which he argued, "Digital audio mortally wounded recorded music's creative mojo in 1982, and the record industry never fully recovered." Tom offers a sunnier point of view and makes the case that jazz lives.
2. In the "Letters" section, I am not criticized for hanging out with women, talking about music, or cursing.
3.–7. In "Industry Update," we bring you lots of audio news, including the dealer-sponsored events taking place in December 2011 and January 2012, an announcement of our 2012 Buyer's Guide, the introduction of AudioStream.com, ideas on the state of UK hi-fi shows, and—you're really going to love this—we owe up to a couple of errors in our "Recommended Components" list.
8.–9. In "Sam's Space," Sam Tellig runs afowler of copyeditors and has fun with ProAc's Tablette Anniversary loudspeakers and Rega's cool, new Brio-R integrated amplifier.
10.–12. Rega gets more love in "Analog Corner," where Michael Fremer reviews the company's cool, new RP3 turntable and comes up with a few holiday gift ideas for the vinyl aficionado, including the Play & Display Flip Frames from Art Vinyl and SpeedNic turntable speed checker from Allnic Audio.
13.–15. In "Listening," Art Dudley discusses a bit of Denon's long history and reviews the company's DP-A100 direct-drive turntable and DL-A100 moving-coil phono cartridge, all in celebration of Denon's 100th anniversary.
16.–21. In "The Entry Level," I use Emotiva's ERC-2 CD player to listen to music by Mark Hollis, Alva Noto & Ryuichi Sakamoto, Sophie Hutchings, Matthew Shipp, and my own band, the Multi-Purpose Solution. Crazily, I don't talk about girls at all. Even crazier, I don't use a single curse word. (Happy?)
22.–27. In "Fifth Element," John Marks uses the word "numinous" not once, but twice, and reviews the Grace m903 D/A headphone amplifier, enjoys the ridiculously inexpensive ($36) Howard Leight Sync headphones, spends time with the Arcam rDAC, and offers a few holiday gift ideas, including Light & Gold, a new recording of Eric Whitacre conducting his own choral works.
28.–33. In "Record Reviews," we listen to new records from Bill Frisell, Guy Clark, the Creole Choir of Cuba, and Sonny Rollins, while also checking out a new Naxos recording of (wacky) Gesualdo's madrigals and a live set of Grateful Dead tunes from Rhino.
34. In "Aural Robert," music editor Robert Baird falls into a record-cleaning trance and wakes up surrounded by bands with animal names.
35.–43. In "Manufacturers' Comments," several of the world's most loquacious audio engineers hold a competition to see who can write the longest letter to the editor. Our contestants in this issue include: Epos' Mike Creek, Music Reference's Roger Modjeski, Empirical Audio's Steve Nugent, and Graham Engineering's Bob Graham.
44.–49. Of course, there are also equipment reports. Our December issue is full of them. Everyone's favorite singing rapscallion, Erick Lichte, answers readers' questions about the CEntrance DACmini CX D/A processor/headphone amplifier; free-jazz pianist and oenophile, Bob Reina, listens to Lady Gaga and Vanilla Fudge through the Epos Epic 2 loudspeakers; singer, actor, and sometimes dancer, Bob Deutsch, takes the Conrad-Johnson LP125M monoblock power amplifier on a date to the opera; former stand-up comedian, Michael Fremer, finds a new tubed reference in the Music Reference RM-200 Mk.II power amplifier; Dr. Kal Rubinson gets nostalgic while listening to Harman Kardon's HK 990 integrated amplifier, "a product for the serious audiophile"; and John Atkinson takes the Empirical Audio Off-Ramp 4 USB format converter for a spin around the track.
50.–60. We present our annual Products of the Year, honoring our favorite components in nine different product categories ("Loudspeakers," "Amplification Components," "Digital Sources," "Analog Sources," "Accessories," "Computer Audio Components," "Headphone Components," "Budget Components," and our overall "Product of the Year"). This one's a real doozy.
Earlier, I said I'd list 60 reasons to buy the December issue of Stereophile, but around here we always strive to give more than what you'd expect. With that in mind:
Special Bonus Reason to Buy the December issue of Stereophile: Robert Baird talks with Bill Frisell about All We Are Saying…, this issue's "Recording of the Month," the guitar master's new collection of John Lennon covers.
There you have it: 61 reasons to buy the December issue of Stereophile. With a cover price of $6.99, that's like 11 cents or something per reason—a screaming bargain any way you look at it.