NHT SuperPower Desktop Loudspeakers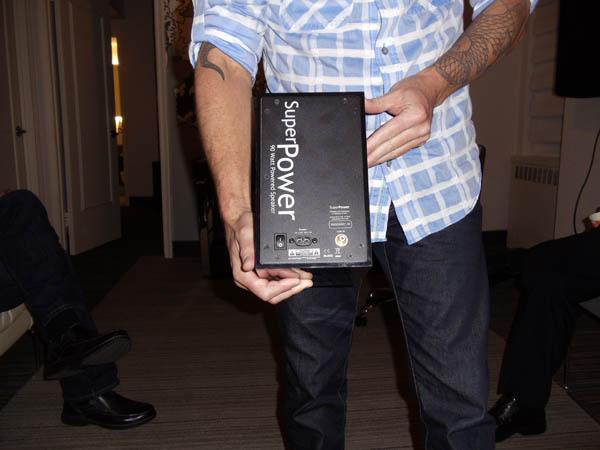 On an early Thursday morning on November 10th, 2011, NHT's John Johnsen presented his new SuperPower powered desktop loudspeaker ($398/pair) to members of the hi-fi and consumer electronics press. The NHT SuperPower is an expansion on their SuperZero 2.0 loudspeakers, reviewed by Stephen Mejias in Entry Level #10.
This active desktop speaker houses a 90-watt Class-D amplifier in the rear of an extended SuperZero 2.0 cabinet. NHT will also offer 10-gauge steel SuperPower DeskStands ($59/pair) to prop your little NHT's and hopefully eliminate reflections caused by resting the bottom of the speakers flat on a table-top.
The SuperPowers exhibited extended highs and a particularly wide soundstage for such little speakers. They join the ranks of other powered loudspeakers as a growing product category in hi-fi. Other speakers include the Audioengine A2s and updated A5+, the Music Hall distributed Aktimate powered loudspeakers, and the Paradigm Shift Active Atom A2. The NHT SuperPowers will be available 2nd or 3rd weekend of December.