Newport Ahoy: Sasha Matson's Day 1
From the Hotel Irvine, where the THE Show 2015 is occurring this year, you have to cross the 405 freeway to the west and keep going a ways to actually get to Newport Beach. Audio critical mass has been attained here this year, with a daunting 400+ exhibitors, spread out over nine floors, with three public days plus a press day. I flew into John Wayne Airport—which is smaller and less nasty than LAX—and the Hotel Irvine is close by. My beat for
Stereophile
—to attempt to share with you my brief take on equipment and systems that might be described as "Medium Budget"; not too cheap, not too pricey—just right! A daunting task, given the sheer amount of fine gear here that could fit into that budget ballpark. My first stop was late in the afternoon of the Thursday Press Day. I sought out familiar friendly faces in the
Positive Feedback Online
Hospitality Room. (Here is a photo of
Positive Feedback
editors David Robinson, right, and Dave Clark, left.) This is fast becoming sort of the audio equivalent of the Grateful Dead's long strange trip.
In addition to adult refreshment, this year David Robinson and Dave Clark have assembled from generous loans a truly outstanding system too! What knocked my socks right off, and I had barely gotten them on, were the Evolution Acoustics MM Micro One stand-mounted speakers ($4000/pair, including stands). Not large units, these very handsome stand-mounts contain a matched pair of ceramic-cone drivers with a ribbon tweeter placed in the middle. The MM Micro One offers just incredible bang for the buck, and a great example of what I consider the "sweet spot" in designer lineups, where the quality and function vector cross with the cost line in winning way. David Robinson told me he feels these speakers are one of the great values in the current High End, and I agree. Highest recommendation!
Interconnects and power were also by Evolution Acoustics. Amplification was an outstanding element; darTZeel's LHC-208 integrated amplifier, which includes a double DSD-capable DAC. ($15,000.) Kubala Sosna Elation Ethernet cable and Realization USB cable were also contributing factors, as was the Merging Technologies NADAC multichannel-8 DAC that so impressed Jason Serinus in Munich two weeks ago (prices not provided to me at the time). A parade of music was sorted out here. Wonderful sound.
The first live music I encountered at THE Show was vocalist Lyn Stanley and her band, performing in the sprawling hotel lobby. (A class act on the part of the organizers of THE Show to have her here.) Mikey Fremer has reviewed her recordings very positively, and I have similar sentiments now, from hearing her live. A great way to start an audio show visit!
I hit the trail early Friday morning, formal Day 1 of THE Show, with a really unique first stop. I mean really unique! In the Electra Fidelity/Horning room, Anthony Chipelo (left in photo) introduced me to his Electra Fidelity 845 SMPTE Amplification System ($35,000). That's a mouthful, and it looks like one too—in a great way! This consists of a large rack-mounted assemblage that does in fact resemble it's ancestors—the theater amplification systems which powered those old movie palaces ca 1930s to 1950s. Designer Jack Elliano has taken great audio standards from the past, and brought them forward to now. The system contains a power supply, amplifier, and line amp. Driven with 845 tubes it generates about 40W of output—the first 22 of which I was assured are "completely clean." The imposing electronics were paired with the slim and fine-sounding Horning Aristotle two-way floor standers ($15,000). More traditionally sized monoblocks are in the works. Way cool!
Across the hall, California retailer Brooks Berdan Ltd. was showing an array of gear that worked very well together. (This is one of the main goals in the show context—not mismatching things.) Starting with Spendor D7 floorstanders ($5995/pair for standard finish), Jadis was doing the driving here—their I-50 class-A tube integrated amp ($10,345), which puts out 30Wpc using KT-150 tubes. There was also a nice Jadis phono stage, the DPMC ($5995) and a really fine-looking turntable in the setup too, by Scher, out of Germany. ($3495 without arm.) And completing this comprehensive and excellent-sounding system, the new Chord Hugo TT DAC ($4795), which is battery-powered, and can handle double DSD. Excellent musical system(s).
And where would we be without McIntosh still very much part of the audio world? A sadder uglier place that's where. I stopped in to listen to an all-Mac system, introduced for me by McIntosh Product Manager Ron Cornelius. This was an all-in McIntosh approach; this company does it all of course. Total system price I was told, would run around $44,000. This included their brand-new D150 Digital Preamp and MCT450 SACD transport, which are are designed to work together. Approximate price for these two units as a pair, would run around $7000. Also sounding off were the McIntosh C50 preamp, and the eternal MC-275 amplifier, driving a pair of full-range McIntosh floorstanders, the XR100. What's not to like? I own a McIntosh tube preamp, and I'm not parting with it!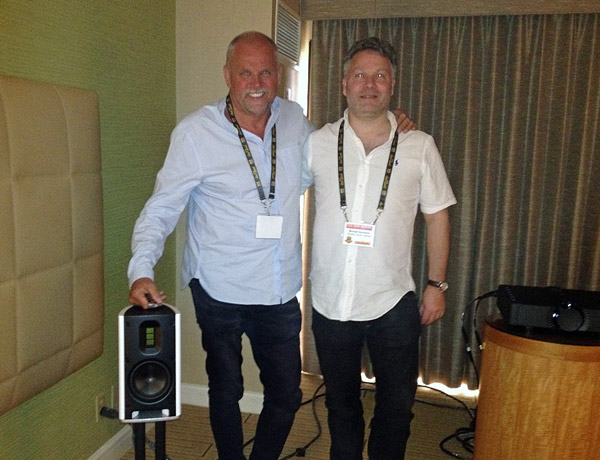 Every time I've been in front of Raidho products I've been impressed and reminded how magical music audio can get. Even under severe show circumstances, Lars Kristensen (left above) was not going to say "uncle." As in "Uncle Sam"—when I visited most of his gear was still stuck in US customs! Lars had come up with an old Sony disc player from somewhere, and was still able to play for me their new 'trickle-down' small stand-mounted speakers. Lars Kristensen and his amazing designs get huge amounts of music out of small packages, and now have added other brands to the Raidho stable.
Marketed under the Scansonic brand name, the MB1 is a small two-way stand-mounted design, with a ribbon tweeter and a small single driver for the rest of the audio band. The MB1 lists for $2300/pair, with $800 getting you the dedicated stands. This is a way different price point than their Raidho cousins. Scansonic may source drivers from elsewhere, but they, like Raidho models, are manufactured and assembled in Denmark. The amplifier I heard is marketed under the Aavik brand, and is another family relative. The U-300 Unity Amplifier ($30,000) is a hefty solid-state unit putting out 300Wpc. It includes a phono stage and a bunch of digital options. I have noticed already in several rooms a trend towards very high-quality integrated amps that include digital stages and all the other bells and whistles. Under yet another brand name, Ansuz, Lars and his team also offer power and interconnect cables, which were also on-hand. Superior sound and designs.
Cary Audio is a company I have lived with and loved for some time. In their room Daryl Berk spoke on behalf of Cary Audio, and Mike Pearce for Tannoy. Up and running and making beautiful music were Cary's CAD-120 Mk.II stereo tubed amp ($5795). It uses four KT-88 tubes per side and puts out 120Wpc running in ultralinear, or 60Wpc in triode. Cary paired the amp with their new TL-300D" preamp, a tube-based line stage that, as mentioned above, fits the bill of also including a whole digital chain. The fine-sounding speakers were Tannoy's new XT-8F floor-standing model ($2600 pair). This is part of the Revolution lineup from Tannoy, this model using a pair of 8" drivers, one a dual-concentric unit, with the cabinet ported on the bottom. They are sensitive—rated at 91dB. I was told there were important changes made to the dual-concentric design of the drivers, for the first time in many years. What these are I wasn't told—that would have to involve a more thorough review. This Cary/Tannoy matchup sounded great.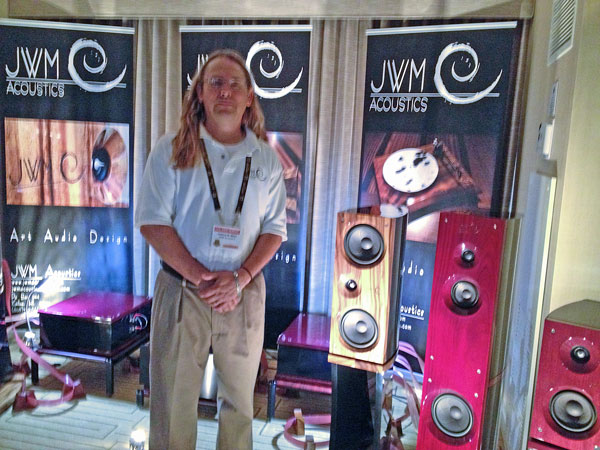 I am glad to know that hard work still pays off in this country. At least if you live in Hawaii, like JWM Acoustics owner/engineer/designer Joshua Miles does. I really enjoyed my brief time visit to this room. Things felt, and are, made by hand. With really nice finishes on the speakers and turntables that Joshua designs. I heard the JWM Alyson AML, which is a 3-way floorstander ($6900/pair and up depending on finishes) and sounded very full-range, with a burnished warm dimension to the sound. Front end was the JWM Karen 3 turntable. Lots of wood and priced at an extremely reasonable $1500 with arm. JWM also offers several other models of speakers, but I did not hear these. Everything was being amped by a hefty and serious VK 6550SE amp ($16,500). A favorite room so far, in early innings.
Why go to the trouble and expense of attending an audio show? Because that's how you're going to have EAR's Tim de Paravicini (above) all to yourself for at least 45 minutes in the morning! Dan Meinwald of EAR USA had a full array of Paravicini designs set up and playing when I arrived, and I was able to chat with them both. What did we listen to? In addition to Stevie Ray Vaughan doing Hendrix's "Little Wing", Dan pulled out a test pressing of Mobile Fidelity's new Kind of Blue LP remastering. This was the first time Tim had heard it as well. How about that?! And it sounded outstanding—and Paravicini should know, as he has been intimately involved in recent years in beefing up the quality of Mobile Fidelity's mastering chain.
We listened via the EAR V-12 integrated amplifier. This runs six EL84 tubes per channel, using zero negative feedback, and produces 60–80Wpc of class-A juice ($9795). For digital source we heard the EAR Acute 4/DACute 4CD/SACD Player—not sure if this model name is quite correct, but that's what's on their price list—which costs $13,000). For analog, we heard via the EAR 324 solid-state phono stage ($6095). The turntable was by Helius, the Alexia ($5000) with Helius Omega Silver Ruby 10" tonearm ($5225). Tim de Paravicini is as brilliant as they come, and one of the major reasons the High End is as good as it is—from music to hardware. A pleasure and a privilege, and just fun to visit and listen with him!