New from TAD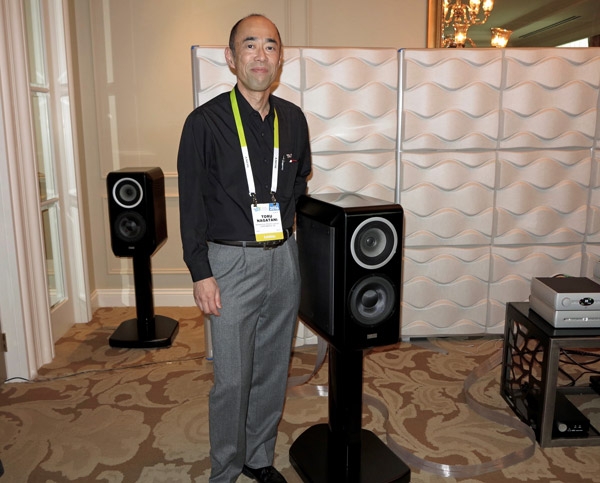 Now this was an interesting one. Just one room over from the expensive Constellation set-up sat extreme bargain-for-the-money Audio Alchemy, designed by the same man who oversaw Constellation's engineering, Peter Madnick. But since my beat was the high-priced spread, I turned from Audio Alchemy's great-sounding gear to the TAD CE1 loudspeakers ($24,000/pair), designed by Toru Nagatani (above).
Alas, neither Nagatani nor TAD CEO Yoshihiro "Al" Hirano speaks the best English. From what I could piece together—I really couldn't handle the entire, slow-moving slide show they wanted me to watch—TAD has been making loudspeakers for 37 years. While early models were used by the likes of Jimi Hendrix, the Stones, and Prince, the company first entered the consumer end of things in 2007.
With the design goal of 100% accuracy to the recorded source material (which, it was noted, does not necessarily sound the same as the actual performance), the TAD CE1 uses an ultra-rigid beryllium tweeter and midrange, and includes a bi-directional aerodynamic slot on the side of the cabinet to eliminate standing waves.