We are pleased to announce the addition of Ortofon to the fine stable of lines offered at Uptown Audio. Ortofon has a new moving coil step-up transformer, the Verto. It is a very high quality unit with double shielding and selectable gain. They also have a new, top shelf phono cartridge called the Winfield.
Rega has two new phono stages! One is an even more affordable MM unit than the Fono and is designed after the phono stage in the Mira amplifier. It's called the Fono Mini. Then they have introduced a truely high end phono stage called the Ios. The Rega Ios MC is a moving coil only phono stage and is built into their full size chassis as is used to house their top end electronics. It'll match the external power supply / speed controller for the P9 turntable for instance.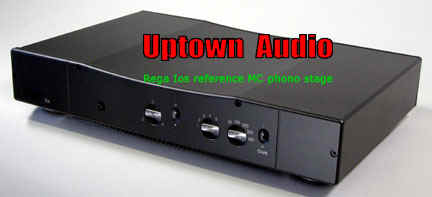 Cambridge Audio introduces the TT50 turntable! Yep, another great budget table to add to your short list. Not really an entry level table, but very affordable and an excellent performer. Cambridge Audio will also be delivering their new preamplifier and power amplifier very soon. These are like nothing most Cambridge Audio fans or even dealers have seen or heard from them. They are very high quality and are most similar to the 800 series components. True high end performance and enhanced functionality.
Rogue Audio has designed a flagship preamplifier called the Hera to match its almighty Zeus power amplifier. Now a worthy sibling to mate to the M150 mono block amplifiers is here in the Athena line stage.
Bryston has delivered their new BCD-1 CD player and we have had it on demo for a while now. You can compare this directly to the Cambridge Audio 840C and the Rega Saturn (which you have been able to do here for about a year now). Following shortly will be the new Bryston BDA-1 DAC.
Focal has introduced a new, more affordable line of Electra speakers to make for a more easily attainable goal for its fans. The original 900 Be series speakers feature a beryllium tweeter and a high gloss automotive finish. The newly released and more affordable Electra 900s series use a aluminum-magnesium alloy tweeter and a satin black finish. There are also two new real wood finishes in the two lines. Macassar for the 900s series and both Macassar and Zebrano for the 900Be series.