New Gear from Astell&Kern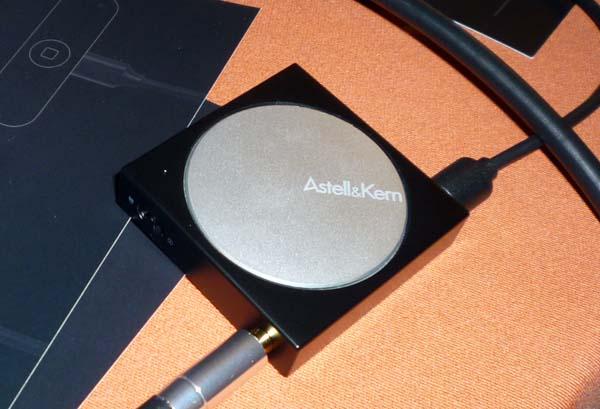 Astell&Kern's AK10 portable DAC ($299) measures 2.1 " W x 2.1 " H x 0.5 " D, weighs just 1.8oz, and comes with an attractive leather case. It uses a Wolfson WM8740 DAC, capable of handling 24-bit/96kHz data, and is compatible with iOs (iPhone 5 and 5th generation iPod Touch) and Android (Galaxy S3, S4, Note2, Note3) operating systems. Its USB 2.0 input means it can also be used to improve the sound of music files stored on your Mac or PC—just send the output to your headphones or stereo. Inspired by turntable design, the silver circle atop the AK10 is actually a volume control: spin it to raise or lower the volume. Sweet.
I listened to a track from a Samsung phone, played through the AK10 and a beautiful set of Final Audio Pandora Hope headphones ($699). I wasn't familiar with the song, but the headphones rested lightly and comfortably over my ears and the sound of the music was clean and well-balanced.
Astell&Kern also introduced their first loudspeaker, the two-way Castor. It uses Accuton drivers (a diamond-dome tweeter and a ceramic-cone mid-woofer) housed within a cabinet that combines aluminum alloy with six layers of carbon fiber. The speaker will be available later this year, at a price somewhere around $30,000/pair.