A New Amplifier from Hegel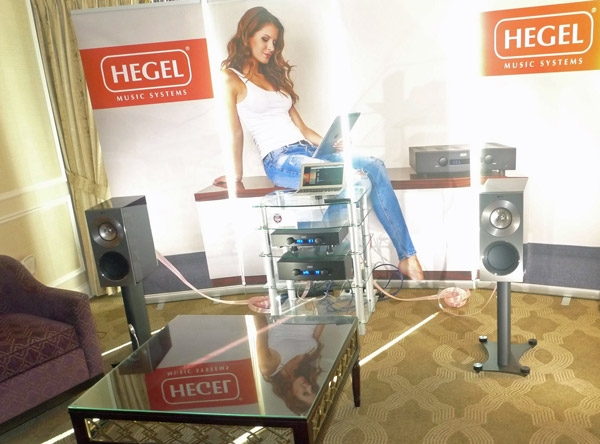 Last year, I
raved-reviewed
the Hegel H160 integrated amplifier. It was probably the best all-around integrated amp I studied. I laughed that it had only two analog inputs but six assorted digital ones. I
didn't
laugh while the H160 grabbed every loudspeaker in my house by its
cojones
and gently forced the frightened cones to submit. Maybe it was the black mask faceplate or maybe was Hegel's
SoundEngine
technology. I don't know, but unquestionably, the H160's 150Wpc (into 8 ohms) had a very special way with speaker cones.
The new 250Wpc Hegel H360 looks and sounds like the H160's bigger "enforcer" brother. However, probably because of it extra power, it seemed to have a smoother. more smiling approach to making music happen. It felt more supple and suave. I didn't listen long, but the little I heard suggested that with Hegel, bigger may just be better. Like that famous Rough Rider, the H360, sings and plays softly, while carrying a big 420Wpc (into 4 ohms) stick.
The Hegel H360 was driving a pair of KEF Reference Ones ($6500/pair) and Hegel's Bent Holter was driving the H360 with his new all-out assault on the state of the digital art: the HD30 DAC ($4800). It, too, played with a grace and elegance that I didn't quite find in the H160;s internal DAC. Bent Holter rejects asynchronous converter technology for something he himself designed called: synchronized upsampling. The HD30 DAC uses this as well as a linear-phase, Bessel reconstruction filter. The sound of the Doors playing "Riders On The Storm" was patently smooth and naturally detailed. I imagine Ray Manzarek would have loved the Hegel HD360 and HD30 used together.