Napa Acoustic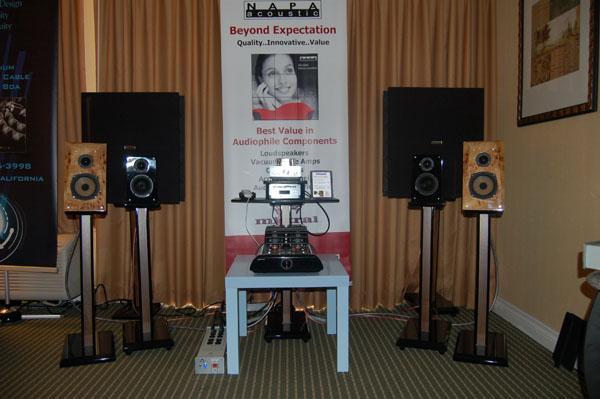 Sometimes who's who in high-end audio can get confusing. Napa Acoustic is, according to their website, the US Representative for Mistral Audio tube gear and the US importer for NBIEN loudspeakers and JIB-Germany cables. But if you search for NBEIN loudspeakers online, you'll find the Xcellus website, which claims
they're
the US importer for Mistral Audio and JIB-Germany. They also say "Come and visit us during June 3–5, 2011 T.H.E. SHOW Newport Beach, California at room 319," which is the same room that Napa Acoustics was in. You say Napa, I say Xcellus?
In any event, the NA-208S speakers ($199/pair) that I nearly got to hear in the Napa Acoustics room were being powered by the NA-208A hybrid tube integrated amplifier ($399), which has inputs for CD, iPod and Aux.
During my stay, music files from an iPod were playing at whisper volume. Unfortunately, again, there was no one sitting in the Napa Acoustic room because they were all standing around talking about computer-based music. Don't the people at hi-fi shows who are interested in computer-based music ever feel the desire to sit down and listen to music?